Cristiano Ronaldo regrets Manchester United return, according to Piers Morgan
Cristiano Ronaldo recently spoke to Piers Morgan in an explosive interview and was extremely critical of Manchester United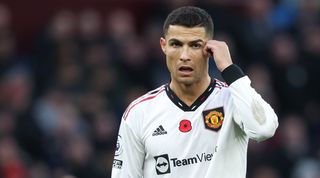 (Image credit: Getty Images)
Cristiano Ronaldo regrets returning to Manchester United last year, Piers Morgan has said.
Ronaldo looks set to be dismissed by United following his explosive interview with Morgan on TalkTV, in which the Portuguese said he felt 'betrayed' by the club and revealed he did not respect manager Erik ten Hag.
The interview was aired in two parts and writing in his column for The Times, Morgan gave some insight into Ronaldo's state of mind.
"His dream comeback just eight months earlier had turned into a nightmare and for an hour, he passionately articulated all the problems he thought were behind the club's demise from perennial champions under his father figure Sir Alex Ferguson, to abject mediocrity," he wrote.
"'I can't just keep ignoring what's going on inside the club right now," he told me. 'It's so amateur. No defined goal, no leadership, no organisation, just a desert of ideas. The future is very dark unless things change very fast.'
And he added: "I asked him if he regretted going back and he sighed: 'Perhaps my heart spoke louder than reason.'"
Thank you for reading 5 articles this month* Join now for unlimited access
Enjoy your first month for just £1 / $1 / €1
*Read 5 free articles per month without a subscription
Join now for unlimited access
Try first month for just £1 / $1 / €1
Ben Hayward is Weekend Editor for FourFourTwo. A European football writer with over 15 years' experience, he has covered games all over the world - including three World Cups, several Champions League finals, Euros, Copa América - and has spent much of that time in Spain. He currently divides his time between Barcelona and London.