Joey Barton says football 'isn't real pressure' as he reveals the Jungian philosophy he leans on to understand and improve his players
The Bristol Rovers manager suggests unlocking potential from players is by being authentic and tapping into what motivates them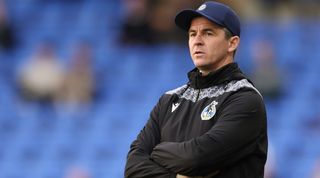 (Image credit: Getty Images)
Joey Barton has been involved in professional football for over 20 years, firstly as a player when he made his Manchester City debut in 2002 and now as a manager at Bristol Rovers.
While he is expected to deliver results for the Gasmen, something he duly managed in the 2022/23 season as he led Rovers to 17th in their return to League One, Barton claims there are much worse things he could be dealing with in life than having a chairman demanding wins on the pitch.
"I'm like, 'This isn't real pressure. We're privileged to play sport for a living, so don't get too down because you've not played well – it's better than working on a building site', or countless other jobs I'd be doing if I hadn't made it as a player," Barton tells FourFourTwo.
"You're always trying to find the keys to unlock different personalities. Everybody is different, you just have to treat everyone in a bespoke way."
The 40-year-old, who has developed a fascination with psychology in recent years, points to the ways he tries to motivate and improve the players he manages, focusing primarily on a book handed to him that has seemingly influenced his approach.
"This was a book given to me by Peter Kay from the Sporting Chance clinic, based on Carl Jung and the Jungian philosophy, the development of the mind," Barton says. "It's the spark that made me want to understand myself better. Once you understand yourself, it gives you the chance to understand other people. Most of my job now is understanding people, helping them to improve themselves.
"Some managers are more stick, some are more carrot – the main thing is to be authentic.
"If you try to be firm but are putting it on, players will see straight through it. I'm a very truthful person – I have a tricky communicating style because I'm a blunt speaker and naturally lower on empathy than most, but that's my working-class roots."
Thank you for reading 5 articles this month* Join now for unlimited access
Enjoy your first month for just £1 / $1 / €1
*Read 5 free articles per month without a subscription
Join now for unlimited access
Try first month for just £1 / $1 / €1