Liverpool signing Alexis Mac Allister: Here are the shirt numbers available to the new Reds signing
With Liverpool signing Alexis Mac Allister this week, there are a number of potential options for his new shirt number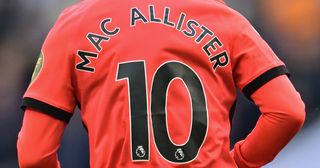 (Image credit: Sebastian Frej/MB Media/Getty Images)
With Liverpool signing Alexis Mac Allister from Brighton & Hove Albion this week, there are few shirt numbers to choose from when the World Cup winner joins Jurgen Klopp's squad.
Mac Allister has been the No.10 at Brighton ever since he joined the Seagulls – but prior to his move to the Premier League, he was the No.8 at Boca Juniors. The digit that he now takes up at Anfield may well tease the role and position that Jurgen Klopp sees him fulfilling for Liverpool, too.
Another number that has been key to Mac Allister's story is the No.20, too – the shirt that he won the World Cup with in Qatar last year – though Diogo Jota currently holds that one on Merseyside.
What number will newLiverpool signing Alexis Mac Allister wear?
With Mac Allister's move set to be finalised soon, there are some good choices for the midfielder as to what number he takes. No.10 is available following Sadio Mané's exit last summer, while No.8 is free too, with Naby Keita leaving this summer.
Another big one that's just become free is the No.7. With James Milner rumoured to be heading to Brighton, Mac Allister and Milner could swap digits. And while not typically a squad number that a midfielder often has, the No.9 is free, too, with Roberto Firmino leaving.
Should Mac Allister wish to take the No.20 that he won the World Cup with, there is a chance that Diogo Jota would want to upgrade his shirt to No.8, No.9 or No.10 – though that seems unlikely.
No.16, No.24, No.25 and No.30 are all free, too.
Thank you for reading 5 articles this month* Join now for unlimited access
Enjoy your first month for just £1 / $1 / €1
*Read 5 free articles per month without a subscription
Join now for unlimited access
Try first month for just £1 / $1 / €1