More Champions League fan CHAOS: Thousands of fans turned away, amid claims of police brutality
The Porto vs Inter Champions League game ended 0-0 on the pitch, but off it it was a completely different matter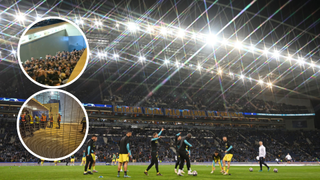 (Image credit: Getty Images)
As Porto and Inter Milan met on the pitch for the second leg of their last-16 Champions League tie on Tuesday, one football fan revealed torrid details of their experience attempting to watch the game live at the Estádio do Dragão stadium.
Taking to Twitter to highlight the ordeal, football fan Rhys - going by the handle @FootballShirtC2 (opens in new tab) on the social media platform - explained how they failed to enter the stadium despite having a valid ticket, before focussing on specific, horrific events.
They wrote: "So, as I do with pretty much every game I go to, I arrived an hour early. It is my first time in Porto, so I was hoping to grab a couple pics inside the iconic Dragão before the game kicked off. Little did I know what Porto and UEFA had in store for me.
"I was to enter from gate 21, which is on the north side of the stadium. I headed to gate 21 to be told I was at the wrong entrance, as the entrance point on my ticket states 'gate 19'. No hassle, I was early anyway, so I went to the entrance to gate 19.
14/03/22 - Porto vs Inter From not accepting valid tickets to woeful organisation.Here's a short thread on what I experienced at Estadio Dragão tonight…#UEFA #FCPorto #Inter https://t.co/n3FbNDqz3vMarch 14, 2023
"As I arrived at gate 19, I noticed it was only Inter fans. Now, I'm not a Porto fan and have never been to the stadium so didn't know which area was dedicated for the away fans, so I was thinking that maybe I accidentally bought a ticket for the away end."
Rhys continued, detailing their situation as other fans were seemingly suffering the same predicament.
"As I made my way up the stairs, it got more and more packed by the minute. Countless Inter fans being turned away from the away end despite having valid tickets, being advised they were at the wrong gate. The match had already well started by this point.
"In all honestly though, I felt extremely unsafe, and I imagine many others did too. The police were doing absolutely nothing to help/explain the situation we all found ourselves in. The line was moving slower and slower, and was getting more and more cramped."
However, the worst was still to come, with Rhys explaining an incident he witnessed in the ground.
"As I was near the top, I saw something nobody should have to see when going to watch some football. From the balcony above came a young Inter fan, who was launched into the crowd by a police officer. Of course, the Inter fans weren't happy with this and started shouting.
"Someone going to watch a football match should not fear being thrown from a f****** balcony from a police officer. I mean, the fact I have to say that is just mental in itself. I'll never forget that moment, absolutely horrendous.
"Finally, I made it to the top, only to be told that I had to return to the gate I initially tried to enter through, gate 21. Most other fans were denied entry too, even those with tickets stating they were to enter through gate 19 & 20."
With the game well underway, Rhys and plenty of other fans attempting to enter the stadium were unable to watch the action on the pitch. Eventually, these fans weren't even allowed into the stadium, regardless of the fact they had legitimate tickets.
"Feeling defeated, I made my way back towards gate 21," they continued on Twitter. "At this point, it was 08:40 and they were turning almost everyone away from the gate. As it hit 08:41, they closed the gates, shutting out hundreds of Porto fans with valid tickets.
"After all that hassle, I, as well as hundreds of other fans, didn't even get to watch the game. A horror showing of organisation by Porto/UEFA, I'm not sure who exactly is at fault, but going off track record, I can take a guess…"
According to Rhys, fans were saying Porto accidentally sold more tickets than they had capacity for, meaning lots of fans were unable to enter the ground.
"I got chatting to some Porto fans who were telling me that Porto had double sold tickets in error, which caused the issue for so many tickets to show as invalid. Whether that be the case or not, the scenes I witnessed today shouldn't be witnessed by any fan.
"Many, including myself, will have had to pay for flights, accommodation and booked time off work to attend the game, and they weren't even allowed to do that. I hope Porto/EUFA refund all these fans and at least provide some form of compensation for travel costs, etc.
"You'd think UEFA would've upped their game since Paris, but evidently not."
DANGEROUS SCANDAL FROM PORTO!AS HAPPENED TO LIVERPOOL IN PARIS!The situation outside EstadioDo Dragão!A thousand of normal Inter fans with regular ticket - many bought from Porto site with no restrictions - kept out, amassed dangerously!#PortoInter pic.twitter.com/B27aFsEr1YMarch 14, 2023
Sportitalia correspondent Tancredi Palmeri (opens in new tab) also highlighted the issues outside of the ground, filming crowds of supporters all waiting to enter the stadium with no end in sight.
Referring to last season's Champions League final, where organisational and safety failures at the Parc des Princes created a traumatic, dangerous experience for thousands of Liverpool fans, in which UEFA's own review concluded it bears "primary responsibility" for, Palmeri discussed the lack of learning.
"DANGEROUS SCANDAL FROM PORTO! AS HAPPENED TO LIVERPOOL IN PARIS! The situation outside Estadio Do Dragão! A thousand of normal Inter fans with regular ticket - many bought from Porto site with no restrictions - kept out, amassed dangerously!"
Thank you for reading 5 articles this month* Join now for unlimited access
Enjoy your first month for just £1 / $1 / €1
*Read 5 free articles per month without a subscription
Join now for unlimited access
Try first month for just £1 / $1 / €1
Get FourFourTwo Newsletter
The best features, fun and footballing quizzes, straight to your inbox every week.
Ryan is a staff writer for FourFourTwo, joining the team full-time in October 2022. He first joined Future in December 2020, working across FourFourTwo, Golf Monthly, Rugby World and Advnture's websites, before eventually earning himself a position with FourFourTwo permanently. After graduating from Cardiff University with a degree in Journalism and Communications, Ryan earned a NCTJ qualification to further develop as a writer while a Trainee News Writer at Future.