'Once I picked up a drink I couldn't stop': Former Leeds and Reading manager Brian McDermott opens up on his alcohol addiction, getting sober and a new found peace
McDermott describes in detail how he first started drinking while at Arsenal in the 1970s and couldn't stop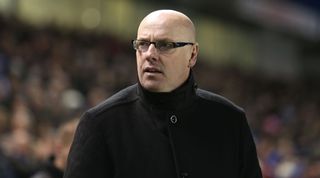 (Image credit: Getty Images)
Brian McDermott, the former Leeds United and Reading manager, suffered with alcoholism for much of his adult life, but, fortunately, it is something he has managed to control with the help and support of loved ones.
As a youngster, McDermott came through the Arsenal academy before making his first-team debut in 1979. Coming into the team to play alongside the likes of Pat Jennings, Pat Rice, David O'Leary, Liam Brady and Frank Stapleton, McDermott explains to FourFourTwo how drinking at football clubs was encouraged.
"The first time I picked up a drink, I got drunk and that was it – once I picked up a drink, I couldn't stop," McDermott tells FourFourTwo. "I could go lengthy periods of time without a drink because I was playing, but in the '70s and '80s it used to be a badge of honour to be able to drink.
"All of the best teams, all of the best players, were able to drink. It was always about going out, socialising – it was encouraged by the staff for you to go out as a group, and if you didn't go on a night out, you'd get fined. It all revolved around alcohol.
"Alcohol solves a problem as a short-term fix. Like any addiction, it's a solution to your problem, and alcohol works right up until it stops working. For me, it was a long period of time before I knew I couldn't do it any more. I could function: I didn't drink in the morning, I wasn't drinking at work, I was functional as a footballer, as a manager or whatever I was doing… until I wasn't."
Eventually, the drinking took its toll, though he didn't fully acknowledge it until re-joining his boyhood club as a scout in the past seven years.
"It was February 15, 2015 and I just felt I had to do something, he explains. "I'd had enough and couldn't go on. I'd tried to stop drinking on my own many times, but could never do it. Drinking was a way for me to numb feelings, but the problem is it numbs everything: happiness, joy, sadness... You end up a bit numb to everything.
"I'd finished managing at Leeds and was working as a scout for Arsenal, and I finally got to the point where I woke one morning and decided I couldn't do it any more. I'd had a moment the night before – I'd been drunk – where I was feeling cloudy, anxious and depressed, and I thought, 'I've got to say it out loud'. It was the best thing I ever did.
"I went into our study where my wife was working and reached out to her for help. We weren't actually together at the time and hadn't been for a year, but we were staying in the same house. I asked if she could ring someone for me, and that's when she made the phone call that changed my life."
McDermott continues, suggesting talking to his wife that day was a lifechanging moment for him.
"I drank to numb my feelings, then I finally asked my wife for some help. I'm so grateful she was there, because if I'd left it another two or three hours I probably wouldn't have said anything. She called someone and they phoned me. It was a group thing and I got involved with other people who understand. I haven't had a drink since.
"I began to get my feelings back, good and bad. You get the good ones, which is great, but you also get the ones you don't like and you have to deal with them on life's terms, without medication or addiction. It could become quite difficult, but having the tools and all of these people to speak to was terrific. Even now, if I start a day not in a good place, I can pick up the phone or tell my wife and don't just sit with it for hours, even if it makes me feel a bit uncomfortable."
During that period, McDermott still worked as a scout at Arsenal, though he didn't tell anyone what he was going through. Now the director of football Scottish side Hibernian, the 62-year-old has found peace being sober.
"While I received support and help, I was still working for Arsenal. People close to me knew I'd stopped drinking, but I didn't need to tell people – I simply went about my job and did my work. I was flying to different parts of the world, and I'd find my hotel and there'd be a meeting up the road I could go to. It was unbelievable.
"I was in Florence and there was a meeting around the corner; the game kicked off at 7.45pm and the meeting was at 5pm, so I walked to the meeting, then to the match. I went to one in Seville, too. I've found peace today and that's the thing for me. I'm eight years sober. I've got my wife back, I've got my kids, I'm a grandad and I'm very peaceful. Just having that sense of calm and being able to get a good night's sleep is incredible to me."
As well as his work with Hibs, McDermott has opened up about his struggles with alcoholism at football clubs in the UK and Ireland, as well as companies not involved in the game.
"I now do talks and presentations about my story. I only started a year ago, but I speak in all sorts of different places: I did one in Dublin recently; I was at a Premier League club last week; I do Championship clubs, non-league clubs, private companies...
"I don't give advice – I'm not a counsellor or psychiatrist – but I've got an experience and I talk about what I did. If someone needs signposting somewhere to help, I point them that way. I need to maintain that balance in my life. I can't go off on a tangent.
"I sometimes still have feelings of imposter syndrome, but I can just let them go. I don't fight them, because they're only feelings and everyone has those feelings – it's about how you deal with them."
Thank you for reading 5 articles this month* Join now for unlimited access
Enjoy your first month for just £1 / $1 / €1
*Read 5 free articles per month without a subscription
Join now for unlimited access
Try first month for just £1 / $1 / €1