Paolo Di Canio: I was told to "run away to Italy" after pushing referee Paul Alcock
The Italian received a whopping 11-match ban for the shove but accepts it was the correct punishment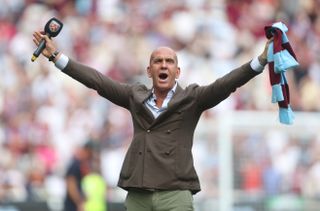 (Image credit: Getty Images)
Paolo Di Canio says he was told to "run away to Italy" after his infamous shove on referee Paul Alcock while playing for Sheffield Wednesday.
The Italian pushed over the official in anger after being shown a red card during a Premier League game against Arsenal in 1998, resulting in an 11-match ban.
Di Canio told the Up Front with Simon Jordan podcast that he was surprised by the immediate reaction he encountered, but accepts that he deserved the scale of punishment he received.
"After that game against Arsenal in the dressing room, one of the Sheffield Wednesday backroom staff came to me and said, 'run away to Italy'," Di Canio said.
"I couldn't have imagined that reaction, but I started to realise that with the media and the problems, I had to go. I knew I had done something very wrong, but I couldn't have imagined how big it would become."
He continued: "I think the ban I received was right. Thinking as a footballer, I would be selfish and say it was too much and it should have only been a three-match ban, but I have to think as a sportsman and I think it was the right message to send.
"It sent a message to others to say that you simply cannot act like that. If they had given me three matches that would have been comparing what I did to a bad challenge, it wouldn't have sent a real message.
"I would have the matches that I got suspended for in favour of a bigger fine and I tried to ask for that. I asked the FA to take out five or six of the matches from my suspension and fine me more but they stuck to it and I think that was the right thing to do."
Di Canio was speaking to the William Hill podcast 'Up Front with Simon Jordan'.
More Arsenal stories
Arsenal manager Mikel Arteta has provided an update on Declan Rice's fitness after he was taken off against Tottenham on Sunday.
Thomas Partey could push for a move away from the Emirates in January unless he is given reassurances over his future.
And the evidence suggests that Arsenal are actually better this season than they were in 2022/23.
Thank you for reading 5 articles this month* Join now for unlimited access
Enjoy your first month for just £1 / $1 / €1
*Read 5 free articles per month without a subscription
Join now for unlimited access
Try first month for just £1 / $1 / €1