Roy Keane and Graeme Souness nearly come to blows at half-time of Argentina vs Saudi Arabia over penalty decision
Neither were willing to let their opinion go to waste during an intense moment in the ITV studio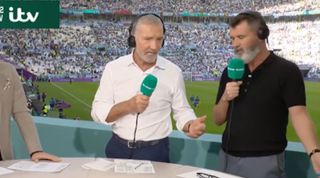 (Image credit: ITV)
When Saud Abulhamid dragged Leandro Paredes down for a penalty in the eighth minute of the World Cup 2022 fixture between Saudi Arabia and Argentina, two men covering the game for ITV had very differing opinions.
Both Roy Keane and Graeme Souness were working for ITV as pundits, neither of them shy to give their opinions on a contentious issue. At half-time, they got their chance to offer them.
Graeme Souness believed it was a certain penalty, agreeing with the VAR decision that picked up the foul, and, when asked by presenter Laura Woods if he believed it was a penalty, Souness responded: "Definitely. He [the Saudi Arabia defender] doesn't know where the ball is. He's only interested in the Argentinian player. I think that is a penalty."
However, Keane didn't agree, thinking this will set a dangerous precedent if penalties continue to be given for that type of foul.
"All this will do is encourage diving," Keane said. "He [the Argentina player] is dragging him down."
Souness v Keane: The gloves are off! 🧤The two pundits clash over Argentina's penalty decision... 😬#ITVFootball | #FIFAWorldCup pic.twitter.com/htLxuWiHHtNovember 22, 2022
From there, carnage ensued on the ITV set, with the toing and froing reaching fever pitch.
Souness: "Roy, you're not listening to what Laura said - it's a directive for the referees. It's not about opinion, it's a fact that the guy wasn't looking at the ball."
Keane: "I listened to what she said - in my opinion that's not a penalty."
Souness: "It's not about opinion, it's about the laws of the game."
Keane: "Why am I here to give my opinion then?"
The pair then continued interrupting each other, both adamant their point is more correct than the one the other is trying to convey. However, after Keane said it was his "opinion" that it wasn't a penalty kick again, Souness snapped.
"I've heard you say it ten times," the Scotsman said. "Do you want to say it again? Let someone else speak. You'll learn a lot more if you listen rather than talk all the time."
Phew, we're sure ITV are glad that's over and the two hardmen didn't actually come to blows. Joe Cole clearly enjoyed the moment, though, standing on the side of the arguing pair smiling away before eventually agreeing with Souness. Inevitably, this prompted Keane's annoyance to reach an even higher crescendo.
Arms wide open, the Irishman looked in disbelief. How many more games will Souness and Keane be on punditry duties together?
Thank you for reading 5 articles this month* Join now for unlimited access
Enjoy your first month for just £1 / $1 / €1
*Read 5 free articles per month without a subscription
Join now for unlimited access
Try first month for just £1 / $1 / €1