Speed, assists, finishing - Klopp's high hopes for Salah at Liverpool
Liverpool's attacking play will have an extra edge next season if Mohamed Salah can hit the heights anticipated by boss Jurgen Klopp.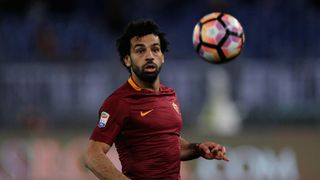 Jurgen Klopp expects Mohamed Salah's pace and finishing ability to add an extra dimension to Liverpool's attack in 2017-18.
Salah sealed club-record move to Anfield from Roma for an initial fee of €42million that could eventually rise to €50m.
Liverpool secured a fourth-place finish in the Premier League last season – something they might have improved upon considerably without a mid-season slump in January and February – and Klopp believes the Egypt winger will bring valuable cutting edge.
"Even if people didn't know too much about him, they [must have] watched a few videos and they are impressive," the former Borussia Dortmund boss told Liverpool's official website.
"We have had a few talks of course, spoke to each other – he is a really nice lad. He is really looking forward to coming to Liverpool and joining us.
"He is a fantastic player, with speed. We said after last season, there are a few things we would try to involve in an already really good squad; one of the things is speed, being kind of a finisher, preparing chances, making goals and all that stuff. He brings all this in.
"He is a naturally fit boy – he can run as quick and as long as he wants. That's all good. I'm really looking forward to [working with him]."
"He is a fantastic player."Jürgen Klopp explains how 's many attributes can benefit the Reds: July 7, 2017
Liverpool begin their Premier League campaign away at Watford on August 12.
Youngster Ben Woodburn is set to return to full training this weekend after sustaining a minor calf strain while on international duty with Wales.
Thank you for reading 5 articles this month* Join now for unlimited access
Enjoy your first month for just £1 / $1 / €1
*Read 5 free articles per month without a subscription
Join now for unlimited access
Try first month for just £1 / $1 / €1