Tammy Abraham admits he was shocked when Frank Lampard offered him the Chelsea No.9 shirt
During pre-season in 2019, one of the first things Lampard did with Abraham was to offer him the coveted main striker's jersey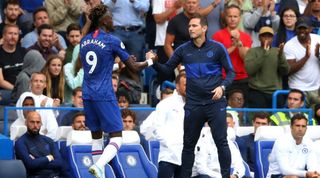 (Image credit: Getty Images)
Tammy Abraham returned to Chelsea at the beginning of the 2019/20 Premier League season from a loan spell at Aston Villa expecting to make the move to Villa Park permanent, but Frank Lampard instilled confidence in him from his first day back at the club.
The striker had scored 25 goals in 37 Championship games in the campaign beforehand, helping Villa return to the Premier League be defeating Lampard's Derby County in the play-off final.
With Maurizio Sarri sacked at Stamford Bridge, Lampard took over as Chelsea manager with the club under a transfer embargo. Unable to sign any new players, one of the first things the new boss actioned was handing Abraham the No.9 shirt.
Abraham tells FourFourTwo this gave him the belief that he would get opportunities in the first-team for the 2019/20 Premier League season, meaning a move elsewhere didn't seem necessary.
"I never knew I was going to stay," Abraham admits. "I was speaking to Villa at the time, and they told me, 'After this loan, we're going to come and buy you in the summer'.
"In my head, I was thinking this is the year I move on and go back to Villa. But I remember in pre-season, Frank came up to me and asked if I wanted the No.9 shirt. I was like, 'Wow, that's a shock!' I thought I was going out on loan, then that question popped up, so I had the belief that it might be my year to stay at Chelsea."
Stay he did, and he duly delivered. Featuring in 34 of Chelsea's league games that season, Abraham scored 15 goals, as well as his first international strike for England.
The now-Roma striker had to be patient to finally get his opportunity in the Premier League, though, having spent loan moves at Bristol City and Aston Villa in the Championship, either side of a spell at top tier Swansea.
While he acknowledges the difficulties of having to go in search of first-team football away from Chelsea during his formative years, Abraham also recognises that those loan moves helped turn him into a man.
"I wouldn't say it was frustrating – I took each one as a challenge, a learning curve," he insists. "It was Championship, Premier League, Championship, so it was a change. But it was a superb experience.
"I had my first loan at Bristol City where I went into men's football. I didn't know the Championship was that difficult. It was game after game after game, but a great learning curve for me. It turned me into a man.
"Then Swansea was my first experience in the Premier League. It was difficult, I learned the other side of football. I'd grown up in the Chelsea academy where we had the ball all the time. At Swansea, we never had the ball. It was tough, I had to understand that side.
"Then there was the amazing season with Aston Villa, getting promoted, which is one of the best feelings in football."
Thank you for reading 5 articles this month* Join now for unlimited access
Enjoy your first month for just £1 / $1 / €1
*Read 5 free articles per month without a subscription
Join now for unlimited access
Try first month for just £1 / $1 / €1