UK and Ireland officially submit final bid to UEFA to host Euro 2028 – here are the 10 stadiums
The Euro 2028 bid includes 10 stadiums from across the five nations involved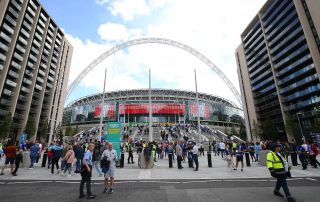 (Image credit: PA)
The UK and Ireland have formally submitted their final bid to host Euro 2028, with the five football associations encompassed in the nations providing UEFA with their preliminary bid dossier.
As part of the bid submission, the UK and Ireland have whittled down the original 14 shortlisted host stadiums down to 10, which have now been revealed.
Wembley, the Tottenham Hotspur Stadium, Villa Park, the City of Manchester Stadium, Old Trafford, the Everton Stadium and St James' Park would all potentially host matches in England.
Meanwhile, Cardiff's Principality Stadium, Glasgow's Hampden Park, Belfast's Casement Park Stadium and Dublin's Aviva Stadium comprise the bid, too.
Consequently, that means the London Stadium, Old Trafford, the Stadium of Light and Dublin's Croke Park have all been removed from the final bid.
The bid states: "The UK and Ireland share a proud reputation as world-leading event destinations which have successfully staged some of the biggest global sporting tournaments - backed by strong government support. This includes the recent record-breaking UEFA Women's Euro 2022.
"We are delighted that our government partners are fully committed to hosting UEFA Euro 2028. They have signed the relevant tournament guarantees and will ensure the event is fully supported.
"This will create a welcoming, exciting and safe football experience that players and fans will enjoy in every city and every game."
Turkey are also among the bidders hoping to secure Euro 2028, with UEFA's executive committee set to make a decision on hosting for Euro 2028 and Euro 2032 in September 2023.
Russia also declared an initial interest in hosting the tournament, but UEFA declared the bid ineligible due to the country's invasion of Ukraine.
In November 2022, the UK and Ireland released a preliminary bid dossier, which stated it believes its bid is the strongest.
"The UK and Ireland's track record of hosting successful major sporting events over many decades means we have the expertise and experience to take this world-class tournament to new heights," it stated.
"Our compact plan and pioneering, multi-partner collaboration can usher in a new era for the European Championships. Through the latest digital and marketing innovations, we will help UEFA and its partners engage new audiences and the world's youth to extend the impact and reach of the tournament further than ever before.
"Our stadia concept includes a proposed shortlist of 14 venues in famous sporting cities known throughout the world, including destinations that are home to clubs with great European football history and heritage. The plan ensures that all our proposed cities and stadia are connected by direct, quick and sustainable travel links and accommodation that will provide an unrivalled experience for teams and fans."
Thank you for reading 5 articles this month* Join now for unlimited access
Enjoy your first month for just £1 / $1 / €1
*Read 5 free articles per month without a subscription
Join now for unlimited access
Try first month for just £1 / $1 / €1