Eat Like A Pro: 3 recipes from Cafe Football
These three recipes from Cafe Football's Eat Like A Pro menu will help you build muscle, lose weight and kick-start your metabolism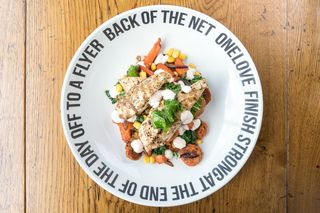 Fat relegation
30g Coconut oil

3 spring onions

2 gloves garlic

5g ginger chopped

3 tsp curry powder

1 tsp turmeric

200ml coconut milk

140g raw peeled prawns

40g mange tout

200g cauliflower

Coriander leaves

1 lime
Method

• Cut the cauliflower in pieces and blitz into course pieces resembling rice.

• In a hot pan add 15g of coconut oil, spring onions and ginger. Cook for 2 mins

• Add curry powder and turmeric cook for 1 min. Add coconut milk

• Bring to boil and add the mange tout, cook 2 mins, do not reduce.

• Add prawns and cook for 3 mins and season with salt. Take of heat.

• In another hot pan put the rest of the coconut oil and add the cauliflower rice.

• Cook for 5mins until slightly coloured

• Serve with half a lime and coriander leave on top.
Protein promotion

140G chicken breast

200G sweet potato

10G coconut oil

80G red onion

10G curly kale

30G sliced chorizo

½ TSP ground cumin

½ TSP cayenne pepper

80G sweetcorn

1 red chilli

1 tbsp basil and honey yoghurt

Fresh coriander and basil


Method

• Peel the sweet potato and cut into 2cm sticks, boil until soft.

• In a hot pan add the coconut oil and start by sweating the red onions.

• Add chorizo, sweet corn and red chillies. Cook for 2 mins

• Add ground cumin and cayenne pepper and cooked sweet potato.

• Blanch the picked curly kale and add to the pan. Season with salt and pepper.

• Add a touch of water if it starts to stick.

• Meanwhile grill the chicken breast and cook for 10 mins.

• Season with salt and pepper.

• Cut the chicken in thick pieces and mix with the rest.

• Mix the Greek yogurt with honey, basil and lime juice and drizzle on top of the chicken.


Metabolic kick

120G rump steak

10G coconut oil

1 lime juice

15G fish sauce

2tsp soy sauce

½ tsp sesame oil

1 red chilli

2 spring onions

50G red pepper

50G cucumber

50G carrots

50G mango

200g flat rice noodles

2G coriander and mint
Method

• Soak the rice in hot water for 5 mins, drain and add some sesame oil to prevent from sticking and cool it down.

• To make the dressing mix the fish sauce, soy sauce, sesame oil and chillies.

• Slice red pepper, cucumber, carrots and mango thinly and add them to the noodles

• Grill the steak to your preference. Slice the steak and drizzle a bit of the dressing on top.

• Mix through the noodle mix and finish with mint and coriander
If you fancy letting someone else do the cooking, you can visit Cafe Football in Manchester or London and explore their full menu.
Recommended stories
What do footballers eat and drink?
7 best breakfasts for footballers
7 healthy lunches for footballers
Thank you for reading 5 articles this month* Join now for unlimited access
Enjoy your first month for just £1 / $1 / €1
*Read 5 free articles per month without a subscription
Join now for unlimited access
Try first month for just £1 / $1 / €1