Why England U21s play Subbuteo at half-time
By Alec James Fenn published
Subbuteo has become a useful tactical tool for England Under-21 boss Aidy Boothroyd and his players during half-time team talks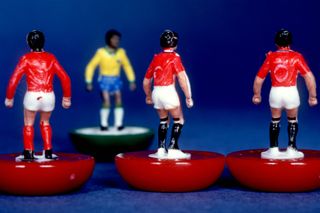 Football managers have performance analysts and a whole host of gizmos they can call upon to help deliver tactical instructions to their players, but England Under-21 boss Aidy Boothroyd is using Subbuteo as part of his half-time team talks.
The Three Lions coach first introduced the classic table football game to his dressing room when he was in charge of the national team's under-19 side and has continued to use it during the Under-21's European Championship campaign this summer.
Speaking to the FA's Boot Room (opens in new tab), he said: "We'll have the Subbuteo table there, which has become quite popular now because the players are quite kinaesthetic and they want to grab hold of things and shift them around.
"We also find the players talk more when it's about them in that particular position. We want our players to be empowered and we need to facilitate the discussion in different ways, to help our players become thinking players."
It isn't the only alternative method Boothroyd uses to get the best out of his players. Rather than ranting and raving following a poor half, he adopts a more democratic approach to ensure his squad remain calm and understand how they need to adapt.
"We will have somebody in the dressing room whilst the players are talking so that can then get fed back to me. I don't want to waste time talking about things if they've already done it," says Boothroyd.
"With the players airing their views, the head coach and his staff are busy collecting their thoughts in an adjoining room.
"Me and the other coaches will be in another room and there will be flipchart paper on the wall. There will be our two specialist coaches for in and out of possession as well as our goalkeeping coach.
"They will have watched the game looking at their specialism – and in silence on their flipchart they will write three things, or players, that are affecting the fixture."
Boothroyd then decides on the exact message he will deliver to his squad before giving direct instructions or beginning a discussion to help them learn how to problem solve as a team.
"You've got to gage the feeling of the group when you go in there, and there will be times they want some direction, and there will be times when it is a discussion."
Thank you for reading 5 articles this month* Join now for unlimited access
Enjoy your first month for just £1 / $1 / €1
*Read 5 free articles per month without a subscription
Join now for unlimited access
Try first month for just £1 / $1 / €1
Quizzes, features and footballing fun
Get the best features, fun and footballing frolics straight to your inbox every week.
Thank you for signing up to Four Four Two. You will receive a verification email shortly.
There was a problem. Please refresh the page and try again.