How PSV are using brain tests to scout talent
By Alec James Fenn published
PSV are using brain tests to measure their academy players' football IQ and help them predict if they have the potential to become first team stars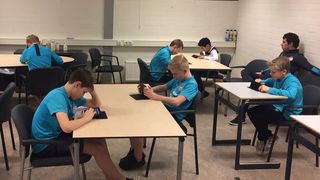 PSV Eindhoven's academy stars are playing video games. One boy taps furiously during a gun shoot-out, while another takes aim at an array of dots on his screen.
It looks like fun, but the 12-year-old prospects are in fact undergoing brain tests. The scores help to inform coaches and scouts whether or not they have what it takes to become a first team player, without a football in sight.
PSV are using a piece of cognitive assessment software called NeurOlympics. Four games measure 16 football-related brain functions, such as reaction time, information processing speed and anticipation. The results inform staff whether a player has the necessary game intelligence to make the grade.
Eric Castien, the CEO of Brainsfirst, the company behind the software, says to FFT: "We collect data on 63 different brain factors which helps us to assess brain potential. Thanks to machine learning we detect which factors are key to playing football at the highest level. You could say we've created a Football IQ."
Related story: How Southampton train their players' brains (opens in new tab)