How PSV are using brain tests to scout talent
PSV are using brain tests to measure their academy players' football IQ and help them predict if they have the potential to become first team stars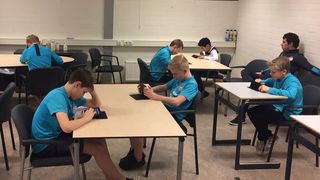 PSV Eindhoven's academy stars are playing video games. One boy taps furiously during a gun shoot-out, while another takes aim at an array of dots on his screen.
It looks like fun, but the 12-year-old prospects are in fact undergoing brain tests. The scores help to inform coaches and scouts whether or not they have what it takes to become a first team player, without a football in sight.
PSV are using a piece of cognitive assessment software called NeurOlympics. Four games measure 16 football-related brain functions, such as reaction time, information processing speed and anticipation. The results inform staff whether a player has the necessary game intelligence to make the grade.
Eric Castien, the CEO of Brainsfirst, the company behind the software, says to FFT: "We collect data on 63 different brain factors which helps us to assess brain potential. Thanks to machine learning we detect which factors are key to playing football at the highest level. You could say we've created a Football IQ."
Related story: How Southampton train their players' brains
PSV and BrainsFirst have established a benchmark of the ideal brain profile needed to become a professional footballer. This, they hope, will improve their decision-making when signing and releasing players and maximise the return on their academy investment.

The results of a four-year research conducted by BrainsFirst have found that contracted players at a club score significantly higher on the NeurOlympics brain tests than non-contracted youngsters. Those who progressed to the next age group also scored above average on their brain assessments.
"Football is a complex game of space and time," Castien adds. "That's why elite players need some specific cognitive skills, as well as athletic ability, to be able to follow the game on the pitch and participate in it successfully."

If a youth player records an age-related test score of 0.5 or more below the elite group average, BrainsFirst say it is highly unlikely he will make it. In the event of choosing between two players to remain in the academy, they also advise the club to pick the boy with the highest cognitive score.  
Related story: Mind games: How your brain works during a game
Unlike physical development, where someone's growth spurt can occur quite late, Castien says if a player's mental development is poor at a young age, they will be unable to catch up cognitively with their team-mates later on. 
"We are talking about elite players who have to be outstanding at a young age.," he adds. "Their professional career is relatively short, so if your football brain is behind as a youngster, it'll be behind when you are 21. 
"Of course you can improve by training, on and off pitch, but if your cognitive performance is considerably poorer than needed, the required improvement is too demanding to catch up. For an academy, this is very risky."
Related story: Rio Ferdinand: Defend with your brain, not your body
Over the next 12 months, several Dutch clubs will begin distributing brain tests online in the hope of discovering off-radar talents with high Football IQs. PSV, meanwhile, hope their innovative approach will aid their ambitious bid to have 50% of their starting XI and first team squad formed of academy players by 2020.
Quizzes, features and footballing fun
Get the best features, fun and footballing frolics straight to your inbox every week.
Thank you for signing up to Four Four Two. You will receive a verification email shortly.
There was a problem. Please refresh the page and try again.