Sam Allardyce: How to motivate football players
From breathing life into a demoralised team at half-time to restoring confidence during a poor run of form, Crystal Palace gaffer Sam Allardyce has the motivational tools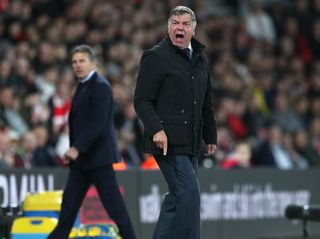 How to restore morale during a losing streak

Just as there's a winning habit, there is also a losing habit. It just shows the importance of mentality, whatever level you play at: footballers are 75 per cent confidence. If you've got the same team week in, week out, that's the only area really to turn it round – the team's mental preparation going into each game is crucial. You can change the mentality by changing the team around or asking the players to follow slightly different tactics until you get back on course; if you're losing games by the odd goal then the first thing to do is to stop conceding. Focus on your strengths and ask them to remember what they felt like when they won nine on the trot – put that in their minds as a positive.


Related article: How to kick a losing habit

How to fire a team up before kick-off
It's about spurring the lads on. You want to keep it as short and sharp as you can. They need to be told not to worry about mistakes, that they are all there to cover for each other because they're in it together. They need reminding of how they must stick together as a team and how each of them has to do their own job well to achieve this. You can briefly refresh them on key tactical points but it's generally about geeing each other up. Tell that they need to encourage their team-mates at all times. You may want to finish on a buzz word that the whole team has agreed on and can shout out to encourage a feeling of togetherness. Something like "Let's go for it" or "let's get 'em" should give them that last bit of motivation before kick-off.

Related article: Stuart Pearce: How to give a team talk

How to motivate a team before a cup final

You de-motivate them. If any player needs motivated coming into a cup final, you need to get rid of him. If they have any sense of imagination whatsoever, they'll all sleep less, they'll all be more nervous, they'll all have more energy burning. You don't need to wind them up – you need to keep them calm. Make sure you've got your team right and got the tactics right and prepare them exactly as you would prepare for a normal game, except for things like extra-time and penalties – tell them about the substitutions that you might have to make during extra-time so you can have fresh legs on. As for the manager himself, if you've got time to watch your opponents and prepare your team a little better, it will stand them in good stead.

Related article: How to play your cup final day

How to inspire a lifeless team at half-time

You have to suss out the individual psychological profile of your players. Then you go around on an individual basis saying what you need each player to do to put his poor first-half performance right. In some cases it's a severe finger-pointing, nose-to-nose job; in other cases it's an arm around him. Sometimes you can show them on a laptop what's going wrong. And you can put three or four key factors together to show what you've got to do as a team to get better.


Related article: Half-time team talks for every occasion

How to get a team to make a fast start to the game
If your team only starts playing once they're losing, it's probably because they've nothing to lose when they're a goal down and they relax and start to play properly. What should you do? Lose the fear. Don't think you've got to motivate them and start winding them up; relax them, tell them it's only a game and tell them to pass the ball around and take the pressure off themselves. They need to be showing what they can do and enjoying themselves, not panicking. You obviously enjoy it more when you win, but that doesn't have to be everything. They shouldn't be setting foot on the field with hypertension.



Related article: How to make a fast start

How to prepare a team for a penalty shootout

People go on about making your team practise taking penalties, and it's nonsense. You should give players the opportunity to practise if they want, but many a player has practised his penalties and said he will take one, but on the night he couldn't do it because the pressure is so great that he feels he would be better off not taking oone. You can practise and practise but it's the ones with the most bottle on the night that you need to rely on. Then you just pick your most consistent penalty takers to take the first and last ones – and find someone willing for in between.
Thank you for reading 5 articles this month* Join now for unlimited access
Enjoy your first month for just £1 / $1 / €1
*Read 5 free articles per month without a subscription
Join now for unlimited access
Try first month for just £1 / $1 / €1
Get FourFourTwo Newsletter
The best features, fun and footballing quizzes, straight to your inbox every week.