Why AFC Wimbledon's academy wear odd socks
Wearing odd socks is helping AFC Wimbledon's youngsters become two footed. The club's academy manager, Jeremy Sauer, explains how...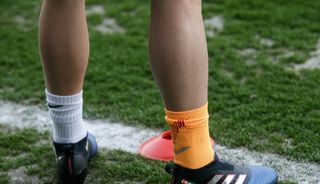 Jeremy, why do AFC Wimbledon's academy players wear odd socks?
It's our belief that, in general, professional footballers aren't technically good enough with their weaker foot. In youth development clubs are missing a trick in this particular area of their players' development. 
There are a lot of good players in academies who are nearly good enough to become professional and except for mental strength, decision making is often the difference between an 18-21-year-old making a career in the game or not. 
However, how can any player have the full range of decisions available to him at any moment during the game if he can't use his weaker foot to at least a competent level? It's like a golfer only having half his clubs in his bag. 
One of our main development strategies is to encourage all of our players to develop their weaker foot to at least a competent level, in order to give him the technical ability to make the right decision at the right time. Wearing an odd socks highlights a player's weaker foot, meaning the opposition will force him to use it.
How does it work exactly?
As part of this approach (and the most visible part of it) all of our players (U9s - U18s) wear a 'weaker foot' odd sock at all training sessions and matches. They use a white odd sock at training and a yellow one at matches. 
We hold regular reviews and a player who is deemed to be two-footed is rewarded with being allowed to wear two matching socks again. This is what they work towards.
It's not our only strategy for developing the weaker foot, but it does raise awareness, helps coaches to recognise coaching opportunities and means players can't hide from it. In fact, it takes the fear away as all of our players are in the same boat and progress is positively reinforced. 
We are often asked if it gives our players a disadvantage in matches and the answer is yes. However, whilst results are important to a player's mentality, development takes priority in the academy and if our players are being shown onto their weaker foot by their opposition then they have to develop it. 
Has it been a success?

We're now in our fourth season of using the approach and the results are definitely being seen across all age-groups.
Our first team manager recently brought on one of our 18-year-olds, who is normally a centre midfielder, with 25 minutes left in an important league game that we were winning 2-1. He came on and made a positive impact on the left side of midfield, where the manager trusted him to do a job and progress the team up the pitch to relieve pressure on our defence. When he first joined us as a 14-year-old, his left foot was only for standing on but now he's able to gain valuable first team experience because he can use his left foot to a good standard.
It's been even more effective with our youngest players and we now have players transitioning into 11 a-side football at U12s & U13s from mini-soccer that don't think twice before using their weaker foot. It's becoming second nature to them and a hard-wired habit. 
Have the players bought into the idea?
There are, of course, challenges to what we're trying to achieve. Not all players buy into it as much as others so we recognise that it can't be a one-size fits all approach and other methods can be just as important. We've also experienced some cynicism from people within football who think it's a little too obvious or basic. However, it's been working for our players and by definition, football is played with your feet so why would we limit our players to only being able to use just one of them? 
Quizzes, features and footballing fun
Get the best features, fun and footballing frolics straight to your inbox every week.
Thank you for signing up to Four Four Two. You will receive a verification email shortly.
There was a problem. Please refresh the page and try again.