10 years since the takeover: How Manchester City transformed after a 30-year odyssey of failure
Loyal Citizen Simon Curtis takes us through the highs and lows (and further lows) of being a City fan – before everything changed a decade ago this month...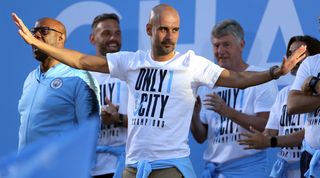 Between 1978 and 1988, Manchester City won precisely nothing, finding themselves ignominiously dumped out of a top division that they had inhabited for 17 uninterrupted years not once, but twice. If 1983's demotion brought tears and trauma, 1987 was a kind of soft landing as the new reality kicked in.
Between 1988 and 1998, Manchester City won precisely nothing, but managed to embark on a fascinating odyssey. It took the club not only to the second tier of English football but also the never-before-seen sights of the third level, purely to satisfy the curiosity of those fans grown plump on endless trophy-gathering in the late '60s and early '70s.
If the delights of the old second division quickly withered to painful reality, what was to come was far worse: the mid-90s became introspective and painful, embarrassing and chaotic.
Between 1998 and 2008 Manchester City won precisely nothing, the high point of the decade being a Wembley appearance to dispute third place in the third tier with a startled-looking Gillingham.
Having sweated blood to waddle clear of clubs like Northampton and Wrexham, a Champions League semi-final with Real Madrid (which the club would duly achieve under Manuel Pellegrini in 2015) seemed as probable as raspberry-flavoured snow.
Three decades of Lee
You could hardly call it 30 years of crusty inactivity: the club had lurched downwards on so many occasions and with such unedifying haste that there was a risk of developing the soil-filled snout of a shrew. Indeed, shop-soiled Shrewsbury had become as regular a sparring partner as Liverpool, Arsenal and Everton.
From hard-nosed, top-level competitors to shrew-nosed lost causes, how rapidly the world changed. The glory days of Franny Lee and Mike Summerbee were now cloaked and clouded by the gory days of Lee Bradbury (below) and Lee Mills.
What travels down with such unerring ease of purpose can often, however, possess other noteworthy characteristics – and so it proved to be.
Around 10 years ago, something odd happened. It happened in September 2008 and its repercussions are still being felt around the football world, from Shrewsbury to Barcelona via Arsenal, and most certainly in the grand old city of Manchester, where nothing is as it was and nothing is likely to be the same again.
Manchester City, everyone's favourite lost cause (imagine present-day Newcastle with large bells and multi-coloured streamers attached) suddenly shook off its mouldy brown feathers and took off, with grace and power, into the lightening sky.
City fans, aware that this might be yet another in a long line of tempestuously unfunny jokes played on them down the years – cup defeats at Halifax courtesy of a two-penny soothsayer called Romark; relegation by the corner flag courtesy of football genius Alan Ball's ill-gotten time-wasting tactics; cup exits in Sheffield courtesy of a deflection off a balloon thrown from City's excitedly distracted away section. Everything hilarious had surely already happened?
Every guffaw and every possible belly laugh had surely already erupted in City's vicinity during the abundant Years of Empty.
On the back of a failed multi-million pound takeover by the ex-Thai dictator Thaksin Shinawatra, which had ended with the good man and his lady wife Pojaman being pursued through the streets of Droylsden for conducting sophisticated tax irregularities in their homeland and acquiring vast tracts of Thailand by uncustomary means, yet another inflow of vast foreign wealth seemed a little too much to take.
Which malodorous dripping tunnel were we being led into next?
Sheikh the foundations
For this undoubtedly sound reason, only a few hardy souls donned tea towels to celebrate the club's purchase by the hitherto-unheard of Sheikh Mansour. Only one or two printed their own Abu Dhabi banknotes to wield before the cameras like cavorting pre-pubescent scallywags.
However, these were not pimpled teenyboppers, but men who were by all visible signs fully grown. Something had knocked the club's fans out of their long-avowed and endearingly maintained reverse gear, straight through desperate, fidgeting neutral and into a forward surge that quickly took on the air of an unstoppable freight train.
Gone were Bernardo Corradi and Georgios Samaras, lank-haired specialists in not scoring, and in their place sprouted all manner of exotic creatures who could actually play football. Robinho, the first of the Sheikh's presents, frolicked about displaying scant regard for our taste in robust 4x4 defenders and managers with their pants pulled up slightly too far.
BIG INTERVIEW Robinho: "I had a fight with Craig Bellamy once, but then who at City didn't?!"
If exotic beauty had reared its head occasionally in the bad old days courtesy of Kazimierz Deyna, Eyal Berkovic, Georgi Kinkladze and Ali Benarbia; the sight of David Silva, then Yaya Toure, then Sergio Aguero, fair took the breath away. With Kevin De Bruyne, Leroy Sané and Gabriel Jesus still to come, the unthinkable was beginning to happen.
The lame donkey had girded its loins, got itself a new haircut and turned into a well-groomed stallion full of poise and power.
But, as the power and poise has produced a growing list of triumphs, something else has become evident. This was not the simple fake money train that Shinawatra had climbed upon. It was not the confetti cash that rivals Manchester United had once thrown all over their own points failure.
This was an immaculately planned, minutely focused operation that has not missed a trick since. Urban regeneration, youth academies, stadium expansion and global marketing strategies have all accompanied the rich flow of talent though the renamed Etihad's glistening front entrance.
As past giants Milan, Inter and Manchester United have flopped and flailed; as new powers Chelsea and PSG have undergone the rollercoaster of willy-nilly big spending, City have glided gradually and convincingly through towards a tiny elite that inhabit the sport's upper branches. Incredibly, they are currently the Premier League's longest-running consecutive top-four finishers and England's most consistent Champions League participants.
Between 1968 and 1978, Manchester City won seven trophies. It is perhaps apt, then, to just remind ourselves of the longevity of the club, despite the great expanses of drought. It might also be appropriate to remember that City won their first FA Cup 26 years before Arsenal did and their first League Cup 17 years ahead of the Gunners.
City's first triumph in Europe (Vienna in 1970 to secure the European Cup Winners' Cup) came before any of Liverpool's continental trophies. There are more than 110 years between the club's first and most recent successes, the third-longest span of all existing clubs. Of all Premier League clubs, a survey found City to possess by far the greatest number of season ticket-holders, who have been going solidly for 25 years or more.
So very much has changed, it has to be said, but some things remain reassuringly similar.
Quizzes, features and footballing fun
Get the best features, fun and footballing frolics straight to your inbox every week.
Thank you for signing up to Four Four Two. You will receive a verification email shortly.
There was a problem. Please refresh the page and try again.