Ranked! The 10 best strikers in the world
From the prolific to the all-rounded, let's order the hottest hitmen on the planet right now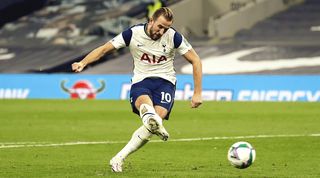 (Image credit: PA)
Some would say that awarding Player of the Season awards to defenders is pointless. That the difficult thing in football is to score goals - and that makes the striker's role the most important on the field.
Well, the transfer market would certainly agree. The biggest fees are often commanded by the most frequent goal botherers and a decent hitman can hide a multitude of sins for your team. 
Of course, being a striker isn't just about finishing anymore. You have to hold up, link play, press, run the channels and bully defences. These lads have certainly got the role sussed… 
NOTE: this list consists of the players who play as a central striker, rather than wide forwards, which you can find here. So sorry Kylian Mbappe, Mo Salah et al: you've played more games on the wing this season.
10. Dominic Calvert-Lewin (Everton)
For years, Dominic Calvert-Lewin was the pretender in the wings, feeding off 10 minutes here and there when Romelu Lukaku wasn't battering Premier League opposition. Just like Big Rom before him, it feels like DCL has ascended to assume the mantle as Everton's main man now. 
Calvert-Lewin has matured into the complete striker. An aerial threat with strong movement, good with both feet - oh, and devastatingly charming in post-match interviews to boot - the Yorkshireman would be nailed on for England if the captain wasn't also a striker. His star is still rising, too.
RELATED
9. Andre Silva (Eintracht Frankfurt)
For €38 million, Andre Silva was a colossal disappointment at AC Milan. It's taken time for him to pick the pace back up that he showed at Porto but this season's displays in the Bundesliga have reignited excitement in the Portuguese striker.
Silva has 25 goals and five assists in 30 Eintracht Frankfurt games this term. That's clockwork, for you. The hitman has been stunning with his all-around work for the side and his link-up play has benefitted the likes of Luka Jovic and Daichi Kamada. He could be a shrewd signing this summer for an ambitious Premier League side. 
8. Edinson Cavani (Manchester United)
He lived in Zlatan Ibrahimovic's shadow, then Neymar and Mbappe joined Paris Saint-Germain, just as the spotlight was about to be angled onto his chiseled features. He's long been his country's second-most revered striker behind Luis Suarez and now he's Manchester United's "Mason Greenwood mentor-in-chief". When will people start recognising Edinson Cavani as the A-list artist that he's been for years?
Cavani is 34 and yet his movement is still sharp enough to scalpel through Premier League defences with ease. Comparing him to Rashford, Martial and Greenwood is fascinating, too; the Uruguayan can still bully defenders with his strength and considering he's not the most natural finisher in the world, he's been outrageously impressive over the past ten years or so, which the numbers confirm. He's recently signed up for another year at Old Trafford, too - and rightly so. 
7. Ciro Immobile (Lazio)
Ciro Immobile has 123 goals in 175 league appearances for Lazio. He was brought in for £7.5m and he has another four years left on his current contract. How's that for value?
Ciro the hero is the prototypical Serie A striker that you associate with the league. His nose for goal is impeccable, his movement is devastating and in a division packed with forward talent and wily defenders willing to elbow you in the ribs, Immobile is still at the top of his game at the age of 31. 
6. Karim Benzema (Real Madrid)
OK, can we please kill the myth that Karim Benzema was nothing more than a foil for Cristiano Ronaldo at Real Madrid, please? 
The star attraction of 2010s-era Madrid was BBC, after all - and Benzena was the integral central letter in that trio. The Frenchman hasn't let up over the years, either: he leads from the front with power, hard-running, exemplary passing and as Chelsea found out the hard way, an eye for goal that can't be taught. He's every bit as golden as your other Galacticos, thank you very much. 
5. Cristiano Ronaldo (Juventus)
We've reached the point in the timeline where we can legitimately label CR7 a proper striker. He lives up front for Juventus nowadays and he's still as ageless and breathtaking as he ever was.
If ever there was an advert for mentality pulling you through, Ronaldo is it. He's 100 goals up for Juve - already - and closing in on the all-time international scoring record. He's used to being no.1 or 2 in these lists but given that he's now 36, his club have had a woeful season and he was anonymous in the Champions League knockout stages, we reckon he'll take being fifth in the world… or maybe not. 
4. Romelu Lukaku (Inter Milan)
The rise of Romelu is one of the most glorious stories in the recent history of football. He was a round peg in a square hole at Manchester United - and now he's the shining star of a Scudetto-lifting Internazionale. 
But while people tend to point to the Belgian as brutish and strong - and he is - perhaps an underrated aspect of his game is his sheer intelligence. He can turn a defender with ease, he's always in the right place and his chemistry with other forwards - Lautaro Martinez and Alexis Sanchez or Eden Hazard at international level - is reliant on his efforts to play to others' strengths as well as his own. Truly, he's become one of the best players on Earth in the last two years. 
3. Erling Haaland (Borussia Dortmund)
Red Bull Salzburg: 17 goals in 16 league games. Borussia Dortmund: 38 in 41 league games. It's terrifying to think how good Erling Haaland will be when he's 21 years old - let alone 25 or 30.
The awkward blonde giant has become the most coveted player in the world over the past 12 months. He's rapid, he's beefy and he can find the corner of the net with his eyes closed; not only that but he has a habit of delivering when it matters. Dortmund have had a wobbly season but imagine what they'd have been like without this genuinely world-class talent leading the line. 
2. Harry Kane (Tottenham Hotspur)
For a while, we wondered what kind of striker Harry Kane was. He felt like a throwback; a Shearer-type box-dweller who could hit the ball really hard but not much else.
Perhaps we just weren't watching closely enough. The England captain has gradually developed to become a Swiss Army knife of a forward, with a passing range to make the average deep-lying playmaker weep and off-the-ball movement to tear defences apart. He has 31 goals this season and frankly, Tottenham Hotspur have been propped up by him. 
He used to be the best player in the league in the penalty area: he's pretty close to being the player out of it as well, right now. 
1. Robert Lewandowski (Bayern Munich)
If Robert Lewandowski had been fit to face Paris Saint-Germain in the Champions League quarter-final this season, the tie is perhaps a different story. The season as a whole, potentially, shifts to another realm.
That's the influence of the big Pole - and he's one of a dozen top-class players in the Bayern Munich's arsenal. Lewandowski managed 55 in 47 last season in all competitions; this season he's on 46 in 38. That's ludicrous. And he's supposed to be winding down at 32 years old, too.
Lewandowski has everything in his locker and he's always a step ahead of everyone else. His finishing is unparalleled and he has a knack for always being in the right position at the right moment. It's not by chance either: if the ball drops to him, there's only one outcome. 
In another universe, he's readying himself for a second Champions League medal in as many seasons. He's still the best striker in the world in this one. 
Subscribe to FourFourTwo today and get a FREE England Euro 96 shirt!
NOW READ
COMMENT The curious life of a Leicester City fan: just one more weird step along the world we go
BLUES Joe Cole picks the three current Chelsea stars that would have fit into the 2007 and 2010 FA Cup-winning Blues sides
Quizzes, features and footballing fun
Get the best features, fun and footballing frolics straight to your inbox every week.
Thank you for signing up to Four Four Two. You will receive a verification email shortly.
There was a problem. Please refresh the page and try again.