5 things Gareth Southgate must do to take England to the next level
By Declan Warrington published
Subtle shifts in playing staff, formation and practising what he preached at under-21 level could help England's manager take his young side further still, writes Declan Warrington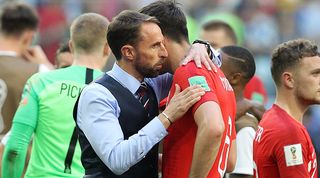 Above all else, England's remarkable run to the World Cup semi-finals was a victory for the pragmatic approach Gareth Southgate had essentially been forced into. Age and circumstances had taken the previously-prominent Wayne Rooney and Joe Hart out of contention. Injuries to the classy Adam Lallana and Alex Oxlade-Chamberlain – and the loss of form of other players – contributed to the selection of an inexperienced squad.
And yet off the back of that, a hugely encouraging platform was built in the summer. What eventually undid England at Russia 2018 were the limitations involved in making set-pieces a team's main focus, plus a need to retain possession better and vary the tempo with which they play.
It was his work within the St George's Park set-up and progress with the under-21 side that meant Southgate was approached first to succeed Roy Hodgson, then Sam Allardyce, each time the top managerial vacancy arose in 2016.
If the country's new favourite individual is to realistically improve upon a near-glorious summer and take advantage of home fixtures at Euro 2020, it's time for him to revisit the formula he had such faith in developing with the under-21s.
1. Out with the old
In dropping Ashley Young, who remained regular and reliable throughout the World Cup, Southgate has already demonstrated his ruthlessness and ambition that's such a strength. The selection of a right-footed player on the left in a system that encourages width occasionally kept England short of that very quality and, particularly in the context a team that needs to evolve beyond set-pieces, there's little point retaining a 33-year-old in a team that needs to peak in two years.
The decisions of Gary Cahill and Jamie Vardy to end their international careers saved Southgate from eventually having to handle them similarly, and there will also come a time when Danny Welbeck suffers the same fate.
There's little to gain from needlessly dropping a consistently influential figure simply because of his age. But if there are already convincing alternatives who are expected to be superior come Euro 2020 – in Young's case: Luke Shaw, Danny Rose, Fabian Delph and eventually Ryan Sessegnon – then there is barely an argument to be made.
2. Gradually introduce the new
Making multiple, immediate changes to his squad would have been as unnecessary as it would reckless. It would have risked damaging the momentum, as well as the admirable culture and sense of identity that Southgate has carefully built.
Yet the fit-again Joe Gomez's recall gives cause for encouragement, and over the coming months there are talents of a similar age and calibre who, largely owing to strengths that the present squad lacks, will also demand their chance.
Harry Winks may have made the World Cup but for injury prematurely ending his season. It's also hoped that Trent Alexander-Arnold, the aforementioned Sessegnon and eventually Angus Gunn, Phil Foden and Jadon Sancho, will also continue to improve and gradually challenge for a starting spot
3. Shift the balance of play
If Southgate was ultimately proven right to build his team around the strengths of players able to excel at set-pieces and to ensure his starting XI was blessed with significant pace – perhaps providing the greatest possible margin for error – then he also has two years in which to nurture alternative traits.
In Harry Kane, Dele Alli and Raheem Sterling, Southgate has a front three with the potential to rival almost any in international football. It's a trio which could thrive through a subtle shift in systems from his unconventional 3-5-2 to a 3-4-3, ensuring they are more often together in the final third, where they are at their best.
The England manager's promising under-21 team was encouraged to retain possession but even if Jordan Pickford's selection over Jack Butland initially appeared borne of that same desire, choices elsewhere meant a team of players most comfortable while running or providing finishing touches, not those needed to keep the ball in the first or middle thirds.
The reintroduction of Eric Dier – whose disappointing form before the World Cup justified his demotion to the bench – to the centre of Southgate's back three would provide a further composed distributor to his defence. It would also ease the burden Jordan Henderson faced as the sole defensive midfielder, and free up Kyle Walker to play wide on the right, where he is perhaps the best in the world in his position.
When Jack Wilshere was omitted despite being the only realistic option as a sophisticated, ball-playing central midfielder – something obviously missed when England struggled to retain possession – his international career was effectively ended. Harry Winks is now the likeliest long-term solution to that role, with Bournemouth's promising Lewis Cook a further alternative who will be needed.
In those circumstances, Jesse Lingard would be a harsh yet likely casualty from the starting XI. However, during the summer, Ruben Loftus-Cheek and Marcus Rashford were England's only game-changing substitutes. Lingard's presence there – eventually alongside that of the improving Ross Barkley – would give Southgate more encouraging options from the bench.
4. Promote systems over personnel
At their most admirable, Southgate's England Under-21s remained comfortable with subtle adjustments within their 4-3-3 system, in which the personnel could also change. But throughout the summer, only injury seemed likely to force tweaks within his senior team – and potentially at a cost.
Southgate has already made one encouraging, significant move towards that by resisting the now-traditional English temptation of selecting a proven player – in this case Lallana – when only half-fit. Should his growing options progress as expected, they will again be able to offer him a reliable sense of strength in depth, in which Alexander-Arnold is as convincing an option as Walker, and Gomez is as authoritative as Harry Maguire and John Stones.
5. Maintain the shootout momentum
Even if everything were in his favour, there are so few opportunities to win a major trophy – and the margins remain so fine – that achieving this could well remain beyond Southgate's reach. His greatest chance of securing a lasting legacy would therefore come if England were to also win the next penalty shootout when it almost inevitably comes their way.
Victory against Colombia provided a significant sense of relief, but one that would ultimately count for little if their next shootout ends in defeat. A second triumph in succession would convince that a long-term weakness has finally been corrected, and that any taking place thereafter could truly take place on level terms.
Thank you for reading 5 articles this month* Join now for unlimited access
Enjoy your first month for just £1 / $1 / €1
*Read 5 free articles per month without a subscription
Join now for unlimited access
Try first month for just £1 / $1 / €1
Quizzes, features and footballing fun
Get the best features, fun and footballing frolics straight to your inbox every week.
Thank you for signing up to Four Four Two. You will receive a verification email shortly.
There was a problem. Please refresh the page and try again.