9 of the weirdest celebrity football club connections
By Felix Keith published
After basketball superstar Shaquille O'Neal sent a good luck message to League Two table-toppers Northampton Town, Felix Keith uncovered some other examples of weird star allegiances...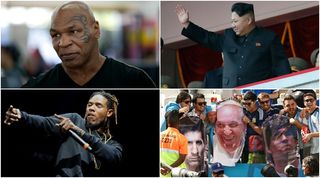 Numerous celebrities have been cornered in interviews and cajoled into proclaiming their support for a football club at some point in their career (Snoop Dogg, we're looking at you pal).
So here's a collection of some of the more obscure and harder-to-explain connections between familiar faces and football clubs...
1. Lancashire's Egyptian connection
Wigan Athletic owed a lot to Egypt for their 11th-place Premier League finish in 2008/09: Amr Zaki finished as the club's top scorer with 11, while January addition Mido netted on his debut against Liverpool.
The Egypt internationals' efforts inevitably drew attention from back home, with none other than President Hosni Mubarak (in power for 30 years before a 2011 uprising) announcing himself as a fan. Wigan are clearly attractive to heads of state: former Soviet Union leader Mikhail Gorbachev also took a fancy to the Latics during their Springfield Park days when visiting with Metalist Kharkiv.
2. A Posh knockout
Football was likely far from Mike Tyson's mind when his self-effacing 'An Evening with the Baddest Man on the Planet' tour stopped in Peterborough in 2010.
Tyson just couldn't resist stopping off at London Road, though – when in Rome and all that – and was soon announcing himself as a Posh fan after being kitted out with a home strip. The former world champion's presence couldn't help Peterborough deliver the knockout blow in a pre-season friendly with heavyweight opponents West Ham, though.
3. Brooklyn's very own Potter
Busta Rhymes may be just one of many American rappers to adopt (one or more) English football teams, but his choice stands out because it's seemingly unexplainable.
A photograph of Rhymes sporting a vintage Stoke shirt while filming a TV show surfaced in 2010, with the lack of accompanying subtext leaving everyone in the Potteries scratching their heads. So many questions.
Busta Rhymes in a Stoke City shirt... (via @willdolby) #Football#Stoke#Citypic.twitter.com/KISY4b5C4g
— Photos of Football (@photosofootball) June 20, 2015
4. United's truly global reach
Not much gets in or out of North Korea, but Manchester United's global appeal can break down any barrier. United claim that one in 10 people across the world are fans of the club – although that particular survey was conducted before Louis van Gaal's appointment – with North Korea's supreme leader Kim Jong-un among their number.
With no Premier League broadcasting rights in the country, it's likely that Kim spends his weekends in a futile search for HD streams like the rest of us. That's when he's not hanging out with former NBA personality Dennis Rodman, though. Obviously.
5. Can you smell what the Silkmen are cooking?
Unlike many of his Hollywood colleagues, Dwayne 'The Rock' Johnson doesn't support Manchester United or Arsenal. The wrestler-turned-actor was assigned a random side to follow on Sky's Soccer AM and has loyally stuck by Macclesfield Town ever since, faithfully trotting out lines like "the Pride of Cheshire" when referring to the National League side in interviews.
A true man of the People('s Elbow).
6. Boing boing Baggies
"If someone had told me I'd become a West Brom fan I'd have told them to get stuffed," Goran Ivanisevic once said. Which is fair enough, really – why on earth should a Croatian tennis player have any affinity with the Birmingham club?
Well, he soon changed his mind. After a media manager on the Champions Tour talked his ear off about the Baggies' great escape in 2005, Ivanisevic soon found himself stuck in the rut of refreshing Teletext for score updates while away at tournaments. Geoff Horsfield inspires a special kind of devotion.
7. A notorious Gunner
"Clearly he wouldn't be welcome at Highbury in the future," an Arsenal club spokesman nervously insisted in 2001 when it emerged that the most wanted man in the world, Osama bin Laden, was maybe a Gunners fan.
A biography of the Taliban leader revealed that he fell in love with 'the Arsenal' while living in London in the 1990s, and may have even attended Highbury during the club's run to the 1994 European Cup Winners' Cup Final. The phrase "any publicity is good publicity" doesn't quite stretch this far.
8. On the Lord's side
Despite being leader of the Catholic Church, Pope Francis still finds the time to continue his avid support of Argentine outfit San Lorenzo.
Born in Buenos Aires, the 266th Pope considers the club to be a part of his "cultural leader", with the Pontiff happily holding aloft a club shirt in 2013 after his beloved San Lorenzo won the league for the first time in six years. Now that's divine intervention.
9. Travolta's Socceroos
Corporate affiliation has brought the world many strange things, but John Travolta giving the Australian football team a pep talk (well, of sorts) is particularly left-field. The Hollywood actor is a 'goodwill ambassador' for Australian airline Quantas, whose sponsorship of the Socceroos saw him flown to South Africa for the 2010 World Cup.
Travolta's belief that a half-hearted rendition of the Grease song You're The One That I Want would be just the thing to fire up the troops against Germany turned out to a misguided one: Australia were pummelled 4-0. You know what we want, John? Never do that again. It's for your own good, really.
Thank you for reading 5 articles this month* Join now for unlimited access
Enjoy your first month for just £1 / $1 / €1
*Read 5 free articles per month without a subscription
Join now for unlimited access
Try first month for just £1 / $1 / €1
Quizzes, features and footballing fun
Get the best features, fun and footballing frolics straight to your inbox every week.
Thank you for signing up to Four Four Two. You will receive a verification email shortly.
There was a problem. Please refresh the page and try again.