Is being 'Spursy' even a thing anymore?
The big stick was whipped out to bash Tottenham when they lost at home to Wolves last weekend, but is such a tag fair or fallacy?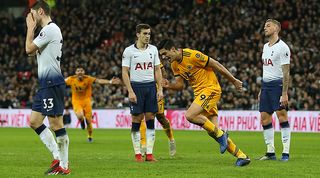 'Spursy' was an addition to the Oxford English Dictionary in 2016. OK, it wasn't really – but there was a spoof story saying so which, in the manner of the finest parodies, felt plausible enough to fool some.  
Certainly, Spursy feels part of the footballing lexicon. The accusatory adjective was levelled again after Tottenham's defeat to Wolves last Saturday. It feels a constant in the conversation when such results occur.
One-nil up at home, against a less-favoured team, Tottenham lost to apparently exit a title race they had supposedly only entered three days earlier. How very Spursy. 
The myth
Except it wasn't. Or not in the context of the current Tottenham, anyway. This was the first time since May 2016 when they had lost a league game after opening the scoring. It was the first time since that same 2016 match against Southampton when they were defeated at home in the division by anyone other than Chelsea, Liverpool or Manchester City. It was only the second time this season they have dropped points to anyone outside the top five. It was, in short, un-Spursy, at least as far as Mauricio Pochettino's Tottenham are concerned.
Because if the definition of Spursy implies a team who were reliably unreliable; who would invariably let you down; who were, as Gary Neville said in November "spineless and soft, flaky, rubbish", then it is, at best, an anachronism.
The image of that Spurs was brilliantly and cruelly captured by Sir Alex Ferguson, with his infamously disparaging team talk: "Lads, it's Tottenham." Talented but mentally fragile, Spurs took a 3-0 first-half lead against Ferguson's Manchester United in 2001. They lost 5-3. Talented and mentally strong, Spurs took a 3-0 lead against Jose Mourinho's United in 2018. They won 3-0.
The notion that Spurs are forever Spursy ignores the way that identities can evolve. Sometimes they stand in complete contrast to the past, redefining a club. Arsene Wenger's  Arsenal were often the antithesis of George Graham's Gunners, and Mourinho's pragmatic Chelsea champions felt the opposite of their more entertaining but flawed predecessors.
If, in the 1990s and 2000s, being Spursy suggested underachieving relative to the budget, prospects and profile of their players, Tottenham have done the opposite in recent years.
Logically, they should not be in the top five. They have the sixth-biggest wage bill, separated by a financial gulf from the five more generous payers, and yet are on course for a fourth consecutive podium finish. They failed to sign anyone in the summer. Pochettino's net spend of £50 million in his reign is around a tenth of each Manchester club's outlay in the same time; Brighton, Fulham and Wolves had a bigger net spend this summer alone. Follow the money and Tottenham are the most consistent overachievers in that time, which does not sound very Spursy.
SEE ALSO Why Mauricio Pochettino is masterminding his biggest achievement yet at Tottenham
Yet even the historic image feels incorrect. Neville said Spurs were "pathetic for 30 years" – which, whenever Neville's three-decade period began, can't have been true for all of it. Tottenham were Champions League quarter-finalists in 2011. They earned silverware 17 times between 1961 and 1991. And if not winning trophies is Spursy now, then Liverpool, Everton, West Ham, Newcastle and a host of others are similarly so.
But Spursy has become a meaningless catch-all term, applied every time Tottenham don't win, whatever the circumstances and whoever the opposition. It was invoked when they exited the Champions League to Juventus last season, though recovering from an early 2-0 deficit in the first leg felt the antithesis of Spursy. Much like their away record this season, when they became the first team to register 10 wins and 25 goals on the road, it felt unflaky.
Lazy churnalism
The notion of mental frailty persists with another of the sillier, lazier additions to the footballing vocabulary: bottling it. Like Spursy, it is used as a stick to beat Tottenham.
Except that they didn't bottle the title race in 2015/16. Indeed, after a slow start, they were playing catch-up for the majority of it. If anyone did so that season it was Arsenal, top after 22 matches only to finish 10 points behind champions Leicester, who they beat twice. Spurs's young, improving team's only failure was that a late slump cost them second place.
Nor, indeed, did they bottle it in 2016/17: not when they took 86 points, much their best tally in the era of three for a win, and when they only dropped four in an unbeaten home campaign. Both times, Tottenham exceeded reasonable expectations, which scarcely seems Spursy.
So when suggestions of Spursiness are produced every time Tottenham don't win, it ignores the reality that everyone drops points, some to seemingly inferior opponents and in apparently needless fashion.
Take Tottenham's immediate rivals. Manchester City, in a 100-point season last time out, gave up a 2-0 half-time lead to lose a derby that would have confirmed their title. Was that Spursy? United lost to all three promoted teams. That, presumably, was Spursy. Arsenal were sufficiently fragile on their travels that they only won four times, showing their supposed Spursiness.
Chelsea went down by an aggregate score of 7-1 in six days to Bournemouth and Watford. That must have been Spursy. So, too, the week when Liverpool lost to Swansea and West Brom – both ultimately relegated – despite leading at Anfield against Alan Pardew's team in the FA Cup. How very Spursy. 
Reality check
Tottenham are less accident-prone than most, but the odd upset happens to even the best. In each case, the reasons ought to be assessed.  
In the case of Tottenham's defeat to Wolves, they can include an occasional susceptibility to the aerial ball (highlighted by Watford and Liverpool in September), the fallibility of Hugo Lloris at times this season, the fatigue of an injury-hit squad forced to play a third game in seven days, and an inability to recapture control of the midfield from Joao Moutinho. Yet simply saying something is Spursy is anything but scrutiny: it is an empty slogan, not a reason; laziness, not analysis.
And, beyond the name itself, nothing about it is intrinsic to Pochettino's Tottenham. At best, Spursiness is a suitably elastic concept to mean whatever anyone wants it to. At worst, it is nonsense. So either everyone, sooner or later, is Spursy – or no one is.
Quizzes, features and footballing fun
Get the best features, fun and footballing frolics straight to your inbox every week.
Thank you for signing up to Four Four Two. You will receive a verification email shortly.
There was a problem. Please refresh the page and try again.