Why Mauricio Pochettino is masterminding his biggest achievement yet at Tottenham
No signings, injuries to large swathes of his squad, major stadium delays and more. Unlike Jose Mourinho, the Argentine has battled through it all to break more records at Spurs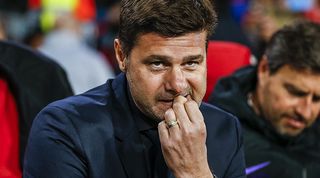 Lemons should be mandatory in every work place in Britain. If that sounds radical, consider that Mauricio Pochettino keeps a bowl of them in his office because he believes they absorb negative energy. Logic will tell you he's wrong. A look at the table might change your mind.
Other explanations are hard to come by, after all, when you realise the scale of Tottenham's achievement this season. They sit third in the Premier League with 39 points, their best total after 17 games since 1960. They are through to the Champions League knockout stages.
And yet Spurs are enduring a dark and menacing spell; the kind of hellish season that can drag decent teams towards the drop and title favourites out of the top four. Almost every conceivable disaster has struck Spurs, who under normal circumstances should have slipped out of the top six.
That they have improved instead is a feat whose magnitude can only be appreciated by recalling just how rotten their luck has been.
SEE ALSO The 8 most likely candidates to permanently replace Jose Mourinho at Manchester United
Enter… no one
Already before the season began were the lemons put to work. Spurs had nine players in the World Cup semi-finals, more than any other team, meaning key players started the campaign with low fitness levels, little rest and a high chance of picking up injuries.
Thankfully Pochettino had put pressure on Daniel Levy to seal the summer deals quickly, so that the players would have time to train with the team and get used to their tactics. Spurs certainly needed a big squad now. And yet Levy bought no players at all. As their rivals recruited, the north Londoners became the first club not to buy anyone in summer since the transfer window opened in 2003.
That was surely not part of the plan and should have hampered a team that was already overachieving. Spurs have the sixth-biggest turnover in the division, and a wage bill half that of the two Manchester clubs. Realistically, mere stagnation would have been a feat.
Over the limit
Still, Pochettino chose to defy such predictions. When he met the press before the season, he smiled and lauded Levy for managing to keep the squad together. Whereas Jose Mourinho predicted a "difficult" season because of players returning late from the World Cup and a lack of new centre-backs, Pochettino accentuated the positives.
That attitude helped Spurs win their first three league games, but the circumstances were still tough – particularly when the captain screwed up. Just when Pochettino needed a strong leader to guide the team through the storm, Hugo Lloris was banned and fined for drink driving. As if jumping into his Porsche when far over the limit wasn't enough, Lloris was soon injured too.
Pochettino did forgive the Frenchman, but he and Levy found it harder to accept the delays to the stadium, which have been disheartening for players, staff and fans. Spurs were set to leave Wembley in mid-September, but the opening of the new ground is now scheduled for February.
The delays have forced Spurs to play certain home games on a potato field scarred by NFL markings. They have also had to endure a tougher start to the season than others, having played 10 of their 17 games on the road. The few games they have fulfilled at home have often lacked soul: when they beat Southampton last Wednesday, only 33,012 turned up.
Walking wounded
Such issues are less common than injuries, which are a natural part of any season. But also here, the scale of the problem has been freakish.
Counting first-team and senior back-up players, 14 out of Pochettino's 22 squad have been injured this season. Almost the entire defence has been out, including Danny Rose, Davinson Sanchez and Juan Foyth. The two right-backs, Kieran Trippier and Serge Aurier, are not completely fit. Jan Vertonghen has played two league games since September 29; Eric Dier is out for the year.
In midfield, injuries have struck Dele Alli, Moussa Sissoko and Christian Eriksen, who has struggled with a back problem. The two linchpins, Mousa Dembele and Victor Wanyama, have started eight league games between them and are out until January at least.
With Vincent Janssen sidelined since July, that leaves eight players who have been fit all season: Harry Kane, Toby Alderweireld, Ben Davies, Lucas Moura, Son Heung-min, Erik Lamela, Harry Winks and Fernando Llorente. Son was absent in August anyway, participating for South Korea in the Asian Games.
In fact, only Kane and Davies among those players would be likely to make Pochettino's favoured XI, given that the manager wanted Alderweireld sold in the summer.
Pochettino had a superb injury record in his first years at Spurs. This season has been a nightmare.
QUIZ! Can you name the Champions League last 16 players who played the most minutes in this season's group stage?
Through the mud
When you consider this toxic brew of alcohol, injuries and stadium delays, Spurs should be closer to sixth, probably near United, who sit 11 points behind fourth-placed Chelsea. They certainly shouldn't be six points off Liverpool. And there's no way they should have been able to come back from the dead and seal progress from their Champions League group, edging out Inter Milan with a draw at Barcelona.
How have Spurs done it? They've had some luck on the pitch. They have scraped a series of narrow wins, one being the 1-0 triumph over Burnley last weekend in which Eriksen scored a stoppage-time winner. The stats for shots for and against put Spurs in the middle of the table.
Yet grinding out those victories reflects the mindset that Pochettino has sought to instil since he arrived at the club in 2014. Talent alone could never have pulled Spurs through the mud – sometimes literally, in the case of Wembley – because most of it has, at one point or another, been injured.
Instead, Spurs have prevailed through grit, positivity and a no-excuses attitude. The result is their most impressive spell under Pochettino to date.
NEWS Pochettino focused on Spurs amid Manchester United rumours
Quizzes, features and footballing fun
Get the best features, fun and footballing frolics straight to your inbox every week.
Thank you for signing up to Four Four Two. You will receive a verification email shortly.
There was a problem. Please refresh the page and try again.