Devastated Bobby Charlton left hoping for Rooney slip-up
By Back of the Net published
The England striking legend has admitted his record is in a precarious position, Back of the Net reports...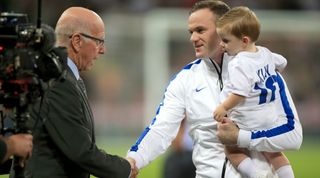 Wayne Rooney has equalled Sir Bobby Charlton's record of 49 England goals, leaving the 77-year-old hoping for a miracle to hang onto his place atop the Three Lions' scoring charts.
Charlton, who retired from international football in 1970, could only look on as Rooney netted against San Marino, and has admitted that he can now only hope that Rooney spectacularly fluffs his lines.
"It's very much Rooney's to lose," Charlton admitted to FFT. "At this stage you'd rather be on his horse than mine. In honesty there's not much I can do now. Wayne has a good four or five years left playing at international level and I'm not sure I'll get a look in again, even against the likes of Andorra or San Marino."
There were reports from Serravalle, where the atmosphere was generally relaxed and good-natured, of a solitary voice from the terraces encouraging San Marino players to go in with two feet on Rooney.
"Of course, it was me," Charlton chuckled. "I wouldn't be human if I wasn't hoping for Wayne to be struck down by a recurring ankle injury, an insatiable desire to keep goal, or syphilis.
"I'm a competitive man, so I may well have a kick at his meaty calves when we're at the top of some stairs, or leave a copy of Albert Camus' The Outsider lying around. It's part and parcel of the game.
"But if he does get that 50th goal, I'll be the first to congratulate him, you know, as soon as I've checked that none of them may have actually been deflected."
Rooney was not available for comment after having to take his car to the mechanic to fix a sudden problem with its brakes.
Thank you for reading 5 articles this month* Join now for unlimited access
Enjoy your first month for just £1 / $1 / €1
*Read 5 free articles per month without a subscription
Join now for unlimited access
Try first month for just £1 / $1 / €1