FFT's wry season review pt.1: Arsenal crush dreams, Chelsea plot to con Conte
Back of the Net deliver the first part of their season review, complete with jaw-droppingly accurate predictions which we can but applaud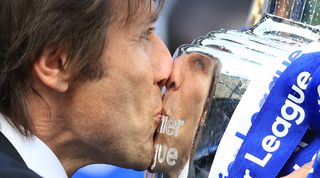 Arsenal (5th)
Previously unpublished Back of the Net pre-season prediction: 5th
The lowdown: A dismal campaign saw the Gunners succumb to the abject humiliation of being only the fifth best team in the country, rather than looking down from the proud heights of fourth. It remains to be seen whether fans will tolerate a season without at least one 5-1 thrashing by Bayern Munich.
The best: Seeing off non-league Sutton United in the FA Cup fifth round, ruining the dreams of somebody other than their own fans for a change.
The worst: Arsenal's mid-season break in March was ill-judged, as the rest of the league continued to play fixtures without them. St Totteringham's deconsecration by a special Vatican commission also came at a bad time.
Need to do for next season: Give Arsene Wenger a 10-year contract, to let him concentrate on building for the future.
Bournemouth (9th)
Previously unpublished Back of the Net pre-season prediction: 9th
The lowdown: Eddie Howe overcame looking exactly like your best friend's sister's boyfriend to guide unfancied minnows Bournemouth into the top half, proving that magic can happen when you add together a bit of luck, a lot of spirit and a Russian petrochemicals billionaire.
The best: Josh King's 16 goals make him a certainty to be tipped for an England cap by people (Harry Redknapp) who haven't checked his Wikipedia entry.
The worst: Bournemouth's 3-3 draw with Arsenal saw the Cherries ease into a 3-0 lead with sublime football before falling apart in the second half, a performance widely regarded as Howe making a pitch for Arsene Wenger's job.
Need to do for next season: Read the small print on Nathan Ake's loan deal.
Burnley (16th)
Previously unpublished Back of the Net pre-season prediction: 16th
The lowdown: Burnley's impregnable defence, fortress-like home form and never-say-die mentality should in no way be attributed to manager Sean Dyche, who gets no credit for anything and deservedly so.
The best: Achieving safety with two games to spare, despite the best efforts of Sean Dyche who was probably hoping to get them relegated.
The worst: Losing 1-0 to non-league Lincoln, who rightly saw Sean Dyche as an overpaid southern softie with a massive ego who needed taking down a peg.
Need to do for next season: Sack Sean Dyche, as he is quite evidently holding the team back.
Chelsea (1st)
Previously unpublished Back of the Net pre-season prediction: 1st
The lowdown: Freed from the distractions of the Champions League, and Jose Mourinho throwing handfuls of his own faeces at journalists, Chelsea improved from 10th in 2015/16 to win the league by seven points, the sort of fairytale that inspires underdogs everywhere.
The best: The 3-0 victory at the King Power Stadium in January, which finally knocked Leicester City off their f**king perch.
The worst: Having given John Terry a guard of honour in the 26th minute of the final game of the season, Chelsea can have no complaints if they are punished with a fine, a points deduction or expulsion from the professional game.
Need to do for next season: Either persuade Conte's wife Elisabetta to move to London, or persuade Conte that she never really loved him and it would be the kindest thing for both of them if he started a new family within driving distance of Stamford Bridge.
Please note: all of the above is meant to be taken with what Antonio Conte would probably call "un pinch di salt". Like, obviously. Parts 2-5 are coming soon.
Quizzes, features and footballing fun
Get the best features, fun and footballing frolics straight to your inbox every week.
Thank you for signing up to Four Four Two. You will receive a verification email shortly.
There was a problem. Please refresh the page and try again.