The John Stones debate: what's really right for a promising – if unpolished – centre-back?
By Declan Warrington published
Few players felt Everton's dismal 2015/16 quite like the 22-year-old, who suffered at the turn of the year and didn't recover. But, writes Declan Warrington, there's only one way to get him back on track – and it shouldn't involve changing his game...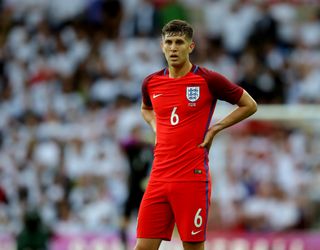 Amid the concerns surrounding England's central defensive options, John Stones may yet still develop into one of the world's best.
The Everton defender is, however, currently considered backup in Roy Hodgson's team to Gary Cahill and Chris Smalling – respectable performers but far from the inspirational options elite teams are built on.
His present status is a reflection of the way his progress has stalled over the past season, one which began with Chelsea prepared to make him the most expensive English defender of all time.
Stones is far from alone in being a promising young player to experience the struggles that can delay the expected fulfilment of his potential, but there are also growing concerns by how the pressure on him has built.
It is understandable that a technically capable 22-year-old in the mould of a young Rio Ferdinand – possessing the vision and confidence to pass or dribble his way out of defence – would excite, particularly at a time when England's defensive options are so limited.
The concern, though, is that the desperation from many for him to succeed has built into a divisive debate over how he should be nurtured, and that the significant voices joining that debate risk undermining the qualities that first appealed.
To play, or not to play?
The most frequent criticism Stones has faced – and it should not be forgotten that he played in an Everton team that had an inexplicably poor season under Roberto Martinez, a manager whose neglect of defence is famed – surrounds a belief that he is both error-prone and lacks a relentless drive to keep clean sheets.
That drive is one with which other fine defenders – John Terry and Jamie Carragher being obvious examples – are familiar, but should that be a valid criticism when he possesses abilities the traditional 'stopper' lacks?
There have been no shortage of suggestions that Stones would benefit from being encouraged to simply, and often aimlessly, kick possession long, but at a time when the FA has attempted to overhaul the traditions that have for so long undermined the development of young English talents, wouldn't that represent reverting to a comfort zone and method that hasn't worked?
Wasn't it that same attitude that gradually transformed the once-expansive Ferdinand into the polished, high-level stopper he became, instead of the elegant total footballer he threatened to be? And which contributed to Gerard Pique leaving Manchester United for Barcelona years before his peak?
High-profile critics
Carragher is among those who recognises Stones's considerable potential, but who regardless believes he needs to learn greater discipline. "His defending is lacking intensity and he doesn't see danger early enough," said the ex-Liverpool man back in January.
"Turning in your own area like Johan Cruyff might look good to some but over-playing leads to the kind of mistakes you associate with David Luiz. For the best defenders, nothing looks better than a zero at the final whistle. What did [Franco Baresi] love doing most of all? Keeping clean sheets."
To his voice can Sol Campbell's and Martin Keown's be added. "He just has to understand there are moments to play the ball and moments to keep hold of the ball," Cambell said. "He just needs to find that balance."
"I know there are people who firmly believe in Stones playing out from the back," said Keown. "That's fantastic, but it's the icing on the cake. First of all I want him to be a very good defender and Stones does not yet have that."
For the defence
Glenn Hoddle once planned to use Ferdinand as a ball-playing sweeper in a three-strong defence, instead of the routine back four his successors as England manager have since preferred. As with Ferdinand 18 years ago, he is confident in Stones's abilities.
"I can see hints of [Alan] Hansen," he said. "The important thing is that we nurture those talents and don't stifle his spirit. The danger is that his instincts are suppressed and he turns into a more traditional kind of centre-half."
Phil Neville, who will have been influenced by his time at Valencia in the same way Hoddle once was at Monaco, said: "He's been criticised for overplaying, but that's rubbish. For me, if he stops taking the ball, that's when I would be criticising John Stones.
"They say you should defend, first and foremost. But Stones can defend and he can also play football. Instead of killing him we need to back him."
Ferdinand even contributed the following to a phone-in: "He's the best ball-playing centre-half about at the moment. Give the kid a chance to play and to grow and to make mistakes. It's typical of people in this country, 'Oh he makes a mistake, he tries to do too many flash things'."
Philosophical split
The debate surrounding Stones demonstrates a wider divide within English football, between those who recognise the damaging mistakes the English system has long made and who therefore believe in change, and those reluctant to abandon the principles that have existed for even longer.
When a player of his quality has emerged – and the examples of how differently the raw talents of Ferdinand, Wayne Rooney and Joe Cole could have been handled show it is not often enough in England – isn't it time to resist traditional English urges and nurture him with the freedom Spain's Pique and France's Raphael Varane justified?
It is no doubt a significant positive that Everton's Ronald Koeman, or even Manchester City's Pep Guardiola, appear most likely to be Stones's club manager next season, given the admirable characteristics of both as players and the way each encourage their teams to play.
After decades of mistakes and interference that have inhibited so many English players and ultimately the fortunes of the national team, it's surely time a player of the 22-year-old's abilities is trusted to grow and flourish, instead of inhibited and changed.
Bobby Moore was among those who made costly mistakes at international level, but who is rightly regardless revered as the finest defender England has ever produced.
Many would still have Stones focus largely on avoiding the risks his talent invites, however, and if theirs is the path he follows they will surely have undermined the new attitude England's FA has been pursuing at a crucial and defining time.
Thank you for reading 5 articles this month* Join now for unlimited access
Enjoy your first month for just £1 / $1 / €1
*Read 5 free articles per month without a subscription
Join now for unlimited access
Try first month for just £1 / $1 / €1
Quizzes, features and footballing fun
Get the best features, fun and footballing frolics straight to your inbox every week.
Thank you for signing up to Four Four Two. You will receive a verification email shortly.
There was a problem. Please refresh the page and try again.