Next Republic of Ireland manager between Zidane and McCarthy, confirm FAI
McCarthy said to be winning the race after promising to give major sides 'a doing', Back of the Net reveals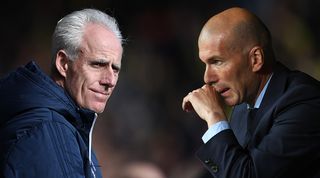 Sources inside the Football Association of Ireland have revealed that the Republic of Ireland manager's post is now a two-horse race between Zinedine Zidane and Mick McCarthy, with the latter holding the advantage.
After the departure of Martin O'Neill, the FAI drew up a list of potential replacements ranging from Helenio Herrera through to reappointing O'Neill in a hat and pretending he's a different man.
Following intense debate it was established that many of the dream targets such as Herrera had passed away decades ago, while nearly 20 others were in fact misspellings of Mick McCarthy's name.
The FAI's board is said to have been impressed by Zidane's historic three consecutive Champions League titles and his status as one of the greatest footballers of his generation, but they were more excited by the fact that they already have tracksuits with McCarthy's initials on them and that his number is on their speed dial.
"You can really argue a case for either [La Liga and Champions League winner] Zidane or [twice Championship winner] McCarthy," an FAI insider told FourFourTwo.
"Zidane is one of the greatest footballers who ever lived, a man who oozes charisma. But McCarthy makes sense because he left a lot of boxes of his stuff here and we never found a way to get them to him.
"We really have been in two minds about it, but in the end the key factor may have been that we weren't able to find any kind of way of contacting Zidane. In fact, we couldn't even work out the dialling code for Spain or France."
Visionary
While FAI officials battled with dial tones and began emailing info@zinedinezidane.com, McCarthy was already on the phone and wowing the room with his vision.
"Mick proceeded to rattle off a list of the top national sides; the likes of Argentina, Germany and Spain, and then confirm in nasal tones that he would 'give them a doing'," our source continued.
"Then he asserted forcefully that Robbie Keane 'could still do a job', labelled [world champions] France 'a bunch of soft lads' and implored us to 'let him have at it'."
McCarthy is in pole position at the time of publication, while Zidane's repeated and oddly high-pitched insistence that 'the number you have called is not recognised' has done little to convince the FAI that he is the man for the job.
Please note: This satirical news story is not real. Stunningly, we have to say this.
Quizzes, features and footballing fun
Get the best features, fun and footballing frolics straight to your inbox every week.
Thank you for signing up to Four Four Two. You will receive a verification email shortly.
There was a problem. Please refresh the page and try again.