Predicting MLS 2017: Everything you need to know about the contenders, pretenders and unknowns
MLS is always wide open, but a few teams look like way-too-early favorites to win thing. And a few look like they're in for trouble...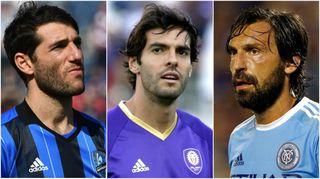 Major League Soccer's 22nd season kicks off on Friday, and it's still anyone's guess as to how things are going to shpe up. Nobody expected the Colorado Rapids to contend for the Supporters' Shield last year, and the thought of Seattle Sounders capturing the MLS Cup crown seemed preposterous in late July.
Predicting the MLS season is a fool's errand. The summer transfer window can change things quickly, and the Cup fight is ultimately about who's hot at the end, not who's been best over the season's first eight months. But FFT is game. We'll play the role and divide the 22 clubs, including newcomers Atlanta United and Minnesota United, among three categories: Contenders, Pretenders, and The Unknowns.
Let's start with the teams who shouldn't get their hopes up...
The pretenders
La Galaxy
This isn't the dynastic Galaxy that Bruce Arena governed. He's gone, so are Robbie Keane and Steven Gerrard – Landon Donovan, too – and the transition is going to require time. Not that the Galaxy have been all that great in the last couple of years. They haven't, and now Curt Onalfo has questions to answer up top, with Giovani dos Santos running the show. And Onalfo will hope the depth and skill deeper down the field comes through. There's always the chance that LA will get hot, but what happens when things go cold?
Atlanta United
There's a lot of buzz surrounding this newcomer, with former Barcelona and Argentina manager Gerardo "Tata" Martino at the helm and some nifty, young South American talent at his command. To meet the elevated expectations, a lot of foreign players must adapt right away, and that's a big ask. There's a reason first-year teams in MLS's modern era (Sounders aside) don't make the playoffs.
Portland Timbers
An off-season reconstruction, upon missing the playoffs after the 2015 title run, has given the Timbers a more youthful glow – but that was bound to occur with the retirements of Jack Jewsbury, Ned Grabavoy and Nat Borchers. Much is expected of Argentine midfielder Sebastian Blanco and Generation Adidas phenom Jeremy Ebobisse, but keeping Darlington Nagbe on board was vital. They're a work in progress, so it could come together – or not – at any point.
Orlando City
Jason Kreis is still tinkering with the squad, remaking it to his requirements, and that's going to require more time and effort. There's more money to play with after the Kevin Molino trade, and the Lions need to find Designated Players who can contribute as Kaká does. Kreis just missed in his bid to steer OCSC into the playoffs in Year Two after taking over mid-season, and it's not going to be any easier this year.
Vancouver Whitecaps
The 'Caps aim to bounce back from last year's precipitous fall, and this week's addition of former Seattle Sounders forward Fredy Montero answers, on paper at least, the most troubling concern. This is a frugal club which has struggled to find a consistent goalscorer since Brazilian Camilo took off after the 2013 season. A healthy Kekuta Manneh would help, too, but if things aren't tighter at the back, progress won't come easy.
San Jose Earthquakes
Success would be simply making the playoffs, which the Quakes have missed out on the past four years. It's eminently doable if someone other than Chris Wondolowski can score goals. Beyond that? Probably not. Former Roma technician Jesse Fioranelli has lots of work to do as the new General Manager, but the addition of five versatile foreign players in their primes is a plus – if they can adapt quickly.
Houston Dynamo
Things are going to be better under Wilmer Cabrera, who with Matt Jordan has worked to give the Dynamo a real identity after three post-season misses in a row. They've crafted a group that's more creative, more dynamic, deeper and sits atop the allocation order, which might be a big deal. Better still: Cabrera has a history with Mexican striker Cubo Torres, who needs to start paying off.
Minnesota United
The NASL grads arrive in MLS pretty deep under the radar, especially in contrast with the other expansion team. They've got no Designated Players, a bunch of journeymen and little-known foreigners, and will need big things from $650,000 midfielder Kevin Molino, top draft pick Abu Danladi, and sort-of-established tandem Miguel Ibarra and Christian Ramirez. It'll be interesting, for sure.
The Contenders
Expect these teams, in no particular order, to be in the mix for the MLS Cup in December...
Toronto FC
The Reds would be MLS Cup champions if not for Stefan Frei, and so there's motivation up the wazoo. Greg Vanney & Co. haven't altered things in any meaningful way, and that's actually a plus: Vanney's system isn't a 'system', per se, but rather something akin to a group consciousness designed to adjust with every ebb and flow. That requires extensive time to develop and great compatibility to work, so no sense messing with a winning formula.
FC Dallas
Maybe they would've been celebrating last December in Big D if Mauro Diaz's Achilles didn't rupture, but he won't be back until June at the earliest, and he's not going to be in prime form when he first steps onto the pitch. Javier Morales comes in as cover, but he's 37 and not as nimble as he used to be. The Hoops are otherwise getting younger and faster, and if they find the right system to use what they've got, anything is doable.
Sporting Kansas City
Peter Vermes is now the longest-serving coach in MLS, and among the most respected. He brings back the core of a side that underachieved last year and is looking to take a step forward after following the 2013 MLS Cup title with three straight knockout-round exits. Portuguese Designated Player Gerso Fernandes adds to an attack that clicks through Dom Dwyer, Benny Feilhaber and Graham Zusi, who might take on a deeper role with his transition to right-back with the national team.
New York Red Bulls
The Red Bulls have been among MLS's most consistent clubs the past five years, averaging 16 wins and claiming two Supporters' Shields and a third Eastern Conference title, but they never get it done in November. Tyler Adams and Sean Davis have a long way to go to be Dax McCarty, and the turmoil behind the scenes – Jesse Marsch's flirtation with RB Salzburg and Ali Curtis's drawn-out departure – raise concerns. But with Sacha Kljestan creating for Bradley Wright-Phillips, they ought to be just fine for the playoffs... and then we'll see.
Montreal Impact
Yes, Didier Drogba is gone, but so what? The group that played such electrifying football in the playoffs returns – a full season of Matteo Mancosu ought to be fun – and the summer addition of Swiss midfielder Blerim Dzemaili, along with Andres Romero's return from an ACL tear, should help immensely. A club on the rise.
Philadelphia Union
Earnie Stewart has done a nice job building a deep, talented side in Philly, and if Dutch-bred Bosnian controlling midfielder Haris Medunjanin is everything the Union expect – and Maurice Edu comes back strongly – these guys could do something real this year. Bonus points if Oguchi Onyewu makes an impact.
Who knows? 
These teams could be great, horrible, or just average. We'll see...
Seattle Sounders 
It's tough to go against the reigning champs as long as Nicolas Lodeiro is pulling the strings, but we don't know what Clint Dempsey can or can't do and there are holes to fill after the departure of five players, three of them starters, with 20 or more appearances. If Jordan Morris avoids a sophomore slump and Harry Shipp and/or Will Bruin find their best form, the Sounders will be OK.
New York City FC
There's been a lot of turnover in the Big Apple, with four starters above 30 gone – including Frank Lampard and Andoni Iraola – but MVP David Villa and 37-year-old Andrea Pirlo are back for more. Much will depend on whether the newcomers, most of all Argentine DP Maximiliano Moralez, can click quickly. Yankee Stadium's tight confines are no help.
Colorado Rapids
Pablo Mastroeni's side played marvellous defence all last year, especially in the mile-high climes at home, but the dearth in attack finally caught up with the Rapids. Jermaine Jones didn't play much, but they were a different team when he was on the pitch, and they have not adequately replaced him. There are more questions than answers at this point.
D.C. United
Nearly everyone who contributed to D.C. United's fine late run into the post-season is back, and there's some decent new blood, too. All eyes are on Hermann Trophy winner Ian Harkes, whose dad was pretty terrific here a decade-and-a-half ago. There are still some issues to sort out, especially at the back, but D.C.'s plan is to pick up where they left off.
New England Revolution
Kei Kamara and Juan Agudelo have the potential to be MLS's best strike force, especially if Lee Nguyen is on tune and Kelyn Rowe at his finest. The questions at the back have been answered, Jay Heaps expects, with the addition of Ivorian Benjamin Angoua and Slovenian Antonio Delamea Mlinar, both internationals. If Xavier Kouassi rallies nicely from injury, the Revs won't miss the playoffs on a tiebreaker this year.
Columbus Crew
Gregg Berhalter has overhauled his roster after following up the 2015 MLS Cup appearance with a bottom-but-one finish last year in the Eastern Conference, and he still has more to go. The big find is Ghanaian national-teamer Jonathan Mensah, a big centre-back, and there's hope 20-year-old São Paulo loanee Artur can do something special. Maybe.
Real Salt Lake
Aging RSL jettisoned Javier Morales and several more attacking players after fading last season, and a lot of weight is coming Albert Rusnak's way. The 22-year-old Slovakian playmaker steps in for Morales, and his more direct approach is going to alter the Utahns' game – for the better, they hope. If it doesn't take, it could be a long year.
Chicago Fire
MLS's worst side the past two years haven't been as bad as their record suggests – not that that's a point of pride. Things could be much better in 2017, as Veljko Paunovic and Nelson Rodriguez continue to fill in the trouble spots with real promise. Adding Dax McCarty, and the tenor of his game, is a big deal. Juninho, too. If Hungarian forward Nemanja Nikolic lives up to Designated Player status, watch out.
Quizzes, features and footballing fun
Get the best features, fun and footballing frolics straight to your inbox every week.
Thank you for signing up to Four Four Two. You will receive a verification email shortly.
There was a problem. Please refresh the page and try again.