There's nothing quite like the thrill of the chase for Milan enforcer De Jong
Anthony Lopopolo catches up with the former Man City man...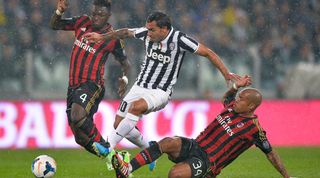 Nigel de Jong is not a dirty man - he takes showers twice a day. He uses moisturiser. He doesn't like body odours. Deodorant is a "big plus". But he does do the dirty work for AC Milan, where the 29-year-old midfielder has plied his trade since summer 2012. He's done it his entire career.
Sure there's the goatee, the stocky, 5ft 8in figure, the kung-fu kick to the chest of Xabi Alonso in the 2010 World Cup final. De Jong can look menacing, and he's earned 100 yellow cards in his career. The reputation precedes him. They call him The Tractor, Lawnmower, Pitbull, and even King Kong. He commits hard tackles without remorse. With Manchester City, the Dutchman lunged into Newcastle's Hatem Ben Arfa and broke his opponent's leg.
But sitting down with the player, a different picture develops. He says he enjoys his private life on Lake Como with his wife and kids: "It's a perfect place where we can settle in." The villain for many years likes to be "peaceful". He takes his family to a small town in Switzerland for the holidays. He dresses for this interview in a casual brown jacket. "I like to look good but it's not like I'm always in the mirror," he says. "I'm not like Ronaldo who is always doing his hair. I don't have any, so that's a little bit difficult."
The student
When De Jong talks, he is thoughtful; he uses his hands. "Everybody wants to be an attacker and score goals, but I always preferred to make a tackle or get the ball from some opponent." Here he grasps the air, as if taking something from it. "As a striker you can't recover as many balls." For him, the thrill comes from the chase.
Since he was a student at Ajax, learning the philosophy of attractive Dutch football from the famous academy, De Jong wanted to play in front of the defence. It was there that they taught him to pass precisely. Born from Johan Cruyff, the Dutch had to play to entertain, and that meant playing with the ball. They couldn't lose it.
The lessons stuck, and rarely does De Jong give up the ball. This season with Milan he has completed 92% of his passes – the 10th-best figure of players in Europe – and he averages around 70 passes per game. It's not quite the level of Xavi, but the little things go unnoticed. He can play the short pass or the long ball. Just last month he booted the ball from his own half into the box and the path of Kaka for a goal at San Siro.
He knows he is not the playmaker - assists aren't his thing. "I have to protect my back four, but I also have to be a big part for the attacking players, to give them the ball so they can make connections," he says. "It's a bit of both ways." That's where De Jong thrives, being at the heart of everything as the main line between defence and attack: "Sometimes you have to stay behind the ball and just wait for the right moment."
For Milan, who have made one of their worst starts to a season in decades, he is a lifeline. So often do the Italian giants look like a mess, scrambled eggs in a pan without shape or form, but De Jong never looks rushed. He believes he is playing well, maybe better than ever before, even if Milan are not. But ultimately winning is what he wants, the "prizes", he calls them.
Aside from being the only Serie A club left in the Champions League, the Rossoneri have little else to celebrate. Some think they are the worst team in the club's history as they prepare to face Internazionale in the Milan derby on Sunday, and Atletico Madrid in February. "Good," says De Jong, without flinching. "I like to go in as the underdog. You have to defend the club's name. It's AC Milan."
Inspiration
They may not play like seven-time European champions, but they are. De Jong has an acute sense of history. Having played in Holland, Germany, England and Italy over the past 12 years, he has taken notes from each country. In England, it's physical. Back in Amsterdam, it's the home of one-touch passing, attacking and playing the right way. In Italy, it's about emotion and passion in the stands and structure on the field.
De Jong was also a student of one Frank Rijkaard, who won back-to-back European Cups with Milan in the late 1980s and early 1990s.
"He was just a powerhouse," says the Amsterdam-born enforcer. "Everybody always talked about [Ruud] Gullit and [three-time Ballon d'Or winner Marco] van Basten, but they needed Rijkaard behind them to provide their goals. I liked to see players who made the difference for those types of players; the No. 9s, the No.10s. They cannot do it alone, they always need an anchorman behind them to accelerate. And that's why I love Rijkaard."
Rijkaard isn't the typical Dutchman; he wasn't one for free expression on the field. He wanted players to take their position and all of the responsibilities that came with it. Rijkaard did what De Jong sets out to do: be patient, appreciate the importance of defending and time the tackle right. "After your career you go to matches and you see so many unnecessary goals," Rijkaard told The Guardian in 2000. "Because a person is just looking where the ball is and not his opponent. Well, a ball alone has never scored a goal."
Quizzes, features and footballing fun
Get the best features, fun and footballing frolics straight to your inbox every week.
Thank you for signing up to Four Four Two. You will receive a verification email shortly.
There was a problem. Please refresh the page and try again.