Why 3-4-3 is already yesterday's news for Antonio Conte – and we should all be scared
Garry Hayes explains why the Blues boss is starting to shift away from the formation that's fired his team to the top of the table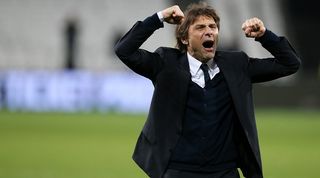 We thought we'd seen the future this season, but maybe it's already looking like the past.
Antonio Conte's 3-4-3 formation hasn't just transformed Chelsea; it's indoctrinated managers across the Premier League with the belief that a three-man backline has numerous merits.
Any true enlightenment has been Conte's, of course. It's his team that are running away with the title: with 11 games remaining, the Blues are 10 points clear at the top of the table. Not even Arsene Wenger's Arsenal could blow the lead Conte's men have amassed, regardless of whether or not it was Bayern Munich paying them a visit every week.
Managers should be worried by Conte, not because of what he's doing now, but rather what he seems to brewing up for next season at Stamford Bridge. The Italian is already moving a step ahead of the pack.
Luck and judgement
As much as Conte deserves praise for adapting Chelsea's style and system this season, it hasn't been by design. That's not to say the Italian stumbled on it through pure luck, but we're seeing signs now that the 3-4-3 isn't his preferred formation. He seems to want something different.
The 3-4-3 came about through necessity and, as the campaign has evolved, it's gradually become the 3-5-2 that we expected to see when Conte took over in west London. In total, the ex-Juventus coach has employed four formations in his time at Stamford Bridge: it started with a 4-2-4 in pre-season against Rapid Vienna and, when that didn't quite work out, he tweaked it to the 4-1-4-1 which Chelsea eventually began the season with.
When Liverpool and Arsenal dominated Chelsea in late September – yes, they were winning matches back then – Conte knew it was time for a change. The only problem was that he didn't quite have the players he needed to implement the precise alterations he desired.
Still, out went the back four and the great renaissance of Stamford Bridge started in earnest. The wing-backs came in, and Victor Moses remembered how to play football. That's what has led us to where we are now, with Chelsea subsequently becoming the Leonardo da Vinci of the Premier League with their innovation.
Short-term fix
The celebrated 3-4-3 has always felt like a necessary evil for Conte while he susses out what he has at his disposal. Since early December, the Chelsea boss has regularly been seeing out games with a 3-5-2. It started in the narrow home victory over West Brom, when Cesc Fabregas came on for Victor Moses in the 74th minute to assist Diego Costa for the match winner moments later.
In the 12 Premier League matches since that 1-0 win, the trend has continued; the only difference now is that Conte is doing it much earlier in matches. Take the recent 2-1 win at West Ham for instance: just after the hour-mark, Conte replaced Pedro with Nemanja Matic as Chelsea shifted to a five-man midfield, with Diego Costa and Eden Hazard up top.
The idea has been a simple one, bucking the tired old stereotype about Italian managers. Conte isn't closing games out by digging in deep and defending en masse; instead, he's doing the opposite by attempting to control possession and make opponents run the hard yards late on in matches when they really don't want to.
Next step
That's why we're seeing more of Fabregas, who has forced his way into Conte's thinking over the last few weeks. The Spaniard has started the Blues' last two matches and featured in every Premier League game since early December, having previously been a peripheral figure.
It feels like the natural evolution for this Chelsea side. Not only does it mean Conte has found a role for Fabregas – Matic and N'Golo Kante either side of him gives the Spaniard the freedom he craves – it maintains the qualities that have delivered Chelsea success this term, most notably the back three.
Conte has been experimenting all season long and the failure of his peers to put up a strong enough challenge is allowing the Italian to prepare for next year while wrapping up the Premier League title in his debut campaign in England.
If opponents are beginning to get to grips with Chelsea's 3-4-3, they will soon have to return to the drawing board as Conte attempts to keep his team one step ahead.
Quizzes, features and footballing fun
Get the best features, fun and footballing frolics straight to your inbox every week.
Thank you for signing up to Four Four Two. You will receive a verification email shortly.
There was a problem. Please refresh the page and try again.