Why Chelsea's summer is nowhere near as bad as you think – and it's all because of Antonio Conte
The Blues boss has a unique set of skills that few managers can match, explains Thore Haugstad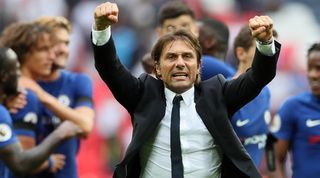 The transfer window wasn't great for Chelsea, but imagine the mess under a different coach. At least they don't have Jose Mourinho, Arsene Wenger or, heaven forbid, Pep Guardiola.
Antonio Conte has been given a thinner and weaker squad than desired thanks to a chaotic summer of doomed bids, bungled negotiations and painful rejections. As Mourinho and Guardiola have reeled in their chief targets, the Italian has seen at least four players slip off the hook.
Yet Chelsea already have the remedy. Conte has a way of turning water into wine, based on a recipe that puts hard work above pure talent. Give him a bunch of limited grafters and he'll still make it work. No elite figurehead in the league is better at coaching bad players.
The B-listers
This is not to say Chelsea have a bad squad, but that Conte is well equipped to compensate for the quality they've lost.
Let's be clear: it wasn't a great summer. Conte dreamt of Alex Sandro and Leonardo Bonucci, but got neither. Romelu Lukaku and Fernando Llorente joined direct rivals; Alex Oxlade-Chamberlain chose Jurgen Klopp. Even Ross Barkley left Conte at the altar on deadline day.
Most of those who did arrive are replacements rather than reinforcements: Alvaro Morata for Diego Costa, Tiemoue Bakayoko for Nemanja Matic, Antonio Rudiger for John Terry. The exceptions are Danny Drinkwater, who failed to make the England squad for the Euros last summer, and Davide Zappacosta, who was dropped from the Italy squad by Conte himself.
These are hardly stellar signings or even first choices. We know Conte wanted another striker. We know he preferred Oxlade-Chamberlain to Zappacosta, Bonucci to Rudiger and possibly Lukaku to Morata. We know he would have liked more creativity beyond Eden Hazard, Pedro and Willian.
The issues are clear, the quality limited. And yet no coach is better suited to deal with it.
Simplicity is king
The reason is Conte's formulaic approach. He is a master at simplifying things.
Whether in a 3-4-3 or a different formation, Conte creates a network of passing lanes that his players stick to. Instead of encouraging improvisation, he rehearses moves so that each player knows where to run and what to do. In other teams, the responsibility to create chances rests with the attackers and playmakers. At Chelsea, it rests with the tactical blueprint. It rests with Conte.
The Italian has come up with this because of his own travails as a player. An industrious ball-winner, he would get the ball without knowing where to send it. "As a manager," he once said, "my first thought from day one was that I wanted to find solutions for my players when the ball reached them, as I could not."
Now Conte builds teams in which he himself would thrive. The concept makes it easier for ordinary players to do well, since all they have to do is follow a set of strict instructions. In this way, Conte has helped unspectacular sides punch well above their weight.
The worst Italy ever
Beyond his wild success at Chelsea and Juventus, there are other examples. Bari, whom Conte made Serie B champions in 2009; as well as Siena, the club he led to promotion in the same league two years later.
Also, remember his Italy squad at Euro 2016. They were written off as one of the worst Azzurri sides in history. Conte had lost Marco Verratti and Claudio Marchisio to injury, then left out some of his most talented forwards: Stephan El Shaarawy, Mario Balotelli and Lorenzo Insigne. Instead he called on Graziano Pelle, who was struggling at Southampton, and Eder, who had scored one league goal all year.
Yet Italy fought their way out of the group, then beat Spain 2-0. In that game Conte used a midfield trio of Marco Parolo, Daniele De Rossi and Emanuele Giaccherini – against Cesc Fabregas, Andres Iniesta and Sergio Busquets. Italy lacked creativity and talent, but Conte knew the system would work as long as everyone did their jobs.
"I chose the players who gave me the most guarantees in relation to my ideas," he said. In his world, 'bad' players often do a better job than good ones.
No talent, no chance
Now imagine Guardiola taking over that same bunch. High pressing and positional play, backline pushing up, possession as gospel. There's no chance it would work.
And that's normal, because most coaches rely on talent. Guardiola is the best example, because his vision is so demanding: one-touch football in intricate spaces at breakneck speed. Even the finest playmakers on the planet need time to learn it. With a gifted squad, Guardiola has a chance. Otherwise? Forget it.
The same applies, to a lesser extent, to Jurgen Klopp and Arsene Wenger. They favour fast and technical football, and so buy slick playmakers and speedy forwards. Even Mourinho needs individual magic given his lack of a defined attacking blueprint. His strikers, from Didier Drogba to Zlatan Ibrahimovic, have usually given him that.
All these managers depend heavily on the transfer window. They either have the talent available or they don't. Lose out, and they'll have no magic formula to make up for it.
Magic not required
Yet Conte does, because his approach is designed specifically to make up for a lack of talent. His winning machine runs on blood, sweat and tears, not rocket fuel or magic dust. Both Drinkwater and Bernardo Silva could succeed at Chelsea, but only the latter could at Manchester City. Whereas Guardiola's method requires geniuses, Conte's way is idiot-proof.
You may argue that Conte deliberately dropped good players with Italy, and that Guardiola would have picked a more talented squad. For sure he would. A footballer such as Jorginho, the Napoli playmaker, would never have been left out.
However, that is part of the point. For a coach who caters for disciplined soldiers, not dazzling artists, transfer woes are more manageable because the gameplan doesn't hinge on top-class talent anyway.
The key for Conte is the system, not the players. As long as they fit his roles, whether second or third choices, the results are unlikely to suffer that much.
Quizzes, features and footballing fun
Get the best features, fun and footballing frolics straight to your inbox every week.
Thank you for signing up to Four Four Two. You will receive a verification email shortly.
There was a problem. Please refresh the page and try again.