Why Manchester United must persevere with under-performing Depay
The Netherlands international has endured a slow start to his career at Old Trafford, but Aanu Adeoye explains why comparisons with Bebe and Ravel Morrison could not be further from the truth...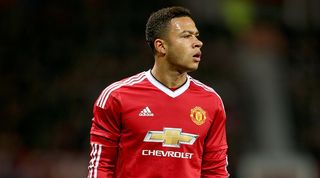 Here's an undeniable fact: Memphis Depay, save for a few moments of fleeting brilliance, has been utter rubbish since joining Manchester United. His double against Club Brugge in the first leg of the Champions League qualifier offer the only standout moments of real quality.
Depay was full of running and invention in that game, placing the fear of God into the Belgians' back four. In short, he was everything you would expect from the archetypal Manchester United No.7 – not the pretenders who have donned the jersey in recent years, but the famous wing wizards of peak Sir Alex Ferguson era: David Beckham, Eric Cantona and in particular, Cristiano Ronaldo. Depay's performance that night meant expectations skyrocketed, with many United fans christening him the heir to Ronaldo's throne.
To say Depay has disappointed since then would be an understatement. Too often, the Dutchman has gone down blind alleys like a post-winter Angel Di Maria, lacking in guile, conviction and confidence. Crosses have been shunted out of play and left passers-by outside Old Trafford worried about the safety of their heads. With Louis van Gaal already carrying one passenger in Wayne Rooney, he had little choice but to consign his young compatriot to the bench.
The criticism of Depay has generally been fair, but there's also been a wilful amount of revisionism doing the rounds lately, with one columnist even comparing him to Ravel Morrison – a player with a long history of ill-discipline and legal troubles – and some fans nonsensically mentioning his name in the same breath as Bebe, the £7 million recruit who was destined for the Old Trafford scrapheap the moment the ink had dried on his contract.
RECOMMENDED Is Ravel Morrison's Italian adventure over before it's begun?
Fast and frenetic
Depay's penchant for the Manchester nightlife is as well documented as his flamboyant dress sense (he wears fake gold teeth), which has bizarrely attracted criticism in some outlets, as if his choice of attire has a direct correlation with his on-pitch output. The soap opera nature of the Premier League means that at least one major side has to be in crisis at any given time; in the absence of a genuine problem at United, Depay has become an easy target.
It is being conveniently glossed over that the winger is a 21-year-old youngsters still adapting to the physical demands of the world's most aggressive league. "It's a high rhythm in the Premier League but he has to adapt to that high rhythm and he shall improve I think," was Van Gaal's assessment of Depay in September, with the player himself admitting that he was struggling with the English top flight's frantic pace.
"There are a lot of games in Manchester," he said. "There are very few rest days and on training days you are mainly concerned with recovering. It's heavy, two games a week, always at a high level, and my body has to get used to that."
MD7
The Ronaldo comparison also means he faces a much higher level of scrutiny, which unsurprisingly does him no favours. The modern phenomenon of comparing young upstarts to the game's greats is detrimental to the former group's development. Being compared to an all-time superstar may be flattering at first, but it's ultimately a set-up for failure when young players – as is the case more often that not – fail to meet these prescribed standards.
Depay has often looked weighed down by the expectations, crumbling under the weight like a squash plant wilting in the mid-summer heat. He has often been guilty of over-complicating moves, shooting wildly at goal when a simple pass to a team-mate would have sufficed. For context, Depay is dispossessed four times per game on average – the third-highest amount in Europe's top five leagues, and the highest in the Premier League. Enthusiasm and risk-taking are admirable qualities, but for a player struggling for form and confidence, getting back to the basics is essential.
Depay's travails have seen him dropped from the latest Netherlands squad amid claims from coach Danny Blind that he isn't always a team player. Understandably, though, Van Gaal has pleaded for calm: "I have to be patient for Memphis, and the fans do also".
Time to acclimatise 
It is widely accepted that foreign imports to the Premier League usually struggle in the first few months following their arrival. If anyone deserves to be persevered with, it is a player who notched 39 goals in 90 Eredivisie appearances and was nominated for the World Cup's Best Young Player Award. Patience, however, is a virtue in short supply when players and managers are routinely condemned after a defeat and hailed after a victory.
The Premier League is replete with foreign youngsters who initially struggled before ultimately coming good. Before this season, Erik Lamela was considered an overpriced part of Tottenham's post-Bale splurge, but the Argentine has clawed his way back to reckoning with a string of impressive displays this term. The list of stars who have taken a while to get going is endless: Philippe Coutinho, Thierry Henry, Christian Eriksen and Hector Bellerin all struggled to varying degrees at the start of the Premier League careers before becoming some of the best players in the division.
Even Ronaldo, patron saint of fleet-footed United wingers, had an indifferent start to his career at Old Trafford, having to wait until November – and his 10th match – for his first goal in the club's colours. If history has taught us anything, it's that an inauspicious start to life in England need not spell the end for a promising young player's career.
Bulking up
For Depay, the task now is to work hard and claw his way back into contention with both the Netherlands and United. Often the first step for a struggling player is to admit failure, and Depay's comments in recent days suggest he is not blind to his own shortcomings.
"When I stood on the scales first I thought, 'OK, is this correct?' My body is still developing. Now I'm a little heavier. I work a lot on my co-ordination and starting speed," he revealed. "Since I joined Manchester United, I've gained five kilos. And that's not fat, only muscle mass. It's pretty bizarre. It's also due to the heavy rhythm in England. I now weigh 85 kilos."
The winger has even hired a personal chef in an attempt to control his weight and bulk up his frame, a move that has worked well for several players in the past.
David de Gea looked woefully out of his depth in his first season at Manchester United, flapping at crosses and generally leaving United fans with numerous heart-in-mouth moments. Sir Alex Ferguson persevered with the talented goalkeeper, though, and with Eric Steele's help, De Gea transformed from joke figure into one of the planet's best custodians.
Given time, Depay can emulate his team-mate and become a world beater in the years to come. As Van Gaal insisted, patience is key.
NOW READ THESE
Lingard's ascent proves value of the Football League loan – so how will a scrapped system affect England?
Quizzes, features and footballing fun
Get the best features, fun and footballing frolics straight to your inbox every week.
Thank you for signing up to Four Four Two. You will receive a verification email shortly.
There was a problem. Please refresh the page and try again.