Ranked! The 100 best stadiums in the world
Contributions from
published
The best stadiums in the world from all corners of the globe: this is your ultimate match-going bucket list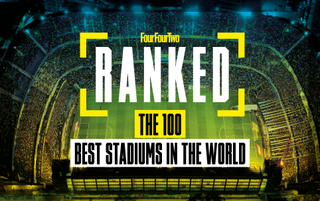 (Image credit: Future)
Ready to visit a century of the best stadiums in the world?
Well here at FourFourTwo, we've spent every waking hour arguing about the greatest grounds on Earth – in the office, pubs, even next to fellow fans in stadium seats. This compendium originally began life eight whole years ago, actually – before some of these venues actually existed. We then came up with 100-5 on this list before passing the baton over to you: the FFT Twitter followers chose the order of the top four, as we handed the power over.
We judged on five criteria: history; atmosphere; capacity; architecture and environment; and that almost indefinable but viscerally obvious "wow factor". In short, how desperately would football fans want to go there?
FREE DOWNLOAD
THE BUCKET LIST Download a PDF of our stadium list
We've even put together this fantastic PDF of the complete tick-list, too – so you too can start cracking on with the ultimate match goer's pilgrimage.
You may not agree with every inclusion or preference, but we hope you will find plenty to enjoy and enthral in these features. It's fair to say we've all learned something new and gained some potential destinations, pending agreement from partners and bank managers.
What we've come up with is a definitive bucket list of where to go on Planet Earth to lose yourself for 90 minutes (plus added time and in some cases, the event of extra-time and a shootout). From the best tickets in football to the prettiest, most awe-inspiring and simply unique experiences possible in the sport… here are the best stadiums on Earth.
The 100 best stadiums in the world, according to FourFourTwo
100. Kenilworth Road
📍 Luton, England
🏠 1905
🏟 10,356
Luton Town have been looking for a new home since 1955 - but can't seem to shake off their love of Kenilworth Road.
Rather famously, the decidedly quirky entrance to the Oak Stand takes away fans up and over neighbouring back gardens, though the executive boxes running along one touchline have all been removed following the club's promotion to the Premier League. A mismatched concoction of converted terraces, unsighted seats and a jaunty stand running parallel to the road behind it. There's plenty of character here - it'll be a shame when the club moves to a new home in a few years' time. – RD
99. The Float
📍 Marina Bay, Singapore
🏠 2007
🏟 27,000
Consisting of a steel platform plonked in Singapore's Marina Bay, The Float was initially intended as a temporary structure but plans have since started to make it permanent. While it hasn't hosted any high-profile matches, The Float is truly one-of-a-kind, with 27,000 fans all sitting along the coastline. A multi-purpose outdoor venue, it regularly hosts the Singapore National Day Parade, as well as other sporting and musical events, too.
Fortunately, there is plenty of netting encompassing the pitch whenever a game is played, so don't fret - footballs aren't constantly being pinged into the surrounding water.
98. Etihad Stadium
📍 Manchester, England
🏠 2004
🏟 55,000
There was a lot to love about that old Mancunian mainstay, Maine Road, but you won't find too many Blues complaining about the Etihad – originally built for the 2002 Commonwealth Games before being given a natty refit for football.
It's easy on the eye with its San Siro-style swirly entrance/exits and steel masts and cables. It has boosted City's earning power through, at one point at least, standing as the Premier League's third-largest ground: the South Stand's revamp added another 7,000 seats. Most importantly of all, it's at the heart of a huge regeneration for the entire area. – NM
97. Henningsvaer Stadion
📍 Lofoten, Norway
🏠 2000
🏟 500
Seriously spectacular, the Henningsvaer Stadion was created by levelling the solid rocky layer it sits on, with the Norwegian sea just metres from the touchline. Located in the village of Lofoten Islands off the coast of northern Norway, there'd arguably be nowhere better in the world to play football.
While it has no stands and can only host amateur teams, the scenic views it offers are spectacular. You'd be forgiven for failing to keep your eye on the ball while playing here, that's for sure. – RD
96. Stadium Australia
📍 Sydney, Australia
🏠 1996
🏟 82,5000
Built for the 2000 Sydney Olympics, Stadium Australia opened to much fanfare in March 1999 with a series of high-profile events. The city was awash with goodwill and pride at a stadium that held no fewer than 110,000 people and one that quickly set about posting new world-record crowds in rugby league and rugby union.
That pride reached unprecedented levels when Sydney hosted what were billed as "the best Olympics ever" by former International Olympic Committee boss Juan Antonio Samaranch. – JD
95. King Fahd Intrenational Stadium
📍 Riyadh, Saudi Arabia
🏠 68,752
🏟 1982
Built in 1987 at a cost of a lazy US$510 million (£330m), the King Fahd features one of the most iconic roof structures in world football – a 47,000 square metre surface area, supported by 24 huge pylons that resembles a Bedouin tent and is ideal for keeping the desert heat at bay. Two years after its construction, the stadium was the venue for the FIFA World Youth Championships final and in 2014, it hosted the second leg of the Asian Champions League decider, where Australian side Western Sydney Wanderers won the title in a wild match featuring allegations of head-butting and spitting. Equally dramatically, it'll probably hold a World Cup final sooner rather than later, right? – SM
94. Mane Garrincha
📍 Brasilia, Brazil
🏠 1974
🏟 72,788
Named after former Brazil great Garrincha, the stadium was originally called the Estádio Governador Hélio Prates da Silveira when it was first built, after Governor Hélio Prates da Silveira. When Garrincha passed away in 1983, aged just 49, officials renamed it in his honour.
Since then, it has undergone a complete reconstruction, with the stadium's most characteristic feature being the 288 pillars that form the exterior and are holding up the circular roof. Renovated at a cost of $900m, it is the third-most expensive football stadium in the world, hosting seven 2014 World Cup games and several 2016 Olympic football matches, too. – RD
93. The Den
📍 Millwall, England
🏠 1993
🏟 20,146
The oldest of the 'new' all-seater stadiums built following the Taylor Report – and also the closest to central London - the Den has continued the infamous Millwall Roar synonymous with its predecessor. There's a great atmosphere for the big games… particularly when West Ham or Leeds are in town.
Unlike other new grounds, though, none of the four corners of the ground are filled in, further heightening the unrivalled atmosphere throughout the 90 minutes. The Den also doubled up as the home ground for Sky One's fictional team Harchester United in Sky One hit, Dream Team. – RD
92. Cape Town Stadium
📍 Cape Town, South Africa
🏠 2007
🏟 57,367
Formerly known as Green Point Stadium, Cape Town's impressive football ground was one of the venues created specifically for the 2010 World Cup. Indeed it hosted eight matches of varying quality during the tournament, from Holland's pulsating 3-2 semi-final win over Uruguay through Portugal's 7-0 hammering of North Korea to England's drab 0-0 stalemate with Algeria.
The new arena now gives one of the world's great cities a superb venue for top-class sports and music events, not too far from the popular V&A waterfront area and clearly visible from Table Mountain, which provides a stunning backdrop. Trouble is, like many a showpiece stadium, it needs to pay for itself thereafter; the local council tried to tempt Western Province rugby union team as anchor tenants, but after four years of talks the deal collapsed. – GM
91. Red Bull Arena
📍 Harrison, United States
🏠 2010
🏟 25,000
MLS really started to motor once teams opened soccer-specific stadiums rather than rattling round ill-fitting baseball or gridiron fields. The Red Bulls were one of the first to break ground, in 2006, although they had to wait another four years to officially move into their $200 million stadium in Harrison, New Jersey.
Not being in the heart of NYC hasn't stopped the club enticing fans out to the stadium and with the arrival of New York City FC, the Hudson River Derby is a brilliant spectacle to behold. – KH
Thank you for reading 5 articles this month* Join now for unlimited access
Enjoy your first month for just £1 / $1 / €1
*Read 5 free articles per month without a subscription
Join now for unlimited access
Try first month for just £1 / $1 / €1