Year Zero: Italians just want a new coach, not new methods after dismal World Cup
They crashed out alongside England at the World Cup, but Italians aren't desperate to 'do a Germany', writes Adam Digby...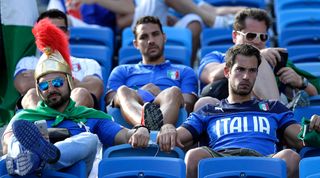 On June 6, the Italian national team arrived at Rome's Fiumicino airport with an Alitalia flight bound for Rio de Janeiro awaiting a team who genuinely believed they could win the World Cup.
They were seen as a buoyant squad playing entertaining, high-quality football under Cesare Prandelli, a coach who had won a vast number of admirers for his work with the Azzurri over the previous four years.
The former Fiorentina boss impressed following a disastrous defence of their crown in South Africa, Marcello Lippi's glorious triumph in Germany tarnished by a tournament display among the worst in the nation's history. He guided them to a runners-up spot at Euro 2012 while using the team as a beacon for good across the peninsula.
But what happened as the team boarded their plane that Friday was a perfect metaphor for what would happen to the Azzurri by the time Group D had concluded a few weeks later. The business class section was too small, so several members of the squad were forced to sit in economy class for the duration of the journey. As the games against England, Costa Rica and Uruguay would prove, many of the names chosen by Prandelli were simply not of the quality required.
Premature
While the ability of players like Daniele De Rossi and Andrea Pirlo cannot be questioned, there is no denying that standards have slipped for the Azzurri, with far too many average players invited to represent their country before they have proven capable. "After three good performances a player gets into the squad and takes everything for granted," lamented Gigi Buffon after Italy were eliminated. Soon after, the coach decided he would not continue to lead the team.
There was no soul-searching or cries for complete overhaul, as Prandelli announced his resignation immediately after Italy's final game against Uruguay. While he had made good on his promise to make the Azzurri likeable, he also made too many errors and believed his "technical project had failed".
While some of the players were sub-par, it is difficult to argue with that assessment: his tinkering and squad choices hampered the side even before a ball was kicked. The decision to select Antonio Cassano backfired, as did his overreliance on Mario Balotelli, while the omission of Giuseppe Rossi left the attack blunt in crucial moments. During the tournament he compounded those errors, breaking up the Matteo Darmian-Antonio Candreva partnership and dropping Marco Verratti, despite seeing the trio carve England open on numerous occasions.
FIGC president Giancarlo Abate followed Prandelli in quitting, with former Milan midfielder Demetrio Albertini among those standing to replace him. Even if the 42-year-old wins out over favourite Carlo Tavecchio – currently serving as president of the National Amateur League – in the August 11 election, widespread changes are not expected.
"To be president is going to require a gear change from myself, but I believe I can do it," declared Albertini. "We need to change things, we need to focus on improving young players. We don't need to copy the German model, but we can learn from their example."
You'll win nothing with kids
Prandelli's work during his tenure was respected; ultimately, he made the national team a source of pride. Yet despite introducing a possession-based formula which suited his players' strengths, he crumbled under the pressure that came with a tournament as prestigious as the World Cup.
His predecessor's error was to stick with the players who had helped him deliver the ultimate triumph in 2006, long after their best. Prandelli went the opposite way, bringing in too many untested names on the eve of his biggest assessment.
Problems with decrepit stadiums, violent and racist ultra groups and a lack of foreign investment hamper Italian football, but there is no search for a quick fix or a demand to copy the work done by the most in-vogue nation of the day, Germany.
The Azzurri were labelled a "shambles" by La Gazzetta dello Sport, but the common consensus seems to be that a new coach can rectify the problem just as Prandelli did four years ago.
SEE ALSO IN YEAR ZERO
Quizzes, features and footballing fun
Get the best features, fun and footballing frolics straight to your inbox every week.
Thank you for signing up to Four Four Two. You will receive a verification email shortly.
There was a problem. Please refresh the page and try again.