Wenger attacks Ozil 'blame culture' in Arsenal slump
Arsenal must show a united front to get their Premier League season back on track says Arsene Wenger, with a focus on Mesut Ozil unhelpful.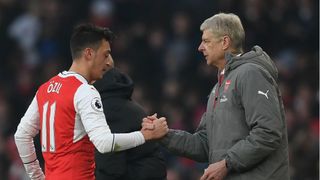 Arsene Wenger believes playmaker Mesut Ozil has come in for undue criticism as Arsenal's Premier League title bid has faltered over recent weeks.
The Germany international's dwindling form and perceived lack of work rate came under the microscope following the back-to-back losses against Watford and Chelsea that also saw a significant measure of fan fury turned Wenger's way.
But ahead of Saturday's early kick-off against resurgent Hull City, Arsenal's long-serving manager urged a united front.
"The team wins and the team loses," he told reporters. "When you win sometimes some players are singled out, as they are treated like exceptional players.
"But when you don't do well sometimes they just focus on a little more on the team aspect and not try to blame each other.
"The blame culture is part of the perception of people as you say, but what is important is that we show a united front.
"We have a good opportunity against Hull to show that we are a united, strong unit and that we bounce back.
"When you don't win you cannot say that all is well. You have to analyse that something is not right. It is our job to find where, and to have a strong, united response."
Arsenal midfielder Alex Oxlade-Chamberlain has invited further scrutiny on Wenger this week when he accidentally "liked" a Twitter post from Arsenal Fan TV, promoting a video entitled "Wenger Needs to Go!" in the wake of the Chelsea loss.
The England international told Sky Sports he made a point of apologising to his boss after the unfortunate mishap.
"It was a complete and utter accident," he said. "I think people know me as a character and if I'd meant to have done that, it would have been out of character for me.
"The title of the tweet I accidentally liked wasn't ideal but we've sorted it out. I spoke to the manager about it and explained the accident. I might not go on Twitter again too soon after games."
Oxlade-Chamberlain added Wenger is unsurprisingly no connoisseur when it comes to the often rabid world of online fan channels.
"He didn't have a clue what I was talking about," the 23-year-old said. "He just heard the word accident and we moved on."
Quizzes, features and footballing fun
Get the best features, fun and footballing frolics straight to your inbox every week.
Thank you for signing up to Four Four Two. You will receive a verification email shortly.
There was a problem. Please refresh the page and try again.