Marco Verratti: How to be a deep-lying playmaker
Stand guard in front of the back four and pull the strings in possession, with advice from PSG's Italian pivot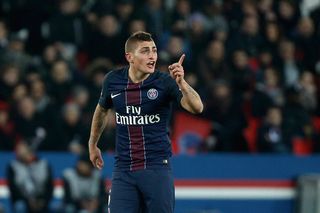 Act decisively
"Keep your head up and look around before you get the ball. This will help you play a one-touch pass. Football is an aggressive sport – you don't have time to think, so a good first touch is fundamental. In my position, you have to pick the right pass to start an attack – you can't afford to lose possession in a dangerous area of the pitch. The better you know your opponents, the better you will be able to anticipate their play and exploit their weaknesses."
Keep your shape
"Being a deep-lying midfielder is difficult. You have to be composed in possession because it's your job to get the ball off the back four and create. The defensive side of things is also very important. Tactical instructions change with every game, depending on the opponent. We [PSG] play with three midfielders and always try to form a diagonal line, depending on what side the ball is. I try to anticipate the play and intercept passes, because my job involves not breaking forward too far."
It's all in the weight
"There are many elements to executing the perfect pass: vision, technique, power of the strike and the movement and strengths of your team-mates. An intelligent pass is just as important as a flashy dribble – it can open up a defence before they have time to react. The best kind of pass is firm and accurate. A perfectly weighted pass gives your team-mate an easier job to control the ball. Keep your head up so you know where everybody is."
Shield the ball
"When you are under pressure from an opponent, shield the ball by turning your back on them so that you are between them and the ball. Keep your arms spread wide and use the lower part of your body to form a strong base. Back into them. This will buy you some time to pick out a team-mate in a better position. If you can, move the ball on to another player as quickly as possible. You don't want to get caught in possession in front of the defence."
Remember to have fun
"I joke with my team-mates in the dressing room to help me stay calm. Relaxing before the match like this helps me stay composed during a game. When I walk onto the pitch I'm very focused, but even when I play in a very important match I try to imagine that it's just the same thing that I did when I was playing with my friends as a kid. If I lose the ball, for example, I don't waste time and energy worrying about it – I just try to win it back."
Keep it simple
"The best coaching advice I've received throughout my career is 'Play the way you know'. Simple as that. Every player has his qualities and they should work to those strengths to help the team in the best way possible. If everyone at the club plays to their potential, the team wins. I've learned a lot from Andrea Pirlo [above]: you only need to watch him play to improve your own style. He loves to play football, and just being around him helps you get better."
Italian international Marco Verratti wears PUMA's evoSPEED 1.3 football boots
For more football tips:
Lucas Leiva: The spoiler
Xavi: Master the pass
Mario Gotze: Be a creative spark
Patrick Vieira: How to be a midfield destroyer
Ramires: Stand up to the big boys
Mikel Arteta: Pass your opponents off the park
Yaya Toure: Dominate the middle of the park
Jack Wilshere: How to keep possession
Michael Carrick: Protecting the back four
Quizzes, features and footballing fun
Get the best features, fun and footballing frolics straight to your inbox every week.
Thank you for signing up to Four Four Two. You will receive a verification email shortly.
There was a problem. Please refresh the page and try again.