10 things we've learned from the group stage of World Cup 2018
By Michael Yokhin published
Jogi Löw has done an Arsene Wenger, Zlatan Ibrahimovic is unmissed and the hosts have won already – Michael Yokhin on 10 talking points from Russia 2018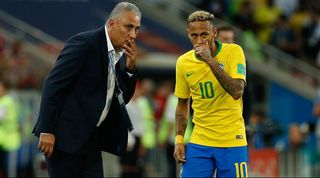 1. European champions suffer once more
It looks like a curse: four World Cup champions from Europe in a row have now been eliminated at the group stage. In 2002, France failed to score a single goal and finished bottom of a group that included Denmark, Senegal and Uruguay. Even more incredibly, Italy somehow managed to finish last behind Paraguay, Slovakia and New Zealand in 2010.
Spain followed with defeats to Holland and Chile putting them out after two games in 2014. Now Germany are the latest victims, and it's still quite hard to believe that Die Mannschaft finished bottom of a group with Sweden, Mexico and South Korea. The trend shows that illusion of invulnerability – and perhaps loyalty to senior players four years further on – in fact makes you extremely vulnerable.
2. Jogi Löw has overstayed his welcome
It's extremely difficult, at times impossible, for a coach to know the exact moment when it's right to leave. Arsene Wenger's example springs to mind, as he definitely departed Arsenal too late, while some might claim that Zinedine Zidane decided to resign from Real Madrid a bit too early.
It's indisputable that Joachim Löw is one of the greatest national team coaches of all time, having overseen the great revolution in German football ever since arriving as Jurgen Klinsmann's assistant in 2004. But was a decade enough? Should he have left the team after winning the World Cup in Brazil four years ago?
The performance at Euro 2016 showed signs of stagnation, and Germany's historic first-ever World Cup group stage exit proved that Jogi is not the right man for this side anymore. His ideas have stopped working – as happens to even the very best managers at a certain moment.
3. VAR has helped – but won't eliminate all controversies
There have been 24 penalties awarded during the group stage, which is a record for an entire tournament by some distance. Overall, VAR has helped referees to make the right decisions in most cases, and the system hasn't really been overused. There have been instances where VAR was used to annul wrongly-awarded penalties, such as the case of Neymar falling theatrically against Costa Rica, then Davinson Sanchez's perfect tackle on Sadio Mane during Colombia vs Senegal.
So it can be argued that VAR has been moderately successful, but it also makes mistakes look much graver and more deliberate – and that's a significant black mark. Serbia will never forget the blatant foul on Aleksandar Mitrovic by two Swiss defenders which wasn't referred by VAR, and the second penalty given to Saudi Arabia against Egypt was a farce – even after consulting VAR.
4. Latin Americans are the best supporters in the world
Even in Russia, so vast and far away, Latin American fans had a much more significant presence during the group stage than their European counterparts. The Belgians and Germans could be seen and noticed, but Mexicans, Argentines, Colombians, Peruvians and Brazilians were responsible for the carnival atmosphere in Moscow and other Russian cities.
Mexico supporters turned the Luzhniki into the Azteca during their win over Germany; Argentines continued to back their team through the worst of times; while Colombians and Peruvians filled the Red Square in incredible numbers – even though their teams didn't have a single game in Moscow. They didn't seem concerned with security and hooliganism at all, which probably made the long trip much easier to make.
5. Tite is the right man for Brazil
Regardless of how the tournament ends, Tite has shown that he really unites Brazil – and that's quite rare. Players, journalists and fans alike stand behind the coach who has found the right system, taken the pressure off Neymar (who struggled to handle insane expectations four years ago), and even managed to make captain rotation work brilliantly.
As Brazilian journalists say, there is a good chance of Tite staying even if the Seleção don't win the World Cup. That would be an unprecedented achievement.
6. Hosts have won already
Around 75% of Russia fans expected their team to fail in a fairly easy group. The hosts reached a nadir just ahead of football's biggest tournament on their own soil, and even Saudi Arabia looked to be extremely tough rivals before the opening match.
But the Saudis were thrashed alongside a hapless Egypt, and Russians will now be happy regardless of the result in their last-16 match against Spain. The 3-0 defeat to Uruguay (in a game with both sides qualified) wasn't too painful, and the local feeling is that they've already won. The atmosphere is positive – and that's good for this tournament.
7. Robert Lewandowski is not a leader
The Bayern Munich superstar was the top scorer in qualifying, having netted 16 goals for Poland, but he's proved unable to help his team in Russia. Granted, Lewandowski had poor support, but a player of his level should be able to take the burden on himself. For the second international tournament in a row he has disappointed.
The striker only scored once in five matches at Euro 2016, and this time performed even worse. His leadership qualities as a captain are apparently nonexistent. After kissing his wife in the stands after losing to Senegal, the skipper declared that the team lacked quality after the 3-0 thrashing by Colombia – and he definitely wasn't including himself. Lewa might be one of the best strikers in the world, but Poland fans must be very disappointed in his personality.
8. Sweden are much better without Zlatan
Remember those Zlatan Ibrahimovic remarks about the World Cup not being worthy without him? Well, it is – especially for Sweden. Without the superstar who used to hog the ball while making his team-mates feel inferior at the same time, Sweden look united, focused, determined and liberated.
They got past Holland and Italy in the qualifiers, and now they've finished top of their group at the World Cup, helping to send Germany home in the process. They did so despite the fact that their star playmaker Emil Forsberg isn't even close to top form – but that's because the RB Leipzig playmaker is a humble team player even when he isn't in good shape.
The same can't be said of their former striker with a giant ego who often underperformed at major tournaments.
9. Tiebreaker on cards is a good idea
Senegal might feel unlucky to finish behind Japan because of yellow cards, but this is actually a good idea. The problem is that teams weren't accustomed to the rules yet, so the Senegalese didn't pay attention to the issue until their last matchday.
Overall, cases of totally identical records are rare, and the rule is unlikely to be used frequently (the last case was at the 1990 World Cup when Ireland and Holland finished with identical records and had to be separated by drawing lots). On the other hand, it should make teams try to concede fewer cards. It's a win-win situation; certainly when compared to lots.
10. 48-team World Cup is a disastrous idea
Panama, Saudi Arabia and Tunisia didn't impress spectators with quality play, and every World Cup features a few teams that aren't really up to standard. Yet starting from 2026, their numbers are set to increase dramatically, ruining the mathematically perfect 32-team system en route.
Mexico and Japan are the only two teams outside of Europe and South America to qualify for the last 16 in Russia. Does that mean we need more competitors from Africa and Asia? Not if it further dilutes the quality of this competition.
Thank you for reading 5 articles this month* Join now for unlimited access
Enjoy your first month for just £1 / $1 / €1
*Read 5 free articles per month without a subscription
Join now for unlimited access
Try first month for just £1 / $1 / €1
Quizzes, features and footballing fun
Get the best features, fun and footballing frolics straight to your inbox every week.
Thank you for signing up to Four Four Two. You will receive a verification email shortly.
There was a problem. Please refresh the page and try again.