10 years of FIFA Ultimate Team: how the mammoth game mode started out small time
Ten years ago, a future juggernaut was born – but not without its problems. Fraser Gilbert looks back to the early days of FUT in FIFA 09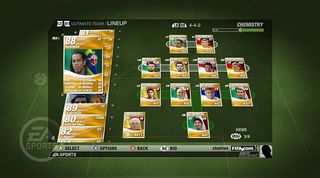 To me, it's alarming how few 'FUT Founders' populate the FIFA scene these days. I feel old.
That's a moniker bestowed upon the select few, including yours truly, who began their Ultimate Team careers an entire decade ago – back when the mode was released as paid downloadable content for FIFA 09.
It was a great time to be a FIFA fan. EA Sports were in the midst of a rebuilding phase following a somewhat disappointing spell for the franchise in the mid-2000s, and FIFA 09 introduced the 10 vs 10 Clubs mode (later Pro Clubs), live stat updates and major gameplay enhancements.
But the biggest new feature took five months to arrive: Ultimate Team was released in March 2009, priced at £7.99 (or 800 Microsoft Points). And while it certainly didn't launch to unanimous acclaim, and many players were sceptical at the outset, the demand was there from day one.
Back to the future
The origins of Ultimate Team can be traced back to the official UEFA Champions League 2006/07 game, in which the mode first debuted with an offline-only approach. FUT 09 incorporated many of the key fundamentals first displayed in this spin-off, such as bronze, silver and gold packs, as well as contracts, chemistry and training items.
It added some unique and rejuvenated features of its own. The inclusion of a transfer market – albeit basic – injected a crucial degree of strategy. There was also the ability to create your own player, and with enough patience and training items, evolve them – as well as the rest of your squad members – into highly-rated superstars.
The Collection was my favourite part. It acted like a virtual Panini sticker book, encouraging you to collect full sets of players to receive rewards. These days, it's been replaced with the admittedly superior Squad Building Challenges feature, but the ability to peruse your collection was a neat visual touch and presumably disappeared because of copyright reasons.
The series' gameplay was highly praised at the time, too. FIFA was undertaking a huge evolution both on and off the field in the late 2000s, and although Ultimate Team tinkered with the unpopular addition of in-play modifiers, it largely retained FIFA 09's simulation-driven approach to gameplay.
Shaky start
The first few days didn't go off without a hitch. I remember rushing home to pay my 800 Microsoft Points, downloading the DLC and failing to spend any significant amount of time with it due to an apparent server overload. It was a little under a week before the issues were cleared up, but these problems didn't seem to stifle the community's intrigue.
There were some teething problems with balance as well. The grind for contract cards seemed unnecessarily tough – consumables that are in regular supply these days, but were overly difficult to acquire back then. In FUT 09, players disappeared from your club entirely without a contract, and those harsh requirements caused a few early grumbles.
Even so, the DLC quickly grew in popularity. The initial sceptics were quickly won over by the game's fresh team-building mechanics and endless longevity, and the following year bought into FIFA 10's improved take on the mode. By FIFA 11, Ultimate Team had established itself as an integral part of the franchise.
No one would have predicted the level of industry-defining success that Ultimate Team would achieve in subsequent years – but even back then you felt that EA Sports might be onto something special.
Incredibly we're now 10 years down the line, and the company's most popular and lucrative creation continues to show few signs of slowing down.
The 7 best bargain strikers you need to sign on FUT
FIFA 19 Chemistry Styles explained: which ones to use, and how much they'll cost
The best cheap FIFA 19 defenders under 5,000 coins
Thank you for reading 5 articles this month* Join now for unlimited access
Enjoy your first month for just £1 / $1 / €1
*Read 5 free articles per month without a subscription
Join now for unlimited access
Try first month for just £1 / $1 / €1