The best cheap FIFA 19 defenders under 5,000 coins for your Ultimate Team (FUT)
Spent all your dosh on attackers but still need some reliable defensive steel? Allow Phillip Ekuwem to soothe your woes with these bargain FIFA 19 FUT defenders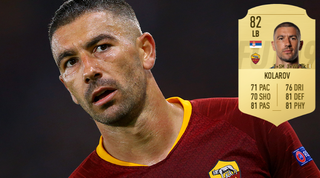 A good attack scores you goals, but a good defence wins you titles (Fergie said it, so it must be true). Defence is often overlooked by FIFA 19 Ultimate Team (FUT) managers, many of whom opt for mediocre backlines in a bid to max out their attacking potential by splashing their hard-earned coins on forwards. That approach often results in a virtual team similar to Liverpool pre-Virgil van Dijk: fun, but flimsy.
Not everybody has 118,000 coins to splash on VVD, though, so here's a look at defenders – including both full-backs and centre-backs – who cost under 5,000 coins and possess stats good enough to help your team improve defensively while you await the coinage to acquire Sergio Ramos, Raphael Varane & Co.
SEE ALSO Rated! The 10 most overpowered players on FIFA 19 (opens in new tab)
FIFA 19 review: Champions League brings improvements both on and off the pitch (opens in new tab)
Eric Bailly
Potential cost: 1.7k
Bailly might not be Jose Mourinho's favourite centre-back at the moment, but he remains one of the best defenders on FUT. Thankfully for us, he's gone from costing 15k coins upon the game's full release to a measly 1.7k now, as the supply of his card has outweighed its demand ever since he received an In Form in the TOTW5 lineup.
He stands out among other defenders in his price range because of his pace. His 76 stat might not seem particularly great, but a rating in the 70s for a defender is considered to be pretty good due to the +11 and +5 pace boosts they receive with a Shadow or Anchor chemistry style respectively.
Aleksandar Kolarov
Potential cost: 2.2k
The former Manchester City star is pretty slow for a full-back on FIFA, but what he lacks in pace, he makes up for in technique and defensive ability.
The Serbian left-back is a terrific set-piece taker who, despite having poor finishing on his card, is highly capable of netting from range on his left foot thanks to a shot power/long shots combo rated at 91 and 83 respectively.
Standing at 6ft 2in, Kolarov is also somewhat of a tank in defence, capable of winning headers and pushing players off the ball thanks to his fine defending and physicality.
Jeison Murillo
Potential cost: 700 coins
With an Anchor chemistry style applied, Murillo's strength goes up to 85, his jumping gets maxed out at 99 and his aggression nearly gets maxed out at 98, thus making him one of the most affordable physical centre-backs on FUT.
Considering he's from Colombia, Murillo is difficult to get on full chemistry without making use of a full La Liga backline, which is why he costs so little. But if you're able to fit him into your team, you'll have a solid defender manning your defence.
Sime Vrsaljko
Potential cost: 2.5k
Joao Cancelo is the most-used right-back in Serie A on FUT 19 primarily because of his blistering pace. Inter Milan's Vrsaljko may not pack as much speed as the Juventus man, but he's on another level when it comes to thwarting attacks from opposing players.
With an Anchor chemistry style, Vrsaljko's pace jumps from 81 to 86 – not a significant boost but a good one nonetheless, and which allows him to mark pacey players more efficiently. The Croatian is also able to win aerial battles with relative ease, as his jumping stat goes up to 95 thanks to a tremendous stat boost from the Anchor chemistry style.
Jonathan Tah
Potential cost: 3k
Tah has been the go-to centre-back for Bundesliga-based FUT teams since FIFA 17, and not just because the likes of Jerome Boateng and Mats Hummels cost a lot of coins. Tah genuinely feels like a brick wall in defence: he's so strong and big that he's capable of winning the ball from players with minimal effort.
Standing at 6ft 4in and boasting 93 strength, Tah is borderline elite. There are barely any players on the entire game capable of winning a physical battle against him, thus making the German one of the best defenders you can acquire for under 5k coins.
Omer Toprak
Potential cost: 1.3k
With a pace rating of 78, Borussia Dortmund's Toprak is one of the nippiest centre-backs in the game – and feels even faster than his card suggests thanks to 84 sprint speed, which affects how quickly he can cover certain distances at top speed.
Unlike most defenders on this list, a Sentinel chemistry style would suit Toprak perfectly: he already possesses great pace but lacks a bit of strength – and with the boost, his strength goes up from 78 to 88, while his jumping gets a similar leap. Toprak indeed.
Nacho Fernandez
Potential cost: 2.2k
Back in FIFA 18, Nacho received two In Form cards, both of which were ridiculously overpowered (opens in new tab). The Real Madrid man is yet to receive his first IF of the FUT season, but his regular gold card feels just as OP as his FIFA 18 IFs, thus making him one of the best centre-backs to acquire for a La Liga-based Ultimate Team.
The Spaniard's short passing is rated at 80, allowing him to accurately pass the ball out from the back while under pressure. With an Anchor chemistry style his overall defending stat goes up to 90, while his physicality gains a decent five-point boost – so in addition to being a ball-playing defender, Nacho is also great at winning aerial duels and sliding tackles. Eesh.
Marcelo
Potential cost: 800 coins
Lyon's Marcelo may not have five-star skill moves like his namesake and countryman of Real Madrid – but what he does have is superb physicality on par with some of the very best defenders in the game. For a player who costs just 800 coins, 90 strength, 83 aggression, 89 stamina and 81 jumping seems a bit too good to be true.
Thankfully it isn't – Marcelo is as strong as his stats suggest but has poor pace, which means you need a Shadow chemistry style to maximise his defensive potential. That will give the Brazilian 71 pace and also improve his defending by eight points, making him a certified tank in defence.
More like this...
The 8 best strikers in FIFA 19 Ultimate Team (FUT) you can get for under 8,000 coins (opens in new tab)
The 5 best formations in FIFA 19: our favourite systems explained (opens in new tab)
The 11 best cheap Premier League players for your FIFA 19 Ultimate Team
Revealed! EVERY five-star skill player in FIFA 19
12 FIFA 19 hidden gems you NEED to sign in Career Mode (opens in new tab)
The 11 best FIFA 19 free agents you can't afford to miss
The 7 most effective skill moves in FIFA 19 (opens in new tab)
The 10 most overpowered players on FIFA 19 (opens in new tab)
More FIFA 19 hints and tips • New features you'd love every day
Thank you for reading 5 articles this month* Join now for unlimited access
Enjoy your first month for just £1 / $1 / €1
*Read 5 free articles per month without a subscription
Join now for unlimited access
Try first month for just £1 / $1 / €1
Get FourFourTwo Newsletter
The best features, fun and footballing quizzes, straight to your inbox every week.
Phillip is a football writer from Nigeria. He's been a football writer since he was 13 and after getting his work featured on various news outlets including the Daily Mirror, Red Bull, Planet Football and Football.London over the years, he has now turned his focus from solely writing about the beautiful game, to covering the not-so-beautiful virtual game of FIFA as a brilliant excuse to spend hours on his Playstation.