The 20 best coaches in Football Manager 2018
Trying to build a stellar backroom line-up? Bradley Russell's got you covered with these top picks of goalkeeper, defensive, attacking and tactical coaches – plus some bargains for smaller budgets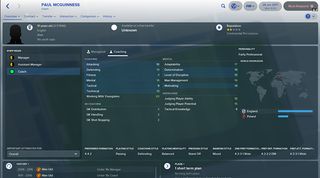 Whether you need to implement a philosophy, don't fancy getting stuck in on the training ground or just want to bolster your backroom, you'll need top-quality coaches to help you succeed in Football Manager 2018.
From the best goalkeeping coaches to cheaper options for those with barely two pennies to rub together, these are the best coaches available in-game.
Goalkeeping coaches
Inaki Bergara, 5/5
Wage: £4,000/week
Would suit: Barcelona, Bayern Munich, Manchester City
Roberto Martinez's trusty keeper lieutenant is available on a free at the start of the game, as his role with the Belgium national team gives him free rein to help out a club. His wage demands are relatively expensive but you'll get (comfortably) the best goalkeeping coach in the game for your troubles.
Paolo Magnani, 4/5
Wage: £2,800/week
Would suit: Inter Milan, Everton, Valencia
Magnani leads the way as the best of the rest in terms of goalkeeper coaches, with high goalkeeping coaching stats across the board complemented by strong motivating and man-management stats to ensure there's no slacking off on the training ground. His £110k compensation package might prove a stumbling block, though. For cheaper options, try Renzo Casellato or – bizarrely – Bristol City scout Mervyn Day.
Defensive coaches
Tony McAndrew, 4/5
Wage: £5,750/week
Would suit: Arsenal, Borussia Dortmund
Aston Villa's McAndrew may not have the best outright Defending coaching attribute in the game, but you'll struggle to find better all-round options. Handily, he's also a terrific scout. Slightly cheaper options include Fabio Moro and ex-Ipswich player Richard Naylor.
Miguel Grau, 5/5
Wage: £10,000/week
Would suit: Any team
The best coach in the game? If he's not, he can't be far off it. Grau excels in several areas, but his 20 for Motivation and Determination paired with 18 for Defending sounds like Tony Pulis's fantasy man. He's only 33 too, so he'll be by your side for decades to come... should you wish.
Attacking coaches
Tony Whelan, 4/5
Wage: £3,300/week
Would suit: Liverpool, Bayer Leverkusen, Napoli
The man who helped oversee the rise of Marcus Rashford is bound to have something about him from an attacking perspective. While probably better as a youth coach, the mental side of his game can help many a senior player reach their true attacking potential.
Rodolfo Borrell 4.5/5
Wage: £12,500/week
Would suit: Real Madrid, Barcelona, Chelsea
If Pep Guardiola thinks you're good enough for his backroom staff, the chances are that you're pretty handy. If you can get over his wages and £1m (!) compensation, you'll have yourself one of the finest attacking coaches in the game. Seek out Joao Tralhao and Mark Sale if you want someone who won't break the bank.
Ball control/shooting coaches
John Murtough, 4.5/5
Wage: £7,250/week
Would suit: Sevilla, Monaco
Another of Manchester United's U18 coaching corps. It's almost as if they've got an extensive legacy of blooding youngsters. Murtough's technical coaching stats are up there with the best in the game, and the rest of his attributes aren't too shabby either if you need to increase his workload.
Paul McGuinness, 4.5/5
Wage: £4,500/week
Would suit: Youth set-ups, most Premier League clubs
The ex-United player and U18 manager (sensing a pattern here?) is not only a free agent but boasts one of the better set of mental stats to go along with an 18 Technical attribute. Gianni Vio and Rui Barros are cheaper options if money is a little tight.
Tactical coaches
Steve Round, 4/5
Wage: £11,000/week
Would suit: Bayern Munich, Chelsea
If you can tempt him away from his Director of Football role, David Moyes's ex-sounding board will be the perfect addition to your backroom staff in terms of tactics. He works especially well if you play an old-school 4-4-2.
Aurelio Andreazzoli, 3.5/5
Wage: £5,000/week
Would suit: Everton, Lyon, Lazio
Formerly of Roma, Andreazzoli is a great option for those who need a bit of a helping hand tactically. He's also fantastically versatile when it comes to formations. Elsewhere, Mario Cecchi is another great tactical coach to have on board.
Fitness coaches
Paco de Miguel, 4.5/5
Wage: £7,000/week
Would suit: Atletico Madrid, Liverpool, Dortmund
Paco de Miguel's CV reads like a Who's Who of European football elite, featuring spells with Real Madrid, Chelsea and Inter. If you're willing to pay the £525k compensation fee, you can get your hands on one of – if not the – best fitness coach in the game.
Jose Mascaros, 4/5
Wage: £5,250/week
Would suit: Everton, Schalke
Continuing the Spanish theme, Villarreal's fitness coach Mascaros should definitely be on your radar if you're aiming to squeeze every last drop out of your squad through a season. Henri van Amelsfort can also be picked up for a fraction of the price if you don't want to spend the big bucks.
Mental coaches
Steve Black, 4.5/5
Wage: £4,200/week
Would suit: Ajax, RB Leipzig, Tottenham
Lauded for his motivational skills, Black's 20 ratings for Mental and Motivating should speak for themselves. You'd best be quick if you want him at the beginning of the game – he's being courted by, erm... Bolton.
Stijn Quanten, 4/5
Wage: £4,500/week
Would suit: Teams struggling for form
Another Mr. Motivator, Quanten can be parachuted in for relatively little to help whip your underperformers into shape. For someone slightly cheaper, check out fitness coach Allan Stewart, who works equally as well on the mental side of the game.
Versatile coaches
Marco Biasotto, 4.5/5
Wage: £1,800/week
Would suit: Milan, Schalke, Tottenham
Jack of all trades, master of – well, quite a few actually. Biasotto represents great value if you don't mind forking over the £190k to Flamengo for his services. His exceptionally high adaptability rating means he'll hit the ground running wherever in the world he chooses to call home.
Neil Critchley, 3.5/5
Wage: £25,000/week
Would suit: Barcelona, Real Madrid, Juventus
While his current role in charge of Liverpool's reserve side necessitates such a high wage demand, it'll be worth it in the long run. His stats across the board are all above average and, since coaches can chip in with other areas, he can be a (very expensive) stopgap for weaker areas.
Colin Pascoe, 4/5
Wage: £5,000/week
Would suit: Arsenal, Bayer Leverkusen, Napoli
Having long been by Brendan Rodgers' side during his managerial career, Pascoe knows a thing or two on how to play the beautiful game. His stats reflect that too: £5,000 a week will net you one of the finest all-round coaches in the game.
Cheap, effective coaches
Angelo Alves, 4.5/5
Wage: £2,700/week
Would suit: Championship sides with a bigger budget
Not all teams can afford to splash the cash on big-time coaches, so thankfully there are other options. Take Angelo Alves, for instance: no compensation fee, relatively cheap wages and – crucially – someone who is good in a variety of different areas.
Vladimir de Jesus, 4/5
Wage: £2,000/week
Would suit: Lower Premier League sides
In a relegation fight or newly promoted? Vladimir de Jesus is your saviour. Decent stats across the board, with scope to improve via coaching badges, the Brazilian should be one of the first names on your list.
Joan Salvans, 4/5
Wage: £2,900/week
Would suit: Teams on a budget
If you beg your owner to give you more money for coaches – especially in the lower leagues – you might be able to convince this Spaniard to join your backroom staff. Cheap and cheerful, his stats aren't the best on this list but he's likely to improve any area of your coaching staff for comparatively little – and no compo.
Football Manager 2018 tips and advice
The 95 best Football Manager 2018 wonderkids… sorted by budget
Football Manager 2018 tactics: what to do – and what to definitely avoid
The 11 best Football Manager 2018 free agents
10 unmissable Football Manager 2018 release clauses
4 essential Football Manager 2018 tips that will make you a better player
14 amazing Football Manager 2018 bargains for under £1 million
The 15 teams we can't wait to be in Football Manager 2018
Thank you for reading 5 articles this month* Join now for unlimited access
Enjoy your first month for just £1 / $1 / €1
*Read 5 free articles per month without a subscription
Join now for unlimited access
Try first month for just £1 / $1 / €1
Get FourFourTwo Newsletter
The best features, fun and footballing quizzes, straight to your inbox every week.