Football Manager 2018 tactics: what to do – and what to definitely avoid
Setting up your team can be an arduous process, but it's important – so let FM guru Valentin Macovei be your guide with these expert tips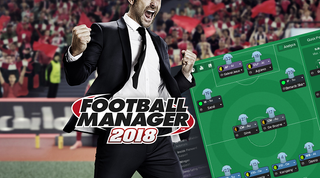 First off, it's important to understand that Football Manager 2018 requires different tactics for home and away games. The match engine seems to be working differently for the two scenarios, so start building and tweaking them one at a time.
To start with, simply pick a default formation and adjust a few player roles and duties if you feel the need to (after reading their description and understanding what each of them does of course) – if not, just leave them as default.
You could play a match like this without interfering with anything else, just to see how things work out and get an idea of where you're at. Afterwards you'll have to find a good combination for the first four team instructions, sketching out your base plan as a result.
We can begin by talking a bit about these in a bit more detail.
Please note: '4-2-3-1 Wide' and '4-4-2' represent good starting points; asymmetrical formations with different roles assigned to players on each flank seem to work quite well in FM18. Don't pay too much attention to the player role suitability.
Hint: Use the 2D or Data Analyst camera when devising tactics to better understand how your players are moving on the pitch in different situations. If you have enough time and patience, watch extensive highlights or even the full match. To get even more useful insight, watch the important replays in 3D.
Team instructions: jargon busting
Mentality
The terms used to describe the different options available here aren't exactly intuitive: you've got Contain, Defence, Counter, Standard, Control, Attacking and Overload.
If you want to play possession football, you'd assume Control is the best setting – but that's wrong. In fact, it's quite the opposite. The Defensive and Counter settings are those that will give you the chance to play like Vicente del Bosque's Spain, building up slowly and patiently without rushing anything until breakthroughs arise.
On the other hand, if you want to play counter-attacking football, you should set your mentality to Attack. This will instruct your players to urgently move forward as soon as they're in possession, and to pass to those who are higher upfield.
Note: Standard, Control and Attacking seem to be most effective in FM18 right now.
Team shape
This instruction affects the squad's mentality; how much tactical freedom your players are allowed, and the extent to which you want them to close down opponents at the cost of leaving their assigned positions.
Let's say you've set up an Attacking mentality with a Highly Fluid team shape; in this case, your defenders, midfielders and attackers will receive similar instructions about mentality, tactical freedom and closing down. As a result, your team will be more vertically compact on the pitch.
Of course, you can adjust the distance between each compartment with the help of the Defensive Line setting, and by individually assigning similar duties.
Note: The current match engine seems to like Fluid and Very Fluid.
Tempo
They say a slow tempo works well with a short passing style, and vice-versa. In theory, you should tweak this setting according to the Decisions and Passing attributes of your players – the better their respective skills are, the quicker they should be to make the best choices.
Naturally, you'll be looking to balance the number of attacking opportunities created with the amount of mistaken passes. Speeding up play should result in increased chance creation, but at the cost of a lower passing completion ratio.
Note: Use Normal tempo to start with, then experiment with different settings after you've developed a functioning tactic.
Width
Although this is pretty self-explanatory (players will be positioning themselves further apart from their team-mates horizontally), it's not easy to judge how this option influences the way your team plays.
This instruction seems to be very sensitive in this release; setting it up wrongly can turn a brilliant tactic into a useless one.
Note: Choose the Fairly Wide or the Wide instruction and analyse how they affect your performances.
Now give it a run of games (official matches, not friendlies) and take notes. Try to play with these four settings and study how they work, then stick with a variant and move on.
Team instructions • Build-up play • Player roles
Other team instructions
After you've listed the pros and cons you should have a better idea of what you want from your team. It's now time to take things one step further and calibrate play using the other team instructions.
Defensive line
Naturally you'd want your players to be positioned higher up the pitch unless you want to play defensively and wait for counter-attacking opportunities. They say the less space there is between the units, the better your team can control the game, although we're not quite sure if this works as intended in this release.
FFT has had success using Slightly Deeper, Slightly Higher and Higher. The idea is that the further upfield your players stay, the more exposed your defence will be to counter-attacks – so make sure you've got pacy centre-backs when instructing your men to push up.
Note: Try to be a little bit more cautious when playing away.
Closing down
Obviously if you want your team to stay in control and try to ruin opposition attacks as fast as possible, you'll ask your players to close down quite often (although it will tire them faster). This is where the Tight Marking instruction comes handy, as well as the Get Stuck In option under 'Tackling'.
Note: Combine these three instructions for good effect: Closing Down More, Use Tighter Marking and Get Stuck In.
Build-up play
We can now move on to the build-up section. A more direct passing style encourages players to take risks and therefore produce more useful passes for advanced players (who should either have good mobility or a strong aerial presence).
If your wingers are playing on the same side as their stronger foot, and they are quick enough to unsettle the opposition, consider using the Clear Ball To Flanks instruction.
Definitely use Pass Into Space if your forwards are capable of beating the offside trap – look for high values in Anticipation, Off The Ball and Acceleration. Run At Defence can also contribute towards breaking through the opposition's defence. Activate the Move Into Channels individual player instruction for your attackers to get even better results.
It's also not a bad idea to grant more freedom to your creative players by turning on the Be More Expressive and Roam From Positions instructions, provided that most of your players get into the opposition half before your attacks end.
Let's talk a bit about the attacking phase. If you want your full-backs to go past your wingers, enable Look For Overlap. At the same time, make sure that the wide defenders have the attack duty assigned (just mind that your wingers will sit a little deeper to allow this to happen).
Unless you strikers are really good at heading the ball, ask your players to send Low Crosses; additionally, this setting seems to generally work very well in the current match engine. Full-backs, however, could be individually briefed to Aim Crosses At Far Post.
Now, remember that you have to make modifications step by step in order to understand what improves your game and what doesn't. Get your hands dirty until you craft a decent tactic and then continue with the final touches as explained below.
Team instructions • Build-up play • Player roles
Player roles: speedy suggestions
We've got to the point where we need to dive into player roles. The easiest way to find out which ones are currently working against you – besides watching full matches – is to analyse the individual player stats. That panel alone can reveal a whole lot about your team's performance.
Begin tweaking roles one by one, starting with the positions that regularly seem to deliver low average ratings regardless of the players used there. There's no perfect combination of roles and duties, but here are a few suggestions:
Try Sweeper Keeper – Support
Combine Complete Wing-Back/Wing-Back (Attacking) on one flank... with Inverted Wing Back (Support) on the other
In the centre use Mezzala (Attack), Central Midfielder (Attack) or Advanced Playmaker (Support )... combined with Central Midfielder (Defensive), Deep-Lying Playmaker (Defensive) or Ball-Winning Midfielder (Defensive)
Test Winger (Attack) on one flank… with Inverted Forward (Support), Advanced Playmaker (Support) or Winger (Support) on the other
Mix or duplicate False 9 (Support), Defensive Forward (Defend), Complete Forward (Attack) and Deep-Lying Forward (Attack)
Individual player instructions are finesse touches, so dwell on those only after you're happy with your hatched tactics. Their effects are unmistakable, so you will know how to tweak those once you get your game plan to that stage.
Feel free to experiment, even try crazy stuff, but remember to change things at a time when you have the chance to observe the effect of each tweak. Many FM managers fail to come up with an efficient tactic because they want to do it all at once. Don't be one of them...
Valentin Macovei is the author of Football Manager 2018 eBook FM 18 Can't Win To Champion. FourFourTwo.com readers can get 25% off if they use the 'FFTSPECIAL' code at checkout
Football Manager 2018 tips and advice
The 95 best Football Manager 2018 wonderkids… sorted by budget
The 11 best Football Manager 2018 free agents
10 unmissable Football Manager 2018 release clauses
4 essential Football Manager 2018 tips that will make you a better player
14 amazing Football Manager 2018 bargains for under £1 million
Thank you for reading 5 articles this month* Join now for unlimited access
Enjoy your first month for just £1 / $1 / €1
*Read 5 free articles per month without a subscription
Join now for unlimited access
Try first month for just £1 / $1 / €1
Get FourFourTwo Newsletter
The best features, fun and footballing quizzes, straight to your inbox every week.