5 key points from Tottenham 1-1 Liverpool: separate styles still lead to shared spoils
John Robertson was armed with Stats Zone at White Hart Lane, where Liverpool were the visitors and left with a point... though they'll think they deserved more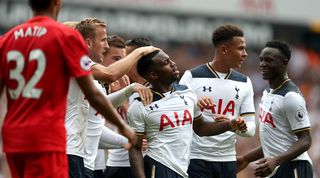 With Liverpool struggling in defence but sometimes electric in attack, and Tottenham struggling to score but difficult to break down, few results from Jurgen Klopp's trip to White Hart Lane would have surprised...
1. Cancelled out: tempo vs precision
Ultimately, Tottenham and Liverpool cancelled each other out and a sharing of points was the fair result. More interesting than the final outcome, however, were the different attacking approaches each side used in an attempt to undermine the other.
Pochettino's team is not blessed with speed up front: not even Dele Alli possesses enough acceleration to put fear into the hearts of defenders at peak physical fitness. Liverpool, on the other hand, arguably boast more speed than any other team in the league.
Both teams' outlook in front of goal is informed by that relative difference in pace. Spurs play a slower, more deliberate passing game in an attempt to set up high-percentage chances, while Liverpool burst forward and crash into their opponents whenever possible and try to get away as many shots as they can. One team seeks to pick the lock; the other seeks to surprise and exhaust.
These individual philosophies are highlighted in the number of offside decisions given against the two; Liverpool's busy tempo resulted in the flag going up three times more against them than it did Tottenham.
2. A Dier-shaped hole in midfield
Kyle Walker's 25th-minute departure due to illness saw Pochettino bring on Vincent Janssen, the striker's appearance pushing Alli deeper into midfield. To complete the puzzle, Eric Dier was slotted into Walker's right full-back position.
Dier's presence was immediately missed in the middle: Victor Wanyama was often relied upon to link defence with attack given how eager Alli was to charge forward. The Kenyan, it turns out, does not have the composure and awareness of passing that Dier enjoys and this hurt the service to Christian Eriksen, Harry Kane & Co.
From full-back, Dier did make a positive impact, particularly when he provided the cross that led to Danny Rose's 72nd-minute equaliser, but it's clear that his team needs him in the centre whenever possible. Comparing his passing success rate and quantity between this game and Spurs' previous league encounter (the 1-0 victory over Crystal Palace) highlights just how important he is as a link-up man.
3. Is Mané Liverpool's most important player?
Looking at Sadio Mané's statistics in isolation don't tell the story of his contribution. Sixteen of 26 passes completed, 1 shot on goal, 1 in 3 take-ons successful – these are not numbers worthy of celebration. It's the work he does off the ball, especially in relation to the comparative positions of attacking team-mates Roberto Firmino and Philippe Coutinho, which has made him such a key player at even this most early stage of his Liverpool career.
His pace constantly put Rose under pressure at White Hart Lane, but it's the decisiveness that he applies to his speed that makes him such a threat. Mané is not the kind of player who's consistently capable of mazy runs through an entire defence and, indeed, he rarely attempts such a thing. Instead he picks a location that he wants to get to and takes the most direct route possible.
This puts defenders in a tough situation in those moments when Mané chooses a spot on the pitch between the full-back and centre-back's usual areas of zonal coverage. Does the full-back pick up him, or does the centre-back stifle him down the line?
It's these kinds of decisions that Mané forces on a defence that makes him so dangerous, particularly when Firmino and Coutinho are ready to pounce into the space left by any defender who makes a positional misstep.
4. Wanyama is about more than just tackling
The ex-Celtic man has generally been described as a destroyer, his presence in the team designed primarily to disrupt an opposition by instantly closing down and tackling opponents in possession. However, against Liverpool he showed that he's a much more versatile player than he has been given credit for by most; even if his passing and creativity leaves much to be desired in comparison to the suspended Mousa Dembele.
While he initially struggled to adjust after losing Dier as a midfield partner, Wanyama eventually settled into a rhythm in which it was his interceptions and loose ball recoveries that became his greatest asset.
Against a team like Liverpool that enjoys moving the ball quickly through the midfield in an attempt to put opposing defences under constant pressure, Wanyama's ability to consistently shut down passes and prevent second chances from loose balls was vital. Without him, Liverpool's attackers would have seen many more opportunities in front of goal.
5. Liverpool might keep a clean sheet at some point
Klopp's side are still yet to record a clean sheet in the Premier League this term, but this was their best defensive performance of the season. Joel Matip impressed on his league debut, and James Milner performed well enough to give Reds fans confidence that he can play at left-back for the rest of the season.
Spurs managed just five shots from within the box, only two of those hitting the target. One of those two hit the back of the net, whilst Simon Mignolet was called upon to make an impressive save for the other.
The majority of Spurs' chances were limited to long shots or attacking crosses – Liverpool's midfield was able to snuff out any danger in central areas early and high up the pitch. Klopp's team are known for their high press when out of possession, and this was the best demonstration of it so far this season.
Most tellingly when it comes to Liverpool's defensive improvement was the fact that neither Janssen nor Kane managed a single shot on goal.
Match facts
James Milner has scored in 42 Premier League games without losing (W34 D8); only Darius Vassell (46 games) has scored in more without defeat in Premier League history.
Milner has scored against Spurs with 3 different clubs (Aston Villa, Newcastle and Liverpool). Only Les Ferdinand (4 - QPR, Newcastle, West Ham and Leicester) has scored against them with 4 different clubs in the Premier League.
Tottenham scored their first goal against Liverpool at White Hart Lane in 416 minutes of Premier League football – their previous goal was by Gareth Bale in November 2012.
The Reds are without an away Premier League clean sheet in 8 games, their longest run since November 2006 (also 8 games).
Danny Rose has scored 6 of his 8 Premier League goals at White Hart Lane, including each of the last 5.
Harry Kane has played 10 Premier League games in the month of August without scoring a single goal.
Robert Madley has now awarded 15 penalties in the Premier League since the start of last season; only Mike Dean (16) has awarded more.
This fixture has now seen the joint-most penalties taken in Premier League history (20, level with Everton v Newcastle).
STATS ZONE Free on iOS (opens in new tab) • Free on Android
Thank you for reading 5 articles this month* Join now for unlimited access
Enjoy your first month for just £1 / $1 / €1
*Read 5 free articles per month without a subscription
Join now for unlimited access
Try first month for just £1 / $1 / €1
Get the best features, fun and footballing quizzes, straight to your inbox every week.
Get the best features, fun and footballing quizzes, straight to your inbox every week.
Thank you for signing up to Four Four Two. You will receive a verification email shortly.
There was a problem. Please refresh the page and try again.