6 centre-backs who would immediately improve Liverpool's defence (and aren't Virgil van Dijk)
Wayward defending has cost the Reds dearly on numerous occasions this season – and will likely lead to Jurgen Klopp shelling out for reinforcements. This Is Anfield's Matt Ladson evaluates the options…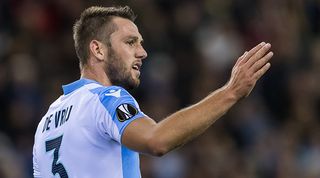 When Jurgen Klopp claimed the week before the season started that there weren't five better centre-backs available than what he already had at Liverpool, it must have been difficult for the listening media not to laugh.
When Liverpool shipped three goals at Watford that following weekend, those words had already come back to bite the German. Now, after shambolic defensive showings at Manchester City, Tottenham and Sevilla, it's becoming a quote that's haunting the Reds manager.
KLOPP'S DEFENSIVE SIGNINGS
Jan 2016: Steven Caulker (loan, QPR)
July 2016: Ragnar Klavan (£4.2m, Augsburg)
July 2016: Joel Matip (free, Schalke)
July 2017: Andrew Robertson (£8m, Hull)
Later, Klopp admitted that Liverpool had looked at options other than Virgil van Dijk ("we watched all of them 500 million times") but that his decision was "our boys are not worse than them".
But Klopp had put all his eggs in one basket and should have been targeting two centre-backs in the summer, not just one. Instead, he was left with only three senior stoppers, two of whom – Joel Matip and Dejan Lovren – suffered 14 different injuries between them last season.
Of course, there are other issues for Liverpool; some cite Simon Mignolet's unnerving presence, while others are more concerned by the lack of protection from Jordan Henderson in front of the defence.
Yet it's clear that Klopp needs to add quality as soon as possible – and the first opportunity is the January transfer window. Here are six options who don't have the initials VVD...
Stefan de Vrij (Lazio)
If Klopp really wants a Dutch centre-back, Lazio's De Vrij could be just the man – especially with his contract expiring at the end of the current season.
The 25-year-old has been linked with a move to the Premier League ever since a string of strong performances at the 2014 World Cup; most recently to Anfield in the immediate aftermath of Liverpool's forced apology to Southampton after their Van Dijk pursuit back in June. A €20m bid was reported by Sky Italia.
De Vrij has been among Lazio's best players for a few years now, and while he might not be the big-name centre-back that Liverpool fans crave, he's an improvement on both Lovren and Ragnar Klavan. Adding him in January with the aim of getting another quality centre-back in the summer would be good long-term planning.
Aymeric Laporte (Athletic Club)
A left-footed French centre-back who is comfortable bringing the ball out from defence and knows the value of a clean sheet. Liverpool used to have one of those until Mamadou Sakho upset Klopp and was eventually shipped off to Crystal Palace, but they could have another in Laporte.
The 23-year-old is currently plying his trade for struggling Athletic Club but isn't likely to remain at the Basque club much longer, amid plenty of interest from European heavyweights including Barcelona and Real Madrid. A reported £58m release clause could tempt any of them.
"I feel so proud when I'm part of a defence that hasn't been breached," says Laporte, who has been described as the model of the modern defender. Bringing that attitude to Liverpool's mentally fragile defence would be beneficial for Klopp.
Jonathan Tah (Bayer Leverkusen)
It's hard to keep track of whether Tah is of genuine interest to Liverpool, or whether the German's name is thrown into any and all reports now by virtue of ticking all the boxes that Klopp's side need.
He's young (21), German, built like the proverbial outhouse, 6ft 4in tall, good on the ball, and can play on either side at the back.
Tah wouldn't be cheap, with a contract until 2020, but then Van Dijk wasn't going to be either. Right now, you probably can't put a price on Liverpool actually having defenders who can, y'know... defend.
Kalidou Koulibaly (Napoli)
Another one who wouldn't come cheap, but the same applies as Tah – he'd be worth it.
Napoli man mountain Koulibaly was touted as Klopp's back-up choice to Van Dijk long before the summer transfer fiasco, but for whatever reason a move didn't materialise.
The key here is that Koulibaly is in his prime years at the age of 26, would come in and immediately start. He's not one for the future, which is fine: Liverpool need more proven players ready to improve the XI now, not tomorrow – by which point they've gone one step forward and two steps back again as a club, losing their best players after failing to progress.
Of the centre-backs in Europe's big five leagues to play 10 or more games this season, only Manchester City duo John Stones and Nicolas Otamendi, plus Dortmund's Sokratis, have averaged more passes per 90 minutes than Koulibaly. The Senegalese has improved on the ball admirably over the last few seasons, becoming a dependable presence in a team who play out from the back like Napoli.
Liverpool have acquired some of Africa's best talents in Sadio Mane, Mohamed Salah and Naby Keita, and adding another in Koulibaly would be superb business. They'd be unlikely to stand a chance of getting him in January, though, what with Napoli going great guns for the Serie A title.
Dayot Upamecano (RB Leipzig)
Liverpool have already snared one of RB Leipzig's best players in Keita, and also been linked with the German side's 19-year-old centre-back Upamecano.
There's plenty of interest in this talented left-sider – who only turned 19 in late October – with Manchester United also said to be monitoring his progress. A potential €100m release clause has been discussed in a new contract, though, meaning Liverpool may not pursue this one.
France are blessed with talented defenders at the moment, and many see Upamecano as the best of the lot; powerful, excellent on the ball, good in the air and calm in possession. A star in the making.
Alfie Mawson (Swansea)
Some of the above are high-calibre players who Liverpool could struggle to attract, so another option who would prove more attainable is Swansea's Mawson.
The 23-year-old Londoner was linked with Tottenham in the summer before they signed Davinson Sanchez, and given Mauricio Pochettino's eye for defenders, that should be endorsement enough for Liverpool.
The major question of Mawson at this stage is whether he's capable of manning the fort when things get tough at the back. "If we go for a centre-half we need to know how he acts in big spaces," the German explained back in spring. "On the other side centre-halves can feel pretty alone in certain moments if we don't react the right way after losing the ball."
Mawson hasn't played in a team that uses Liverpool's style, so it would be a gamble.
Thank you for reading 5 articles this month* Join now for unlimited access
Enjoy your first month for just £1 / $1 / €1
*Read 5 free articles per month without a subscription
Join now for unlimited access
Try first month for just £1 / $1 / €1