6 things you genuinely might not know about Pep Guardiola
Pep is preparing to take to the dugout at Old Trafford for the first time as Manchester City manager. Lee Roden's got you covered on the things you might not know about the former Barcelona and Bayern Munich boss...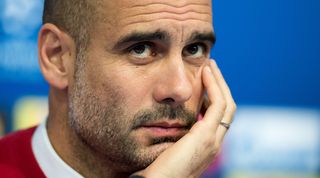 1. He loves Peter Crouch
In 2006, Guardiola wrote a series of columns for El Pais during the Germany World Cup, the contents of which provide a fascinating insight into his footballing mind. One of the most intriguing of those involves him gushing over a favourite striker from the tournament, whose name may come as a surprise: Peter Crouch.
"Wayne Rooney is perhaps more decisive and beautiful to watch," he starts, "but what's certain is that Crouch conditions you more. With Crouch, you have to play to Crouch's game. And playing to Crouch's game gives you a lot."
"He knows what he's doing, both with the head and feet. One of his best virtues is his link-up play. He knows he isn't just there for crosses into the box, he knows how to keep the play flowing. He gets the ball 1,000 times in the air and always keeps it. It seems simple but few strikers can and know how to do it. There are strikers who don't link up with others, and there are strikers that think their game is different to others, but then you'll have a stretched team. England has Crouch."
2. He started coaching in Mexico
Guardiola's career as a manager formally started at Barça B in 2007, but in reality he already had some experience of coaching a professional team. The Catalan was all but retired as a player when his contract with Qatari club Al-Ahli finished in June 2005, so he began coaching courses that same month. In the winter, however, Guardiola decided to make a U-turn, putting his boots back on to play for recently formed Mexican side Dorados de Sinaloa.
Why? Guardiola had always admired Juanma Lillo, Dorados' coach at the time, and moving to Mexico meant a chance to learn from him first hand, with playing more football simply a means to that end. At Dorados, Pep would carry a black book with him in training, detailing all of Lillo's exercises extensively, and staying behind when sessions were finished to pick his mentor's brain. The midfielder was asked to study opponents for his boss, and would even take team-mates aside in sessions to explain to them certain technical and tactical ideas.
Lillo later admitted: "I knew he was going to be a great coach. Pep's the opposite of the rest: everyone else has been a player, then later they gradually become coaches. Not with him. He was playing while he was waiting to become a coach!"
Lillo was so impressed that when Guardiola wasn't in the matchday squad, he would invite him onto the bench instead of making him sit in the stands. It wasn't uncommon to see Pep barking out orders form the touchline while Lillo remained seated. That brief foray in Mexico meant Guardiola wouldn't finish his badges until July 2006, but effectively, his coaching career had already started. The duo later met in the dugout in 2010 when Lillo bossed Almeria (above). Barça won 8-0 and Lillo was sacked. Some gratitude...
3. His assistant is a former Olympian
Guardiola has a number of assistants at Bayern, but one of them stands out above the rest because of his legendary status. Manuel Estiarte was not a footballer in his playing days – his sport was water polo. Having played in six Olympic Games, Estiarte was so good he earned the nickname "Maradona of water polo", and won Olympic Gold and World Cup titles to name only two of his many honours.
At the Camp Nou, Estiarte was Guardiola's right-hand man, someone who commanded respect and trust among the squad for his sporting past, and as such was a valuable figure for the coach when he wanted to learn how his team's mindset was. In Munich that relationship has continued: sometimes serving as a sounding board for Pep when he has a new idea, sometimes helping him to review videos post-match, he is a key component of the coaching staff – and one who will likely be asked to follow him to the Etihad Stadium.
4. His first Barça exit wasn't a happy one
When Guardiola leaves Bayern he will be given the praise he deserves, just as he was when he left Barcelona in 2012. The club virtually held a month of mourning when the coach let them know he was going, with the entire squad plus the president, sporting director and board members attending his press conference. It was followed up with a host of tribute videos and a farewell speech in front of a packed Camp Nou crowd. The way it should be when a legend leaves, you could argue.
It wasn't always that way. When Guardiola left Barça as a player in 2001, he did it through the back door, incognito. One April afternoon he held a meeting with then-president Joan Gaspart to tell him he was leaving. "When? Right now?!" was the shocked response. Guardiola confirmed, then told Gaspart he intended to hold a press conference the next day, asking the president to accompany him.
As it turned out, Gaspart had already booked a holiday to Switzerland which he deemed impossible to reschedule, and thus didn't attend. Guardiola, winner of six league titles and Barcelona's first-ever European Cup, broke the news to the media alone. A farewell unfitting of a player who had done so much for the institution, it was the exact opposite of the kind you would see in England, a country Pep admired even then. "I don't know where I'll play yet, but I have a passion for English teams," Guardiola told the press that day in 2001. "They're honest. I remember the first time I played at Old Trafford. It was incredible".
He never got to play in the Premier League, but the next-best thing is about to happen.
5. He's an author
A number of excellent books on Guardiola have been released in recent years, ranging from biographies to an inside account of his time at Bayern penned by Martí Perarnau. But did you know that Pep himself is also an author?
In 2001, he released the book La meva gent, el meu futbol (my people, my football) in conjunction with Lu Martin and Miguel Rico, two of Spain's most respected football journalists. Part biography, part guide to Pep's game, straight from the horse's mouth: an absolute must if you want to understand Guardiola.
There are only two problems. The first is that it's only available in Catalan, and the second is that it isn't available, full stop. Long since out of print, Guardiola has no interest in seeing it re-published, despite the obvious potential to make a pretty penny.
Want to know more about why Louis van Gaal is the coach Guardiola spoke most with as a player, for example? Hard luck. La meva gent, el meu futbol is notoriously difficult to find, and even if you do track a copy down it'll cost you. A lot.
6. His first trophy was small – but one of the most important
Much is made of Guardiola winning the treble in his first year as Barcelona coach, but those weren't his first trophies as a manager. That honour belongs to the year before, when he won a regional title in Spain's fourth division with Barça B. It may not match the glamour of lifting the Champions League, but it was a hugely important moment for him.
When the Barça kids sealed the title in 2008 then followed it with promotion to the third division, Guardiola called it "one of the biggest joys I've experienced as a sportsman". High praise from someone who'd won it all as a player.
Barça B may well have been the most natural coaching environment for Pep: when he finally retired as a player in 2006, he admitted his ideal job would be in a youth academy, working with kids, and that he didn't have "either the pretension or the obsession" to be at the top of the pile in management. Things have since worked out differently, but it's no surprise that a host of youngsters have made their first-team debuts under him. Youth football is Guardiola's love.
RECOMMENDED
Thank you for reading 5 articles this month* Join now for unlimited access
Enjoy your first month for just £1 / $1 / €1
*Read 5 free articles per month without a subscription
Join now for unlimited access
Try first month for just £1 / $1 / €1
Get FourFourTwo Newsletter
The best features, fun and footballing quizzes, straight to your inbox every week.