Why Pep Guardiola couldn't continue at Bayern Munich – and what he leaves behind
On Sunday it was finally announced that this will indeed be Guardiola's last season in Bavaria. But what does the Spaniard leave behind – and why didn't he want more? Jonathan Harding evaluates...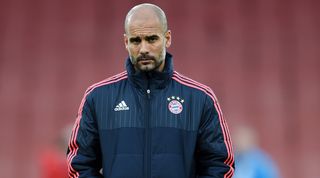 The excitement in Germany when Pep Guardiola was named Bayern Munich's new head coach was tangible. The Bundesliga brand doubled in size overnight and social media exploded with Spanish hashtags as Bayern followed a treble-winning season by appointing the best coach in the world. And all of this, before the country had even won the World Cup in Brazil.
Three years on that feeling has all but been forgotten, replaced by a bittersweet taste. For months, Bayern chairman Karl-Heinz Rummenigge has been "optimistic" but the cloud had grown ever bigger over Guardiola's head. "Tomorrow, tomorrow," Guardiola muttered after the win in Hannover, responding to the latest question about his future.
Well, tomorrow has come, and for many Bayern fans not a day too soon. Ever since the first mention of a departure, the noise around Guardiola's departure has only become louder. The Spaniard's hyperbolised press conferences have included many a murky truth, but finally, the fear has become a reality for Bayern fans: Guardiola is going.
Bavarian brutality
When he first arrived at Bayern, the Catalan was faced with a ruthless counter-attacking team who needed new motivation, having just won it all under Jupp Heynckes. Now, having successfully seduced his team to buy into his style, he leaves behind a tactically versatile side, with supreme confidence in possession and the unbreakable belief in victory that even before kick-off some games were already won.
This season, the ruthless implementation of five attackers in the starting XI has been an almost arrogant wave to the opposition, re-enforcing that pre-game confidence. But with the players at his disposal, it has been brutally successful and has resulted in a +38 goal difference and eight-point Bundesliga lead at the winter break. All the while, in every game, Guardiola has been perfecting his system for those season-defining moments.
Having created a machine on the pitch, Guardiola made a team off it, making small changes like getting the team to eat together around matchdays. The mental edge that the current crop of Bayern players have is astounding, and it's with that group he has delivered two, surely soon to be three, Bundesliga titles. Each season, each matchday, his teams set new records for possession, points or passes. Also in Guardiola's Bavarian trophy cabinet are German Cup, Super Cup and World Club Cup titles. He will have certainly won enough.
Three years
What he hasn't won though, is the deciding factor for many. The Champions League seemed so easy with Barcelona, but with Bayern it has been the tournament of semi-final pain for Guardiola. Defeat to Barcelona last season is perhaps more forgivable – Bayern weren't quite fully developed – but the loss to Real Madrid in 2014 was a chance missed. (Guardiola himself admitted later that listening to his players and going more attacking was a costly mistake.)
This year, if he doesn't lift the trophy, the 44-year-old will perhaps feel for the first time in his career that he has failed when he should have succeed.
On that alone, though, he should not be judged. What Bayern have now is a platform for continued success, and in that timeframe one or two European titles will come for Bayern. Many will ask why Guardiola isn't sticking around to be the man to deliver them. Why walk away from one of the top teams in the world just as they appear to be peaking in their understanding of his system?
But even without the ongoing spat with the medical department, Guardiola has always favoured short bursts in management – the contract he signed at Bayern was the longest in his career. He has previously conceded that his fourth season at Barcelona was a mistake. His style demands so much mental and physical concentration from his players – and indeed himself ("I have given everything and I have nothing left," he exhaled upon stepping down at Barça) – that to expect success beyond three years is foolish.
Within that timeframe, Guardiola can create the machine he wants with all the parts he needs. The type of management beyond that is not what Guardiola is currently about.
Incoming Carlo
Italian Carlo Ancelotti is the man set to take over, and what a dream constellation this is for the three-time Champions League winner.
With Rummenigge and Matthias Sammer taking care of most of the off-field work, Ancelotti, a man who has won it all, can enjoy doing what he loves most: coaching a top team. Having said back in October when the first whispers of Guardiola's departure circulated that he could not enjoy Bayern's games because "there's so little competition" in the Bundesliga, the 56-year-old will certainly start to enjoy them from his new position in the dugout.
RECOMMENDED How Carlo Ancelotti rose to the top
Like a relationship you enjoyed more when you were in it than when you look back on it, Guardiola's time at Bayern will be about the experience. It's not so much that he has fallen out of love with the German giants, but more than he has given them almost everything he can.
For Bayern, those three years under Guardiola will serve them for the next five. The team is smarter than ever, enjoys more coverage and has done wonders for the Bundesliga. Surely, it's only a matter of time now before the European title returns – but will that be Pep's final bow?
RECOMMENDED 6 things you genuinely might not know about Pep Guardiola
Thank you for reading 5 articles this month* Join now for unlimited access
Enjoy your first month for just £1 / $1 / €1
*Read 5 free articles per month without a subscription
Join now for unlimited access
Try first month for just £1 / $1 / €1
Get FourFourTwo Newsletter
The best features, fun and footballing quizzes, straight to your inbox every week.