6 reasons why Pep Guardiola is right to choose Man City as his next club
Manchester City have confirmed that the Bayern Munich boss will replace Manuel Pellegrini at the end of the season. Mike Holden explains why the Etihad Stadium is a good choice for Pep's new home...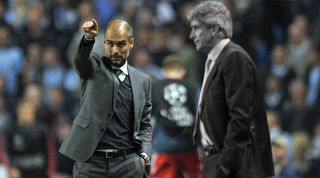 1. Right place, right time
Football moves in cycles, something that nobody understands better than Pep Guardiola, who considers three years to be a drain at any club. The Catalan coach overstayed his welcome by 12 months at the Camp Nou and openly regrets it. Now he knows it's time to leave Bayern Munich, even though a sense of unfinished business remains as long as the Champions League trophy is absent from the mantelpiece.
Manchester City's progress under Sheikh Mansour can also be charted in clear three-year cycles, so there's no ambiguity over timescales. The club is ready for a change of direction, and the players are ready to listen to a new voice. Roberto Mancini was the right man at the right time, his cold-blooded masculinity breeding a winning mentality the club didn't previously possess.
Manuel Pellegrini was then the ideal successor, softening the mood by breathing warmth, compassion and freedom of expression back into a dressing room that was often tense and fractious. Now the stage is set for something else and Guardiola promises a smooth progression. There's no unnecessary baggage to sift through, the club's in good shape and the working environment is second to none. At City, a possession-based philosophy is already ingrained. It just needs his fresh ideas and inspiration.
2. His favourite kind of problem
Under both Mancini and Pellegrini, City have been macro-managed. Both men had their own broad philosophy – the Italian cautious, the Chilean cavalier – and each created a blueprint of how they wanted the team to play, so the players generally understood what was expected of them. But the responsibility of solving the finer tactical details within that framework was largely up to them.
After six years of searching game-management, too often struggling to find the right solutions – especially in Europe – the players are now ready to embrace a control freak-like Guardiola, an architect who is willing to go into the minutiae on their behalf and show them the path to enlightenment. And it just so happens that City's most recurring problem – finding or creating space – is Guardiola's biggest obsession.
At City, he won't get bogged down in any major rebuilding process and he shouldn't be sidetracked too often by the dressing room dynamics. Guardiola can throw himself wholeheartedly into what he loves best – video analysis, systems and strategy – like a nerdy child let loose in a jigsaw factory.
3. Room for improvement
By his own admission, Guardiola's style of management isn't suited to any old club. His success depends very much on the quality of the players at his disposal and top-notch technical ability is a non-negotiable prerequisite for his high-risk, attack-minded philosophy. In other words, he's the Lewis Hamilton of football managers and City are the Premier League's best high-performance sports car.
City have been the country's most dominant force in terms of chance creation over the past five seasons, yet a sense of underachievement persists. After four decades in the wilderness – including 20 painful years of Manchester United dominance – City fans are mostly grateful to be continually in the reckoning for silverware, and four trophies in four years is a source of rejoice.
In reality, though, it's not enough. The trophy cabinet doesn't accurately reflect the quality of the squad in comparison to its rivals and it certainly doesn't justify the transfer outlay. When Pep arrived at Bayern, he was presented with the thankless task of following a Jupp Heynckes treble-winning season. At City, the potential is just as great but the bar hasn't been set nearly as high, giving Pep the platform to wow audiences and leave an enduring legacy on English football as a whole.
RECOMMENDED Why Premier League pressure could crack Pep the flat-track bully
4. Freedom of expression
He probably doesn't realise it yet, but Guardiola and City are kindred spirits. Pep is a performance-orientated manager. Winning is the ultimate objective, of course, but for him the focus is perpetually on the process rather than the end result.
Traditionally, it's an attitude that aligns well with City as a club. Across town at Old Trafford – and more recently at Stamford Bridge – the mindset is to win at all costs, accumulating trophies in volume by whatever means necessary. The yearning at City, in direct opposition to their arch rivals, is to win admirers along the way, even if that means running the risk of embarrassment.
Nothing illustrates this cultural nuance better than the signing of Rodney Marsh for the final title push in March 1972. City were four points clear at the top of the old First Division when they were taken by the impulse to change their system and introduce a flamboyant forward from QPR. It backfired, and they finished fourth. The current owners wouldn't welcome such an expensive indulgence but the tale goes some way towards demonstrating why Pep can expect a higher degree of artistic licence and spiritual support in his quest for an abstract sense of perfection.
RECOMMENDED 6 things you genuinely might not know about Pep Guardiola
5. No nasty boardroom surprises
Many believe that Guardiola to City has been a done deal for some time, which seemed a fairly confident conclusion to make due to Txiki Begiristain's position at the club. Not only did the two men play alongside each other for five years under Johan Cruyff in the early 1990s, but Begiristain then paved the way for Guardiola's managerial breakthrough over a decade later. The jury remains out after three years in his current role in Manchester, however, but by getting this particular deal done his tenure seems vindicated.
For Guardiola, this is the ideal chance to repay an emotional debt for that support in the embryonic stages of his coaching career. The two men had an excellent working relationship for three years at the Camp Nou between 2007 and 2010, so there should be no hidden complexities in City's day-to-day operations. Both coach and club will be on the same page from the off, allowing Guardiola to branch out and embrace new ideas without fear of being frustrated by politics or logistics. Nowhere else would he be afforded such a luxury.
6. Potential to launch careers
Much like Gary Neville and the Class of 92, Guardiola has never stopped being the kid who progressed through the ranks of a major club, and his managerial career is a similar tale of being handed great responsibility in spite of inexperience. From these defining moments comes a burning desire to hand other unknown youngsters their big break, and it just so happens that City share the same sense of obligation to promote youth players to the first team.
The club has spent over £100m building the new Etihad Campus, giving Guardiola everything he could possibly need to recreate what he had at Barça. This is the academy where Phil Neville and Robin van Persie have chosen to send their kids, despite obvious allegiances to Manchester United and Arsenal. The harvest of City's intensive labour behind the scenes might not amount to much more than Kelechi Iheanacho at present, but a legacy-driven operator like Pep will recognise the potential of spawning a handful of memorable careers in the next few years.
RECOMMENDED Kelechi Iheanacho: I'm grateful to Pellegrini – but now I need to show him I deserve to be here
RECOMMENDED
Quizzes, features and footballing fun
Get the best features, fun and footballing frolics straight to your inbox every week.
Thank you for signing up to Four Four Two. You will receive a verification email shortly.
There was a problem. Please refresh the page and try again.