7 must-use tips for Football Manager 2016
We asked the talented Football Managers at www.FootballManagerStory.com for some advice on this year's game and this is what they told us...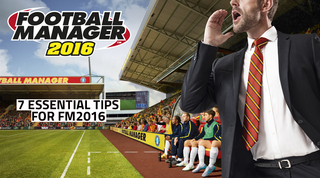 Got the latest edition of Football Manager? Want some advice on how to reach the top that little bit quicker?
Read on as Darren from FootballManagerStory.com compiles some hints to help you make it big time, baby...
1. Training
"Poor training can lead to injuries, fatigue, poor development and lack of tactical familiarity. I find training at high intensity on team cohesion and fitness prepares my team during pre-season. Then dropping off to medium intensity and balanced works well once the competitive season kicks off. You can push players in pre-season but may suffer injuries by demanding high intensity past that point.
"While scheduling, lean slightly more towards match training and allow your team rest after a match – recovery time is vital. Set all your players to train individually on the role/position you expect them to play. The more familiar they are in the position you deploy them in, the better they will perform.
"Load your tactics as early as possible in pre-season. The more fluid your side become in any given system, the more success they will enjoy on the pitch."
2. Staff
"Your Assistant Manager can make the difference so pick well. Look for good judging of player ability and player potential – this will increase the accuracy of your team reports and star ratings that help you judge role suitability in the tactics screen.  
"Great motivation is a must; this will lead to more effective team talks. Finally, tactical knowledge is very important. An AM with great tactical knowledge can be asked to assign opposition instructions pre-match. Get this right and you increase your chance of winning.
"Sign one coach for every training category and then one or two more to cover all categories. Asking coaches to specialise in one area will increase their star rating in that area. Below in section No.3 are the attributes you need in each category. The one or two extra coaches are to help reduce workload across the board."
3. Mental attributes
"All coaches need: determination, a good level of discipline and motivation
Specific coaching attributes needed:
| | | | |
| --- | --- | --- | --- |
| Fitness coach | Fitness |   |   |
| Goalkeeping coach | Goalkeepers | Technique | Tactical |
| Ball Control coach | Technique | Mental |   |
| Shooting coach | Technique | Mental | Attacking |
| Tactics coach | Tactical |   |   |
| Attacking coach | Tactical | Attacking |   |
| Defending coach | Tactical | Defending |   |
"Get this right and your coaching screen should look like below."
4. Tactics
"I find the 4-1-4-1 successful in the lower leagues; you can use very attacking roles without over-committing, thanks to the shape. You can download my tactics here.
"Keep your eyes open: watch the matches and the statistics. We recommend watching matches in 'comprehensive highlights' mode, as that will allow you to get a better idea of what your team does (or doesn't do) on the pitch and make tactical changes accordingly. 
"You should also have a look at the post-match statistics and also at your players' statistic screens (can be found in 'reports'). For instance, you might notice that one of your midfielders is firing too many shots off target, so you might want to restrict his shooting from distance in your tactics.
"Playing in the top flight is all about creating movement. The opposition make fewer mistakes, therefore you need to drag players out of position and create gaps. We have just the tactic for that, based on the 4-4-2 with a twist: you can download it here."
5. Scouting
"We can't all afford to buy Lionel Messi and Sergio Aguero, but how do you get the very best players cheap? Buy them young. Football Manager generates new players every year that are save-specific and imaginary.
"If you know when and where these players are generated you can sign them very, very cheaply. Follow the steps below to see all the new regens listed by month.
Click the globe icon in the top-right corner
Select 'world' from the top options
Select 'transfers' in the 'general' list
Now click the 'all transfers' drop-down menu and select 'youth intake'
Use the filter to sifter out irrelevant countries and view all new regens by date generated
"Alternatively, we've made a list of where the best regens will appear and on what date right here.
"Finding quality players for the lower leagues is tough, so you'll enjoy this trick. When starting a new save, load a custom database as 'large' with all Norway-based players showing. There are so many dirt-cheap players in Scandinavia.  I found this particularly helpful in League Two with lots of free transfers and low-fee players good enough to rip League One apart but prepared to play a tier lower. You can download my shortlist here and load the correct database by following the instructions below."
6. Players
"I could talk all day long about players, but let's start with the top 10 in terms of potential ability.
"Below are the top 15 bargains we've profiled on the Scouting Network. Well worth a look, they all have the potential to play at the highest level."
7. Wonderkids
"Many readers ask what my favourite XI is. I prefer to look to the future, so let's see my most-bought wonderkids. I've won many championships and been crowned kings of Europe thanks to this lot..."
RECOMMENDED
How to nurture a hot prospect into a true wonderkid
Quizzes, features and footballing fun
Get the best features, fun and footballing frolics straight to your inbox every week.
Thank you for signing up to Four Four Two. You will receive a verification email shortly.
There was a problem. Please refresh the page and try again.