5 of the best challenges you need to try in Football Manager 2016
Fancy something a bit different as you whittle away hours on the new game? Iain Macintosh has you covered…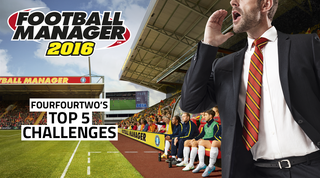 1. The start-at-the-bottom save (Berwick Rangers)
Brief: Go in unemployed with no qualifications and only Sunday League playing experience. You should land the job in the interview process, provided that you don't kick up too much of a fuss about philosophies.
Clouds: The entire coaching staff has left, so you need to hire a new backroom team before you can do anything else. Oh, and the players are average at best. And you haven't got any money to spend. And you're expected to finish in the play-off places.
Silver linings: The books are relatively balanced, so you won't need to sell anyone. And while the insistence on a play-off finish seems demanding, it just means finishing in the top four. There are only 10 teams in the division. Even a slow start shouldn't leave you too far adrift.
Superstars-in-waiting: Ha! Wait, seriously? OK, Michael McKenna is your star player, but in this league the fabulously named, tough-tackling midfielder David Banjo will prove more useful.
Advice: Be patient. Scout relentlessly. Use trials to ascertain player quality because you can field a limited number of over-age trialists in the U20 division.
2. The start-at-the-top save (Chelsea)
Brief: Win stuff. Even with coaching badges and international reputation, you'll still find that some of the players find it difficult to play for a manager of your standing. But this is Chelsea, so that only heightens the realism. Hit the ground running or hit the ground face first.
Clouds: The squad is truculent and unbalanced. You could certainly do with a defender and a striker. There's no chance of bringing in youth because everyone seems to be on loan. Expectations are high. If you spend too much time outside of the top four, the pressure will build very quickly.
Silver linings: There's £40m in the transfer kitty and £500k a week in the wage budget, so you can make changes if you like. And the squad has talent. You've got some of the best players in Europe here. Surely you can't screw this up?
Superstars-in-waiting: Kurt Zouma has absolutely everything he needs to play for 10-15 years at the top level. You should also work closely with Izzy Brown when he returns from Vitesse. The scouts adore him.
Advice: Get someone in up front sharpish because neither Radamel Falcao nor Loic Remy are good enough. Take the League Cup seriously. You need to cement your position and trophies always help.
3. The limited empire-building save (Celtic)
Brief: You shouldn't see this as a short-term job. Rangers will almost certainly rejoin the top flight in 2016/17 and you want to be ready for them. Make the first team good, but make the youth team better. Scout hard, train smart and build an efficient infrastructure to dominate Scottish football forever.
Clouds: There isn't much margin for error here. The minimum expectation is to win the domestic double and reach the Champions League group stages. No pressure. Given that your European preliminaries begin in mid-July, you should know that failure will immediately compromise your reign.
Silver linings: You'll have £2.2m to spend, which is enough to snaffle a handful of promising players from the lower leagues. And you're already much, much better than almost every team in the league.
Superstars-in-waiting: Young left-back Kieran Tierney has bags of pace, but he also has a considerable work ethic. Perfect for your micro-managed training regimes.
Advice: Don't assume that you can drum on the 'continue' button and breeze to success. You have natural advantages, but don't get complacent. Scout your opponents, find their weak spots and then mercilessly exploit them.
4. The unlimited empire-building save (Hamburg)
Brief: "Give me a lever long enough and a fulcrum on which to place it, and I shall move the world," said Archimedes. You, my friend, are the lever. Hamburg is the fulcrum. You have a 57,000 capacity stadium. You have excellent training facilities. You have a proud history. Now forge the future.
Clouds: Hamburg are rubbish. They've been rubbish for ages. There's no money to spend. The past two seasons have been like near misses from passing asteroids. The whole place sits under a thick fog of failure. Incompetence is institutionalised.
Silver linings: They're not that bad. Albin Ekdal isn't far off what you'd expect from a Premier League midfielder and Nicolai Muller would be a potent force for any Champions League side. On paper, this is easily a top-eight team. And you're only expected to finish in mid-table. This is a long project. But all the natural resources are there to support a team capable of dominating Europe. Stop laughing at the back!
Superstars-in-waiting: Fleet-footed Michael Gregoritsch can play anywhere. And, if you don't start winning soon, that will probably include the Premier League or La Liga.
Advice: You're not going to win anything in the first season, and probably not in the second season. So plan ahead, watch the youth tournaments, manage at least one of your youth teams to get a feel for the young players you'll be recruiting.
5. The fallen giants save (Honved)
Brief: It's hard to imagine how a team that once dominated its domestic league could collapse in financial chaos after a ruinous legal battle against the tax authorities – but that's exactly what happened in Hungary to Honved. Once the club of Ferenc Puskas, now they linger in the top flight's lower reaches. Can you restore them to their former glory? No, probably not.
Clouds: The best players are middle of League One standard, which won't help you against the likes of Ferencvaros. There's no money to spend, the youth facilities are underwhelming and you'll need to finish fourth to get a sniff of European football and the life-changing finances that go with it.
Silver linings: Expectations are very low. You're simply expected to avoid relegation. Though that may be easier said than done. You have a couple of decent scouts, though. That might help. Oh dear.
Superstars-in-waiting: Twenty-year-old inside-forward Daniel Prosser has a bit about him. He's a little lightweight, but is tricksy and likes to cut in and get a shot off. If you keep him around, you'll be doing OK.
Advice: Make yourself hard to beat. Although there is a huge gulf between Honved and the superpowers, the rest of the league is pretty weak. Be flat-track bullies and build for the future. The people of Budapest are waiting for restoration. If you can break into Europe, they will follow you.
Iain Macintosh is the editor of The Set Pieces and the author of the new book, 'The Football Manager Guide to Football Management'
Quizzes, features and footballing fun
Get the best features, fun and footballing frolics straight to your inbox every week.
Thank you for signing up to Four Four Two. You will receive a verification email shortly.
There was a problem. Please refresh the page and try again.