9 naughty gestures that got their subjects in big trouble
Dele Alli will learn in the coming days whether he'll be punished for flipping the bird in England's win over Slovakia earlier this month. Tim Ellis raided the archives for more gestures that landed players in hot water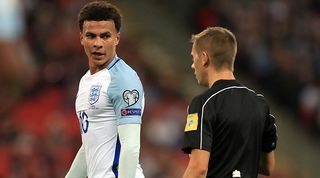 1. Anelka's 'act of solidarity' goes West
West Brom striker Nicolas Anelka was banned for five matches and slapped with an £80,000 fine in March 2014, after he was found guilty of making a gesture which was "abusive and/or indecent and/or insulting and/or improper, and that included a reference to ethnic origin and/or race and/or religion or belief." All boxes ticked there, then.
The "quenelle" hand sign, demonstrated by Anelka after a goal against West Ham, was devised by the player's friend Dieudonne M'bala M'bala, who insisted it was an anti-establishment symbol and not anti-Semitic – although many back in France disagreed.
The striker was cleared of any anti-Jewish intent, but was ordered to complete a compulsory education course as part of his punishment. "At some point we must stop being paranoid and believing that we are all at war," Anelka raged.
2. Gazza on the fife
During an Old Firm clash at Parkhead in 1998, Paul Gascoigne pretended to play the fife – a Loyalist symbol – in front of the Celtic supporters. The midfielder tried to justify his actions, later saying: "Their fans were giving me so much abuse for 80 minutes that I decided to do it, and I got a death threat afterwards. It's unbelievable that one guy can upset 60,000 fans." 
Despite his protestations, Gascoigne received a £40,000 fine; to make things worse, Rangers lost the match and, with it, momentum in the title race.
3. Di Canio takes aim with straight arm
After returning to Lazio in 2004, controversial Italian hothead Paolo Di Canio celebrated a number of goals by aiming a fascist sign at the club's notoriously right-wing ultras. After scoring in the Rome derby in January 2005, the striker was fined £7,000 for giving a Nazi salute, although he claimed the gesture "dates back to ancient Rome and it has nothing to do with a racist ideology".
Di Canio is a self-confessed admirer of former Italian dictator Benito Mussolini, whose granddaughter was among the few who condoned the forward's actions. "How nice that Roman salute was," she said. "It delighted me so much. I shall write him a thank you note."
4. Rafa's 'game over' earns Big Sam's wrath
When Rafa Benitez's title-chasing Liverpool blew Blackburn away at Anfield in 2009, Sam Allardyce wasn't too happy. "The feeling was that he had written us off," the Rovers boss raged, accusing his opposite number of making a 'game over' gesture. "It was open arms and then a crossover of the arms as if to suggest that was it."
Alex Ferguson – who, coincidentally or not, was battling with Liverpool for the title – was also full of moral indignation. "There's one thing about the arrogance he's shown, but the thing you can't forgive is his contempt to Sam Allardyce last week when Liverpool scored their second goal," grumbled the Scot. 
Sign language evidence was inconclusive, but Benitez's explanation that he was simply gesturing "what do I know?" after his team ignored his advice on a free-kick routine sounds plausible enough.
5. Suarez gives Fulham the finger
Forget the biting: Luis Suarez has a rap sheet for finger-related crime too. In December 2011, the Uruguayan offered the Fulham crowd his middle digit after a 1-0 defeat by the Cottagers, for which he was slapped with a £20,000 fine.
He did similar at international level too, trolling Chile fans with a finger salute after missing a penalty in a World Cup qualifier. The Uruguayan press tried to claim the striker was simply counting the number of Copa America titles the country had won (15). Not enough fingers, Luis...
6. Fowler sniffs trouble 
Against the backdrop of pre-match rumours about drug abuse, Liverpool striker Robbie Fowler celebrated scoring a penalty against Everton in 1999 by getting down on all fours and sniffing the white line of the six-yard box. Reds boss Gerard Houllier was the only one who appeared to think it was perfectly normal behaviour.
"He was pretending to be a cow eating the grass," the Frenchman declared, insisting it was a normal Cameroonian celebration taught to Fowler by team-mate Rigobert Song. Unsurprisingly, this line of defence didn't prevent a four-match ban.
7. "Theo, Theo, what's the score?"
Theo Walcott isn't the wind-up merchant type, but north London derbies can make even the most placid of characters tribal. After the Gunners went 2-0 up in a third-round FA Cup tie at the Emirates in 2014, the Arsenal forward was taken off with a knee injury. While lying on the stretcher, he was apparently pelted with coins by the travelling contingent of Spurs supporters.
Walcott was well enough to sit up and gently remind the away end of the scoreline with two digits. Arsene Wenger suggested it was a "non-offensive" gesture and the FA didn't punish the player, although they did remind Walcott of his "responsibilities over a scoreline gesture". Worst of all, the England international was ruled out of the upcoming World Cup after the injury was diagnosed as a ruptured anterior cruciate ligament.
8. Ronaldo imitates Messi... then gets banned 
Lionel Messi celebrated his last-gasp winner in April's 3-2 Clasico triumph by holding up his shirt at a seething Santiago Bernabeu. Such in-your-face hubris clearly irked his great rival, who mimicked the Argentine four months later after scoring a stunner at Camp Nou.
Cristiano Ronaldo was booked for removing his shirt, but the biggest drama was yet to come: a few minutes later, he was shown a second yellow for a perceived dive. A disbelieving Ronaldo pushed the referee in the back as he trudged off; unsurprisingly, the authorities took a dim view and banned him for five games.
9. Wojciech does the W-sign
Wojciech Szczesny was sent off in Arsenal's Champions League loss to Bayern Munich in February 2014 after taking down Arjen Robben in the box. As the Pole left the field, he made an obscene gesture which could be best construed as 'the W-sign' (clue: rhymes with former Germany star Carsten Jancker).
Arsenal boss Wenger said the matter would be dealt with internally, although he did concede: "Yes, (the gesture) was frustration, but we are professionals, me included, and we have always to master reactions." 
Now read these...
QUIZ! Can you name the 25 Premier League goalkeepers who've saved three or more penalties?
LIST Ranked! The 15 best goals from unfashionable Premier League players
FEATURE The greatest all-time Premier League XI based on games played
Quizzes, features and footballing fun
Get the best features, fun and footballing frolics straight to your inbox every week.
Thank you for signing up to Four Four Two. You will receive a verification email shortly.
There was a problem. Please refresh the page and try again.