Alex Ferguson at Mexico '86: when the world got its first blast of the hairdryer
After the untimely death of Jock Stein, Alex Ferguson led Scotland to a World Cup with what many believed was their best-ever side. Things didn't quite go to plan, however...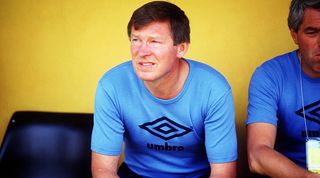 It's almost a footnote on the CV of Alex Ferguson. An often-forgotten, 'Did that really happen?' passage, spanning his final days converting Aberdeen from Old Firm upsetters into Real Madrid vanquishers, just before the border-crossing to Manchester United where he created an empire as powerful as any the English game has known. In 1986, Fergie took Scotland to the World Cup finals.
That summer's front and back pages may have been dominated by a certain Diego Maradona and his 'Hand of God', but Mexico was also where an English football audience got their first close-up of the man who would be king.
A relative unknown
The previous year, at the 1985 FA Cup Final between Manchester United and Everton where he had been a guest of United's ex-Aberdeen stalwart Gordon Strachan, Ferguson was politely asked if he was Strachan's dad. Such was his profile down south.
However, few were left in any doubt about who he was following Scotland's eventful World Cup campaign. Fergie's remarkable rant in the aftermath of an X-rated showdown with Uruguay – and the Tartan Army's subsequent elimination – provided spectators with an intriguing snapshot of the future. Amid the tragic events surrounding the Scots' passage to Mexico, the draw had placed them in a horrible group with West Germany, Copa America champions Uruguay and dark horses Denmark; a youthful blend of fine, fluid attacking talent.
The death of Jock Stein, who suffered a heart attack after the tense 1-1 draw with Wales at Ninian Park that clinched a play-off spot, opened the door for his part-time assistant Ferguson. Such was Stein's value as a mentor, the younger man called him a "one-man university".
Stein's feats, winning the Scottish Cup with an unfancied Dunfermline in 1961 before tasting 1967 European Cup glory as Celtic boss, matched Ferguson's own hopes and dreams.
It had been Stein, invited to travel to the 1983 European Cup Winners' Cup Final with Aberdeen, who encouraged Ferguson to take a gift for Real Madrid manager Alfredo Di Stefano. "Give him a bottle of Johnnie Walker Black Label as soon as you get to the ground – he'll not expect it," he advised. A sharp bit of psychology, Stein believed it would charm and ultimately disarm Fergie's opposite number in Sweden.
Aberdeen triumphed 2-1 after extra-time thanks to substitute John Hewitt. "Di Stefano was taken aback," recalled Ferguson. "It gave me gravitas, having worked with him [Stein]."
To Ferguson fell the harrowing job of informing Scotland's players and Stein's family that his predecessor had passed away in Cardiff. While continuing to work at Aberdeen as co-manager with Archie Knox, Fergie steered Scotland through their play-off against Australia, winning 2-0.
Alan's out
His squad for the finals was met with raised eyebrows. Missing was Liverpool defender Alan Hansen, whose frequent absence from friendlies and last-minute withdrawal from the Wales match had led Stein to question his commitment. Fergie's favoured pairing of Aberdeen defenders Willie Miller and Alex McLeish, coupled with the imagined reaction of Hansen at only being third choice, was enough to exclude him.
Also absent was Kenny Dalglish, who is popularly thought to have pulled out after taking umbrage at the axing of his Liverpool ally, although the 35-year-old actually required knee surgery. Those who made the cut were much vaunted. Skipper Graeme Souness had said it was the "best-prepared" squad the Scots had ever sent to a World Cup, and a look through the list – Strachan, Charlie Nicholas, Richard Gough, Steve Archibald and Frank McAvennie among them – reveals no shortage of talent at Ferguson's disposal.
Andy Roxburgh, Craig Brown, Walter Smith and Knox – three of whom would subsequently manage the side – made up Fergie's coaching staff. The mood in the camp was good. Ferguson took part in the squad's official World Cup song, Big Trip to Mexico, and the players were even confident enough to put cling film over the toilet seat in Ferguson's cabin – a jape appreciated as such.
Scotland, billeted in the shanty town of Nezahualcoyotl, began their Group E campaign with a narrow 1-0 defeat to Denmark. Preben Elkjaer's shot crept in off a post after Willie Miller was unable to clear. Strachan, the pick of the bunch against the Danes, put the Scots ahead against West Germany, but Rudi Voller quickly equalised in Queretaro and they went down once again, 2-1.
Despite two defeats, qualification for the second phase was still on if Scotland could beat Uruguay. With the Germans and Danes through, the Group of Death had now become a case of who blinked first. The South Americans had already shown aggression aplenty.
NEXT: Making World Cup history... for the wrong reasons
Uruguay were lucky to escape with only a couple of bookings in a draw with West Germany, after which they were given a warning from FIFA, and were reduced to 10 men against Denmark in a 6-1 mauling.
Ferguson, rarely seen without his sun hat, opted not to play 33-year-old captain Souness. He feared that his age and weight loss – he'd shed a stone in the heat and humidity before a ball was kicked – could spell trouble. Souey didn't even make the bench.
The game began with a bang. Just 48 seconds in, Strachan was upended from behind by Jose Batista's ugly challenge. French referee Joel Quiniou wasted no time in whipping out his red card – the 56-second dismissal is still the quickest at a World Cup finals.
"I wouldn't have a clue what that guy looked like to this day," said Strachan. "I've never seen his face, at any point in the game, and by the time I'd got back up he'd been sent off."
The tone soon set, what followed was a masterclass of cynicism and technical efficacy from Uruguay.
"If there was a corner, they would be pulling your hair," said goalkeeper Jim Leighton. "Pulling your privates and that kind of stuff. Spitting on you."
Fergie's fury
The Scots huffed and puffed but were unable to break the Uruguayans down. The save of the game even came from Leighton, who fisted away Wilmar Cabrera's close-range header. A 0-0 draw meant Scotland were out. Ferguson, who had spoken about the dignity needed on the night of Stein's death, could not contain his fury after the game. With echoes of Alf Ramsey's "animals" tirade after England's 1966 quarter-final clash with Argentina, he used his post-match press conference to slam La Celeste.
"It's a shambles," raged Fergie. "It is not just a part of football, it's the whole bloody attitude of the nation. They've got no respect for people's dignity. It's a disgrace what they did, and turns the game into a complete farce.
"You'd never think that in a competition such as the World Cup, with all that talk of a FIFA clampdown [on ill discipline], that one team would be able to overpower the whole system."
And he still wasn't done. Perhaps with a nod to Stein's passing and the Heysel tragedy of '85, the Glaswegian warmed to his theme.
"After what happened today, and the traumas that have happened to world football in the last year – I tell you, I'm glad to go home, believe me, because it's no part of football, as we've been accepting it for years and years."
His parting shot? "It's not my problem any longer. It's FIFA's problem. It will be Argentina's problem on Monday."
FIFA hit Uruguay with a 25,000 Swiss franc fine and sent coach Omar Borras to the stands for the last-16 showdown with Argentina, after he labelled referee Quiniou "a murderer".
Where the truth actually lay between Scotland's toothlessness – one goal and just seven shots on target across three games – and Uruguay's spoiling tactics is a matter for debate. Brian Glanville, veteran scribe of many a World Cup, called the Scots "dubiously reconstructed, technically maladroit and tactically inept in comparison".
While Strachan, ever the philosopher, and Scotland's former manager, plumped for honesty.
"We were just not good enough – has anybody ever thought about that?" he wondered. "Everybody goes looking for answers but sometimes you're just shit."
Viewed from more than three decades' distance, perhaps one of the most significant and historical aspects of Mexico '86 was the introduction of Fergie to a wider world. This was the first sighting, on the grand stage, of a gaffer able to dodge criticism by turning the heat onto his opponents. A manager whose cast-iron self-belief instead made someone else the story; his capacity for brutally withering barbs and, let's face it, sustained passionate brilliance, changing English football.
Scotland made no waves in Mexico but the tide soon turned for Alex Ferguson. By November 1986, he was Manchester United manager. And we all know how that panned out.
World Cup Wonderland: stories, interviews and more
The original version of this feature appeared in the May 2018 issue of FourFourTwo. Subscribe!
Thank you for reading 5 articles this month* Join now for unlimited access
Enjoy your first month for just £1 / $1 / €1
*Read 5 free articles per month without a subscription
Join now for unlimited access
Try first month for just £1 / $1 / €1
Get FourFourTwo Newsletter
The best features, fun and footballing quizzes, straight to your inbox every week.