Analysed: Are Real Madrid really any better off with Zinedine Zidane?
Tonkings of Deportivo La Coruna, Sporting Gijon and Espanyol have accompanied more underwhelming performances against Real Betis and Granada, writes Lee Roden – just like like under Rafa Benitez...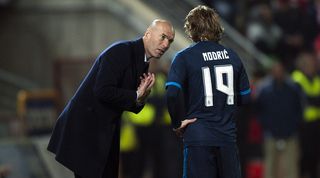 Zinedine Zidane can walk on water and cure leprosy overnight – or at least that's what a few of the Spanish papers would have you believe. Comfortable victories over the likes of Sporting and Espanyol at the Santiago Bernabeu have been enough for some to proclaim an instant 'Zidane effect' at Real Madrid, a conclusion that conveniently forgets that their last manager also had a propensity for battering smaller teams at home.
In reality, there is zero evidence of a Zidane effect based on results alone: after five games his record is virtually identical to his predecessor's from the same time period. But what about performances? Have Madrid really done enough to suggest that switching coach was worthwhile, or are the same old problems still popping up?
Growing pains
One of the major arguments for giving Zidane the Madrid job was that he could put in place a more proactive style of play and move away from the counter-attacking that has dominated the club in recent years. Making such a dramatic change in direction in the middle of a season was a risky move, however, and unsurprisingly, growing pains are still evident.
Madrid definitely have more possession, averaging 60% over the course of Zizou's five games compared to Rafa's 56%, but translating that into better passing rather than just more has been a mixed bag. Players are still carrying the ball for far too long, resulting in often-laboured build-up, and it isn't uncommon to see the passing game break down closer to the opposition goal.
For all that Zidane is supposed to make Madrid more intricate, his team's best chances continue to come from crosses and quick turnovers of possession.
There have been small signs that the Merengues can successfully become more elaborate under their new manager, however. The moments are fleeting, but every so often technical players like Toni Kroos, James Rodriguez and Karim Benzema will link up and exchange possession with a speed and accuracy that was lacking under Benitez. An obvious example was the latter's goal against Betis on January 24. Zidane's challenge is to make that happen more frequently, but without the luxury of a pre-season it's a tall order.
Missing: Cristiano Ronaldo
A regular criticism of Benitez was that he didn't know how to get the best out of Cristiano Ronaldo, and when Zidane came in he was quick to insist that his own training methods would help the veteran improve. The new manager was trying to drill up some necessary optimism: Ronaldo has been hitting the target less this season, and fewer than 25% of his strikes have arrived while Madrid were either drawing or behind. Put simply, his contributions aren't as important as they used to be.
Zidane's job is to try to revive the Cristiano of old, and a sign that he could yet achieve that came against Espanyol on January 31. In that game the forward scored a hat-trick, including one brilliant solo effort, but considering he put five past the same team under Benitez, it was too early to make any sweeping conclusions.
Could he push on and produce another top-class performance in his next outing?
Not quite. In Granada, Cristiano delivered one of his poorest-ever displays for Real Madrid. With only one dangerous shot over the course of 90 minutes, the disconnected striker's lack of constructive movement meant team-mates struggled to find ways to release him effectively, his absence from the top 18 passing combinations of the game particularly telling.
Lethargic, often stationary and ultimately ineffective, the Cristiano that showed up against Granada looked suspiciously like the one who used to appear for Rafa. Zidane hasn't worked any miracles yet.
A pressing concern
Madrid's attacking game isn't the only thing Zidane needs to address – he's also had to tackle their inconsistent defensive play, and that's proving to be a particular struggle. The new boss has delivered plenty of impressive lines about pressing aggressively and winning the ball back as quickly as possible, but in practice, the mistakes when attempting to do so have persisted in every one of his matches in charge.
Madrid are trying to press higher, but they are generally pressing individually rather than collectively: one player will push in an attempt to win back possession, but he often won't be helped by a nearby team-mate. The result is an excessive number of fouls and failed tackles, the latter giving opponents the chance to create a numerical advantage.
Against smaller teams who don't have the finishing quality to punish mistakes, los Blancos can get away with that, but against the tougher sides it will be a much bigger problem. Madrid shipped four goals to Barcelona under Benitez. If they continue defending the way they are just now, they will ship just as many under Zidane.
The elusive midfield formula
What many of Zidane's issues ultimately boil down to is the same million-dollar question that plagued his predecessor: how can he fix the midfield? Real Madrid's imbalanced squad makes it a tricky puzzle to solve. With so many No.10s crammed into the starting XI, skilled coaching is required to prevent both passiveness when defending and a lack of fluidity when attacking, both of which can be fatal at the highest level.
Convincing a player like James to curtail his individualistic instincts and work harder for the group than himself is not easy. Rather than persuading the Colombian, Benitez only managed to alienate him. Similar problems occurred with Isco and Kroos. The hope was that Zidane could do better.
It's proving to be a bigger challenge than some presumed. James has looked encouraging in spells then completely disappeared for others, while Isco is capable of producing the assist of the season in one game then producing almost nothing of merit in another. Both still have a habit of downing tools once a contest becomes a real battle, and with soldiers like that, Zizou will struggle to win the war.
He does have hope, however, in the form of one midfielder in particular.
In contrast to the inconsistency of his team-mates, Modric has been nothing short of brilliant under his new manager, showing a level of focus they could learn from. It was his error that allowed Granada to counter-attack and equalise at the weekend, yet it was also his insistence on sticking to instructions that resulted in the brilliant late winner straight from his right boot.
Zidane later explained that he had specifically asked the No.19 to make the kind of runs towards the box which caused that goal, a clear example of tactical discipline in action. If the coach can coax out a similar thoroughness from the likes of James and Isco, then his entire team will suddenly become much more stable; better at using the ball and better at winning it back.
Now that would be a Zidane effect worth talking about.
RECOMMENDED
More features every day on FFT.com • Analysis
STATS ZONE Free on iOS • Free on Android
Quizzes, features and footballing fun
Get the best features, fun and footballing frolics straight to your inbox every week.
Thank you for signing up to Four Four Two. You will receive a verification email shortly.
There was a problem. Please refresh the page and try again.