Analysed: How reborn Moreno is thriving under perfect boss Klopp
Edward Stratmann charts the Liverpool defender's renaissance and explains why the German is the ideal manager for him...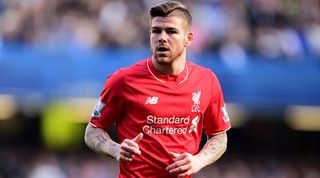 The general consensus following Alberto Moreno's first season at Liverpool was one of inescapable disappointment. After signing from Sevilla for a hefty £12m fee in the summer of 2014, he struggled to make an impact under Brendan Rodgers, who never seemed to fully trust the young left-back.
Although such lapses are to be expected from young, attack-minded full-backs, Moreno received some harsh criticism for the odd defensive error, which in turn led to a fall in the Spain international's confidence. Being played out of position didn't help his cause either, and it looked last term like Moreno would become another victim of the malaise that had set in at Anfield during the latter part of Rodgers' tenure.
Unfortunately, things didn't get much better for the defender at the start of the 2015/16 campaign. After featuring for a measly 58 minutes in Liverpool's first five games, Moreno cut a desperately frustrated figure as he watched Joe Gomez – a natural centre-back – used in his role instead.
But the former Charlton Athletic's man knee injury brought Moreno some meaningful playing time as a wing-back when Rodgers shifted to a 3-4-2-1 formation, but it was only when Jurgen Klopp was appointed manager that Moreno's Liverpool career looked to have been rejuvenated.
Frustrated figure
Indeed, his recent comment about Rodgers offered a fascinating insight into the player's annoyance at his former boss. "I had this inner anger, a rage almost," Moreno recalled after the Northern Irishman's sacking.
"I felt I was playing well, training well. He told me that I was training well but I couldn't see why I wasn't getting a chance at the beginning of the season. I perhaps felt that he didn't have quite so much confidence in me, certainly at the start of the season." Since Klopp's arrival, however, Moreno's fortunes have improved dramatically: the 23-year-old has started every Premier League fixture that the German has been in charge of. "I don't know why I've improved to tell you the truth, it is hard to explain," he admitted recently.
"I just get the impression that he [Klopp] really feels the game. He has a huge passion for the game, which I think I do [too]. He wants you to express yourself on the field. He wants you to offer not 100% but 200% when you are performing and I think I offer that. It fits in with me."
Returning self-belief
Klopp's unyielding belief in his young starlet has certainly been the key catalyst for Moreno to restore his shorn confidence and get back to his best.
"He talks with me a lot," Moreno told the Guardian. "I feel he trusts me. He spends a lot of time with me. I think it shows up in good performances on the field. He really wants me to learn English as quickly as possible so he can get his ideas over."
It's obvious that the former Borussia Dortmund coach's expert tutelage and faith in Moreno has provided the Spaniard with an ideal platform for success. The tigerish left-back has strung together some outstanding performances of late, showcasing many of the attributes that make him such a useful talent.
In the past, Moreno has been criticised for his tendency to get caught out of position; while his speed means he was often able to recover situations, this aspect of his game has improved under Klopp. The German's manic detail in everything he does has meant Moreno has become more stable defensively.
Even though the 23-year-old acknowledged Klopp's training sessions can get "boring", he's in no doubt as to how effective they are. "With Klopp the training sessions are all about tactics, in order to have the team well-positioned on the pitch, and to know how and when to press. The truth is that the training sessions are a bit boring for the players, but then they are the ones that get results on the pitch," the Spaniard admitted.
Giving it bifters
In the hard-fought 1-0 win over Swansea on Sunday, Moreno put in a shift at full-back that demonstrated both the attacking and defensive sides of his game.
Charged with nullifying Swansea's Wayne Routledge, Moreno exuded his customary energy and intensity while undertaking his assigned duty. The winger was made to fight and scrap for every ball that came his way, with his opponent's relentless pressing and harrying helping to lift the Anfield crowd.
Moreno never gave Routledge a moment's peace, tracking him when he drifted infield or dropping deep to ensure he rarely made headway in the final third. Moreno also imposed himself physically on his adversary by employing his aggressive approach to tackling, ensuring he won the majority of his duels.
Another feature of his display was his attacking forays down the left, where he worked cohesively with Roberto Firmino and Adam Lallana, the triumvirate regularly exchanging passes within close proximity to one another to disrupt Swansea's marking.
Firmino's movements inside created space for Moreno to bomb into, an invitation he accepted wholeheartedly as his explosive running gave Liverpool another dimension going forward.
Crucial to Moreno's success was the cover he received from colleagues: Lallana often shuttled across to fill the left-back's position when he had pushed on, with Dejan Lovren also moving higher up the pitch.
RECOMMENDED 9 Borussia Dortmund players who could feature on Jurgen Klopp's Liverpool wish list
Liverpool's left-sided trio further demonstrated their diligence with well-executed marking crossovers. If Routledge moved deep to collect the ball from right-back Kyle Naughton, Moreno would take over the marking duties of Lallana's opponent, Naughton, with his team-mate picking up Routledge instead.
Such defensive organisation has been a cornerstone of Liverpool's resurgence under Klopp, who generally gets the little things spot on; it's little wonder Liverpool have only conceded eight goals since the 48-year-old's installation in October. After another sterling outing by Moreno, where he recorded an eye-catching six tackles, five interceptions and one blocked shot, it's clear that he has already become an integral component of this exciting and refreshed Liverpool outfit.
Productive partnership
The Moreno-Klopp relationship, despite still being in its infancy, already looks like one that could pay long-term dividends.
After all, both men share an intensity and hunger in the way they approach their work, with Klopp's attention to detail and fine-tuning of Moreno's game precisely what the full-back needed.
"He tells me to get forward, to be attack-minded," Moreno explained. "When I'm defending, he tells me to be aggressive and stay tight to the person that I am marking. When I'm going forward, don't be scared or play with tension. Be relaxed."
With Real Madrid now reportedly paying close attention to the Spaniard, it's obvious how much the youngster has turned things around under his new manager.
Transfer speculation could continue as the January window approaches, and while a move away seems highly unlikely right now, Liverpool will be keen to ensure Moreno's head doesn't get turned.
Still, the left-back has the talent to become one of the best players in his position in the world. The results since Klopp's appointment speak for themselves.
NEW ISSUE Kuba: Liverpool 'have already won' with Klopp
Thank you for reading 5 articles this month* Join now for unlimited access
Enjoy your first month for just £1 / $1 / €1
*Read 5 free articles per month without a subscription
Join now for unlimited access
Try first month for just £1 / $1 / €1